Sinn Fein has a new female president, Mary Lou McDonald, who is determined to work for a united Ireland with Irish America's help. She speaks to Debbie McGoldrick about her upcoming U.S. trip, Brexit, family life…and Kevin Spacey
The epic storm that brought Ireland to a standstill last week gave Mary Lou McDonald, the newly elected president of Sinn Fein, a rare treat: a day at home in Dublin with her two children and dog, looking out at the mounting pile of snow and wondering how they'd get some food in (her son Gearoid was dispatched to a local shop to see if there was milk, daughter Iseult was keeping McDonald's mother company, and husband Martin Lanigan was doing emergency work for Bord Gais, the utility supplier.)
"And my dog is going nuts with all the snow," McDonald, 48, laughed during a telephone interview with the Irish Voice last Friday. 
The day "off" wasn't one in which McDonald kicked her feet up and binge watched Netflix, given her intense schedule for the next couple of weeks.  She headed to Brussels on Monday to discuss Brexit and its uncertain implications for Ireland with the EU's talks negotiator.  And next week she will travel to America as she's done many times before, but this visit will be markedly different.
Sinn Fein is Mary Lou McDonald's party now, and has been since her confirmation as president on February 10.  For the first time Irish Americans will see her as the standard bearer who has no intention of filling the shoes of former leader Gerry Adams, "because that would be totally impossible," she says.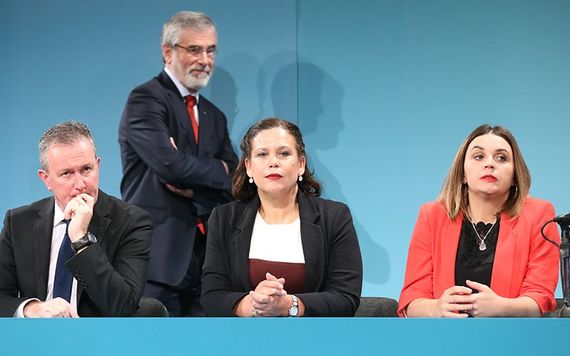 3
"No one will ever fill Gerry's shoes and no one should ever try. But certainly, I'm going to start walking the next leg of the journey in my own shoes in a way that is true to our Irish Republican tradition, to our history, and is faithful to everything that has been achieved by generations before.  The goal is the establishment of a viable democratic pathway to reunification and building a new Ireland."
Those words will be music to the ears of Irish Americans who spent decades providing political and financial support to Sinn Fein and the old guard of Adams and the late Martin McGuinness.  McDonald is keenly aware of the deep connection her party has with Irish America, and says she's eager to see it grow.
"I'm massively impressed by those in America who have kept faith with Ireland. The peace process would not have happened in Ireland but for America," she says.
Adams will be joining McDonald on some of her stops, including a public rally in New York on Friday, March 16 at the Sheraton Hotel on Seventh Avenue at noon.  All are welcome and admission is free for McDonald's American debut as Sinn Fein's new leader, with Adams giving a farewell address to his diehard supporters and an introduction to his protégé and approved successor.  Sinn Fein's new vice president and leader of the party in the North, Michelle O'Neill, will also be on hand.
What is her message going to be when she's here? 
"I suppose it's the same as the message I've been delivering at home: we are now officially moving to the next phase of our journey," she says.
"I'll be asking Irish Americans to stay with us, to continue keeping faith with Ireland and with all of the progress we've made. We are heading into the end game politics of Irish unity.  Just as the Irish in America were so important to building the peace, I believe they will be absolutely critical to building unity and a new Ireland."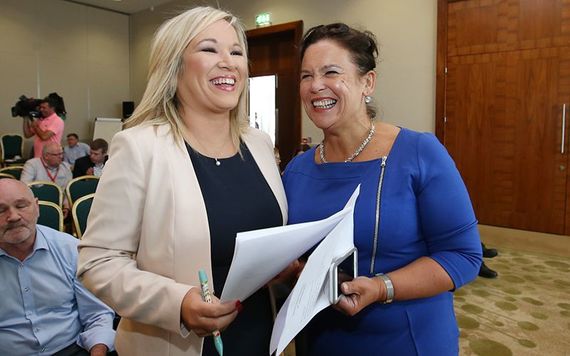 3
HOW did a woman from the pleasant Dublin suburb of Rathgar, raised in a comfortable middle class family with three also accomplished siblings, become so committed to Irish republican ideals?  Maternal grandma Molly, a staunch republican, had lots to do with shaping McDonald's views. 
Becoming politically active, though, didn't happen until McDonald was well out of her teens.  A graduate of Trinity College Dublin, the University of Limerick and Dublin City University, McDonald was initially a member of the Fianna Fail party in the late 1990s but joined Sinn Fein because, she said, "it had the perfect blend of national and freedom politics, and social justice."
"To be honest, because I grew up in Dublin and because there wasn't a visible Sinn Fein organization where I lived, it took me a while to find my way in."
McDonald served as a Sinn Fein Member of the European Parliament from 2004-'09, and returned home for good when she won her Dail seat.  She's been the party's whip-smart, photogenic rising star ever since, unconnected to The Troubles and the IRA association that dogged Adams and prevented Sinn Fein's ascension to a party that could be a coalition partner in an Irish government.
McDonald, though, is a proud Irish republican who is keen to shatter the conventional wisdom that those who favor a united Ireland predominantly hail from the six counties.
"Dublin is the city that fought the empire.
Go back to the start of last century, the city was chock a bloc with republicans," she says.
"It's only post-partition, once the British soldiers arrived in the streets of the North that the idea of an Irish republican being essentially a northern thing took hold. But that is not the history of Ireland at all.
"So in a funny way, having a Dublin woman as the leader of Sinn Fein I think reasserts the national identity, that believing in republicanism doesn't mean you just have to be from the Falls Road. It's a much broader thing."
A united Ireland is first and foremost on McDonald's agenda.  And it's never been more of a reality, she asserts, given that Brexit is on the verge of causing chaos with the Irish border.  Unionists are inextricably tied with their 26 neighbors to the south; the job now, she says, is convincing them that unity will better serve their interests.
"I think for our purposes we need to broaden the conversation about a new Ireland, and we need to invite unionists, not in a contrived way but in a genuine way, to have real time discussions around our economic well being," McDonald says.
"I think there's a new space, a clear space as Brexit looms.  A decision has to be taken in terms of protecting the well-being of the island economically and socially and also protecting the political institutions and the framework of the Good Friday Agreement.
"Also, the constitutional question now is not just about national identity.  It's about attachment to the European project and defining ourselves as Europeans and all that that means."
McDonald is all in favor of being respectful to the unionist identity and tradition, and finding commonalities to stitch together for the betterment of both traditions.  The greatly diminished influence of the Catholic Church in the Irish Republic is a good thing, she says, as its outsized involvement in all facets of life was intimidating to unionists. 
But the numbers don't lie, McDonald adds: voting trends in the North are skewing nationalist and heading towards a majority around 2020 or so.
"I think unionists need to start thinking now about what Plan B might look like," she says.
"I think we need to be open and generous. Those who feel British, whose identity is British, that's not going to change. If we are respectful of those things and have a conversation that is brave, and a conversation that's prepared to move beyond the old parameters…I think by engagement we start to open up those challenges and challenge all of us to think outside the box."
As the Brexit negotiations lurch towards a potentially disastrous outcome for the Irish border, calls have recently intensified for Sinn Fein to abandon its long-term abstentionist policy and take its six British Parliament seats to actively fight hardline Brexiteers who don't care if a physical border once again splits Ireland. But McDonald doesn't buy into the thinking that Sinn Fein's presence at Westminster would make a difference.
"The way some people are talking about it, you'd imagine that there was a proposition going before Westminster to call Brexit off. But that's not where it's at. The English in particular have taken a view that they are Brexiting," she says.
"We fought the most successful Westminster election we've ever had on the basis of an abstentionist policy. It's not some kind of Sinn Fein obsession. It's a century old and it's a core nationalist position.  Westminster has never done Ireland any favors."
McDonald points out that her party is "hopelessly" outnumbered in Westminster and taking its seats would make no difference to the Brexit debate, even though British Prime Minister Theresa May's government is surviving thanks only to the 10 Democratic Unionist Party members from the North who agreed a deal with her last year.
"The way we protect Ireland is to ensure that with our partners in the EU we get the right package.  We've been very active on Brexit, our MPs are in London every week lobbying hard and they do excellent and very productive work.  We've got four MEPs -- we are the largest Irish delegation in Europe," McDonald says.
"I have not yet seen a compelling rationale, in a decisive way, that has demonstrated the kind of point people are trying to make [about taking Westminster seats]. We run in elections as abstentionist MPs and there is a core issue around respecting and honoring the mandate you've been given by northern nationalists."
COULD Mary Lou McDonald be Ireland's first female taoiseach?  Someday…why not?
"How cool would that be? And an Irish republican woman too," she laughs.
The working mom of two describes herself as an "unreconstructed feminist" who found a welcoming home for women in Sinn Fein, even though much of the party's out-front leadership has until now been male dominated.
"It's been a consistent thing that within Sinn Fein we've always had wonderful women leaders, like Rita O'Hare," says McDonald, referencing the long-time Sinn Fein representative in the U.S.
"What's changing is that now our women are public figures.  I actively encourage this. You should see the talent we have and the young women in our party. They are amazing. It gives me such confidence. 
"There's no doubt that we're at a moment for women to really start claiming our place in the public domain as leaders and decision makers.  I feel very energized by that."
Maintaining a balanced home life has, McDonald admits, presented some challenges, but her support structure is strong and led by her husband Martin, who she calls "a full on, hands on partner and spouse."
"You know, as a woman you juggle and juggle some more, and you thank God you have a great family. We have managed to keep a kind of steady calm and a happy home. The kids go about their business and they are in good health. It can be a little crazy but so far so good."
Free time isn't quite as rare as a Dublin snow day, but McDonald doesn't get much of it. When she does, "being mammy" takes priority, "and I like to just close my door and get a chance to breathe."
"You know, I don't have a very exciting or dramatic life. I have to confess I'm boring!"
Boring she is not.  Warm and engaging and willing to answer anything…for sure.
Favorite TV show?   "Well, it was that one with Kevin Spacey in it, House of Cards," she replies.
Spacey, of course, has fallen off Hollywood's cliff, accused of molesting fellow male actors, one of whom was only 14.  "I can't get my head around that. He was my favorite," McDonald laments.
Favorite music?  "The Rolling Stones -- they are coming to Dublin soon. I love Bob Dylan, the Red Hot Chili Peppers, Thin Lizzy and Phil Lynott, and ABBA and Christy Moore. I've got broad tastes," she shares.
Reading is high on McDonald's favorite things to do list.  "I love any detective novel, American fiction like Agatha Christie. And Irish writers like Samuel Beckett and James Joyce."
How about cooking? "I love to do that, when I get the time!" she says.  Time is a precious commodity so the chef's hat doesn't come out too often, "but I do love pasta, any form of pasta."
What of American politics and President Trump, who hasn't scored high on the Irish popularity scale? McDonald chooses her words carefully, but it's clear she's not offering the ringing endorsement that a Bill or Hillary Clinton received from the Irish public.
"It's for the American people to decide who their president is. I respect that and respect the office of the president," she offers.
"Obviously I have my own politics. I'm a social progressive who is for equality, particularly for women and all minorities. I believe ethnic diversity is a massive strength and not a weakness. That's my politics."
The U.S. trip next week will be "highly emotional," says McDonald, who will take part in U.S. government festivities on Washington, D.C. on Thursday, March 15.  As Adams, an iconic figure among the activist Irish American community, steps aside, McDonald feels more than prepared to take center stage, especially as she served as his deputy for many years.
"I had to nearly pinch myself in my early years in Sinn Fein working for him.   I grew up watching Gerry on the TV smoking a pipe – as I remind him all the time as I am vociferously anti-smoking!" she laughs.
"I had the very good fortune to serve my apprenticeship with a legend. And I didn't have to travel very far to experience that."
Read more: Fight for forensic excavation on 796 Tuam Babies mass grave