Mary Lou McDonald's reflection that Sinn Fein "are not cry-babies" will not deflect examination of her leadership after a bad performance in both local and Euro elections in the Republic
With a dire showing by the party in local elections, MEP Lynn Boylan's defeat in the EU elections in Dublin and Matt Carthy's desperate battle in Midlands-Northwest were not a surprise.
 The elections were the first real political test for McDonald since she became Sinn Fein president 15 months ago.
On the local elections, she said it was always going to be a challenge for Sinn Fein to hold the council seats it won five years ago.
With the EU counts still ongoing, she expected Liadh Ni Riada to hold her seat in Ireland South and was hopeful Carthy would hang in for the last of four seats on Midlands-Northwest.  She complimented Martina Anderson for holding on to her seat in Northern Ireland.
Read more: Reality TV star becomes first black woman and first migrant elected to Irish county council
McDonald was asked if another poor election result could lead to question marks over her leadership. She replied, "Leaders are charged with leadership come what may. So it is easy to lead and be a political activist when things go your way and the surge is on.
"Those are great days. But you also have to be ready…for when things are more challenging."
Meanwhile, Brexit cast a shadow over the EU elections in the Irish Republic where two of the 13 seats – one in Dublin and one in South – can only be taken when elected British MEPs leave by October 31 or later.
A legal dispute erupted in Dublin during count 14 of the Republic's proportional representation voting system.
Fianna Fail's Barry Andrews and Clare Daly of Independents 4 Change were battling it out for the last certain seat and to avoid taking the extra "cold storage" seat created by Brexit.
With the Greens' Ciaran Cuffe and Fine Gael's Frances Fitzgerald already elected, Daly was lying fourth behind Andrews in third with Boylan a distant fifth.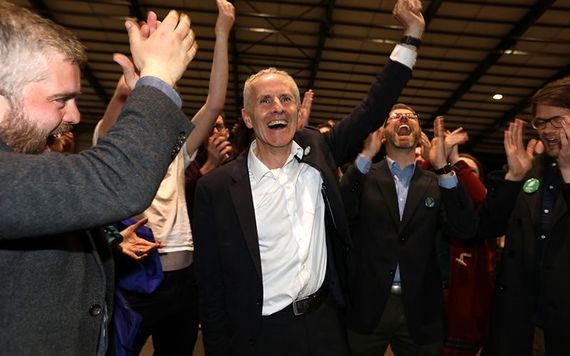 2
The votes of Social Democrat Gary Gannon, lying in sixth place, were to be distributed when the dispute erupted.
Normally, the counting ends when all candidates are elected.  But Daly argued that when Boylan was eliminated her votes should also be redistributed. Daly argued that could put her above Andrews and into the guaranteed EU seat instead of having to wait for the Brexit vacancy.
A recount was ordered and there was speculation that the issue could end up in the courts before it is resolved.
Meanwhile, while counting in all constituencies continues, the only other EU seat filled in the Republic went to sitting MEP Mairead McGuinness of Fine Gael who topped the poll in Midlands-Northwest on the first count with an outstanding 134,630.
With second-placed Luke Ming Flanagan, an independent, likely also to be selected, it could be Thursday before the final two seats in the four-seat constituency are decided in a battle featuring former Rose of Tralee Maria Walsh who is also running for Fine Gael, Sinn Fein's Carthy, ex-presidential independent candidate Peter Casey and the Greens' Saoirse McHugh.
Read more: Guinness Storehouse gates painted in Pride colors