It's that time of year folks, time to peer into the crystal ball and see what the New Year has in store for us. 
Assuming climate change, typhoons, tsunamis or touchy tyrants from North Korea to Washington don't, you know, cut the year short.
JANUARY: Since it's clear she can pretty much do anything, the organizers of the Academy Awards ask Saoirse Ronan to host next month's ceremonies honoring Hollywood's finest.  "I think it's safe to say she doesn't have any skeletons in her closet, right?" one insider is quoted as saying. "Except, you know, that funny name."
FEBRUARY: Saoirse kills it at the Oscars. "She can do anything," Liam Neeson quips afterward.  "She could be president, don't you think?" Democratic Party bigwigs collectively widen their eyes. Alas, she is constitutionally too young to run.
Read more: Saoirse Ronan on Mary Queen Of Scots and Fairytale Of New York
4
MARCH: Fed up with the Brexit headaches caused by Northern Ireland's borders, secret social media messages reveal that British Prime Minister Theresa May is, uh, starting to think outside the box.  "Who's to say this place is really part of the United Kingdom, huh? Is it named Northern 'United Kingdom'? No! No, it's not!"
APRIL:  During a meeting with evangelical supporters, celebrating the spirit and solemnity of Easter, President Trump muses on the virtues of crucifixion.  "You ever see that Mel Gibson Easter movie?" he says. "Fantastic! The ending was a dud, but still..."
MAY:  More secret Theresa May messages.  "You see a border problem. I see a build-the-wall opportunity!"
Read more: Ireland to up its tourism spend amid Brexit angst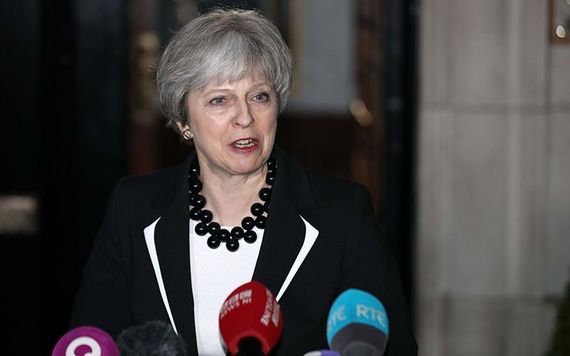 4
JUNE: With the 2020 presidential election creeping closer, prominent Democrats are openly worrying they cannot field a quality candidate. But one optimistic insider says, "Is quality really always better than quantity?  Is it?" Adds another, "If we can somehow find someone with all of the best qualities of the 27 or so people interested in running, hey, we got a shot to win this thing. Or at least, you know, the popular vote. Again."
JULY: Seventeen inches of snow in Central Park on July 4.  Netflix announces a new $100 million show entitled "Bruce Springsteen Waking Up, Brushing His Teeth, Checking His Phone and Planning His Day."
AUGUST: Theresa May's Brexit strategy announced.  "Let's just partition the f*** out of all six counties.  Slice and dice the towns, the villages, the parishes like pizza pies, until they're all so small they can't cause any problems."  May's strategy is actually "announced" by Facebook, which sold the prime minister's private exchanges to advertisers, who then sold the rights of the private messages to various broadcast outlets.  "All this time we were trying to hide the fact that we don't care about your privacy," one Facebook insider said. "That was kind of silly, huh?"
Read more: Irish American Democrat eyes 2020 presidential run - and it isn't Joe Biden
4
SEPTEMBER: Nancy Pelosi makes it official.  "Ladies and gentleman, you wanted a great presidential candidate.  Now we have a great presidential candidate. Me."
OCTOBER: The release of Martin Scorsese's crime epic "The Irishman" is postponed when the director, and stars Robert DeNiro, Al Pacino and Joe Pesci, all break their hips at the red carpet premiere.  The event is held the following week and is attended by all four Hollywood legends. Well, holograms of the Hollywood legends.
NOVEMBER: One year to go.  And the election is already getting nasty.  "Is this really who we want for president?" thunders President Trump.  "She's too old," said the man who will be 74 if he is re-elected.
 DECEMBER:  Springsteen to write an album, book and screenplay, and perform new Broadway show, based on recent Netflix special.  Then he will retire and move into newly-opened "The Irishman" Nursing Home.
The temperature in Central Park on Christmas Day?  Ninety-seven degrees.
Happy New Year!
What are your predictions for 2019? Let us know in the comments section, below. 
(Contact "Sidewalks" at tdeignan.blogspot.com)