Direct rule from Westminster may have moved a step closer this week as Sinn Fein said talks with the Democratic Unionist Party (DUP) to restore power-sharing have broken down.
Northern Secretary James Brokenshire moved to bring in a budget for the North at Westminster on Monday, months after it was due and just weeks before the province's treasury was due to run out of cash.
Overall, the allocation in the 2017-'18 budget for day-to-day spending is up by 3.2 percent, or about £330 million sterling, on 2016-'17. Because of inflation, the budget has flat-lined in real terms.
It does not include any of the £1 billion windfall that the DUP extracted for propping up British Prime Minister Theresa May's Conservative government. That is to come separately.
Read more: Irish leader Leo Varadkar's popularity soars as Sinn Fein drops
DUP deputy leader Nigel Dodds, a Westminster MP, said the promised £1 billion would "be detailed in the coming days."
3
How close is the introduction of the Westminster budget to direct rule? It depends on who you talk to.
The BBC reported the SDLP as saying direct rule has arrived. The SDLP blames the DUP and Sinn Fein for that.  The Alliance Party has said it is a "slippery slope" towards direct rule.
Both Brokenshire and May dismiss that. Brokenshire is reported as saying that "full-fat" direct rule has not arrived and he regards the budget from Westminster as a "half-measure" which he hopes to resolve before the end of the year.
Faced by DUP calls for the immediate appointment of direct rule ministers, Brokenshire told the House of Commons on Monday, "That is a step that I do not intend to take while there is an opportunity for an executive to be formed.
"This measure I am taking today with the utmost reluctance and only because there is no other option available."
Brokenshire earlier indicated he would be willing to withdraw the budget bill if an Executive is formed before December
Sinn Fein's Northern leader Michelle O'Neill said her party met the DUP on Monday morning and told them of its decision to end the negotiations.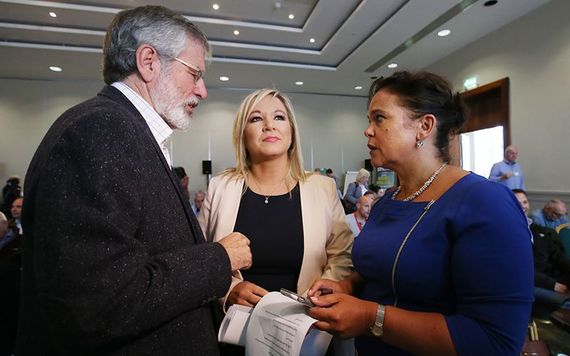 3
She accused May of prioritizing "her own electoral survival by the Tory-DUP pact over the interests of all the people here in the North."
O'Neill, backed by party leader Gerry Adams, called for Dublin and London to convene a meeting of the British-Irish Intergovernmental Conference to address issues which were blocking the return of devolution.
The decisions on the budget, which should have been made in Belfast, were made in London because of the collapse of the power-sharing administration at Stormont 10 months ago.
Read more: Sinn Fein and Gerry Adams will never give up