Taoiseach (Prime Minister) Leo Varadkar has achieved the highest rating for a Fine Gael taoiseach since 2011 at 52 percent, according to a new poll in The Sunday Times.
Fine Gael's satisfaction rate is up three points to 34 percent, according to the new poll.  Fianna Fail has risen four points to 31 percent while Sinn Fein is down five points to 14 percent.
Sinn Fein President Gerry Adams's personal satisfaction rating is down six points to 32 percent while Fianna Fail's Micheal Martin's has not changed at 50 per cent.
#Ireland FG's support rises to more than two-year high– B&A #poll. Leo Varadkar is the most popular FG PM since 2011 with 52% approval pic.twitter.com/MuyKSe6Drt


— CEEMarketWatch (@CEEMarketWatch) November 13, 2017

Overall satisfaction with the government is up five points to 44 percent.  The good news for Fine Gael came on the same weekend as their national conference close to the border with Northern Ireland in Ballyconnell, Co. Cavan.
Read more: Sinn Fein and Gerry Adams will never give up
Varadkar, emphasizing how close to the border they were, struck a sober note on Brexit, saying that there would be "tough calls and hard decisions ahead."
But he said he wanted to reassure all border communities that his government was listening to them and hearing their concerns.
"We promise you that we will safeguard your rights, and all that we have achieved. I know this won't be easy, and that all these matters are not entirely under our control," he said.
Minister for Foreign Affairs Simon Coveney told the conference the government's "stubborn" position on not having a hard border after Brexit was not a "land grab" for Northern Ireland or a "stepping stone" to a united Ireland.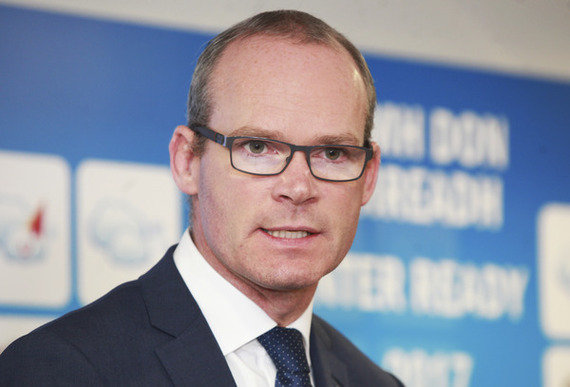 2
Coveney said the government's position is "consistent, firm and stubborn" that there should be no "regulatory divergence" post Brexit, in order to allow for a "functioning all-island economy."
On taxes, Varadkar promised cuts for the next three budgets.
"It's not fair that people on middle incomes pay income tax at the highest rate ... That's not fair, and we're going to change it."
Varadkar's first party conference speech was delivered to 1,500 delegates on Friday, instead of the usual Saturday for the keynote address.  This was to facilitate delegates who wished to view Ireland's World Cup tie against Denmark.
Varadkar promised that his government would implement a 10-year plan to modernize and streamline Ireland's health service.
"A country that spends the fifth highest in the world on healthcare deserves to have a top-tier health service," he said.
Read more: Outrage as Irish homeless exec tells people not to feed the homeless