Irish priest, Monsignor Charles Coen, stunned by 40-year-old sexual abuse allegations. Now the 84-year-old Galway man is determined to clear his name.
Monsignor Charles Coen was 84 years old and in the throes of viral pneumonia at the start of this year when he thought his life couldn't get worse.  Barely able to breathe and hospitalized for weeks, he got word from the Archdiocese of New York that a single accusation of sexual abuse which allegedly occurred in 1978 in a Staten Island parish had been lodged against him.
Father Charlie, as he's known in the Irish New York music community – he's an All-Ireland winning multi-instrumentalist who has played at a countless number of Irish shows and events – couldn't believe what he was hearing but was too ill to have much of a reaction.
"The person said, 'We have some bad news for you.' I said I hope it's bad enough to get some of my adrenaline going, anything to make me breathe," Coen, now 85, told the Irish Voice during an exclusive interview on Monday.
3
"I was so sick I didn't pay any heed to it.  I thought there was no way I could be charged with that because it never happened."
Not only was Coen charged, but he was also found to be guilty by investigators from the Archdiocese of New York of a 40-year-old sexual abuse allegation and was stripped of his priestly duties in the summer.  A native of Woodford, Co. Galway who immigrated to New York in 1955, Coen is stunned and saddened by the development, but determined to clear his name.
"I am not only denying the charge, but it couldn't possibly have happened," Coen said.  "One thousand percent, I didn't do this. And not only that, I never got a proper chance to defend myself from the archdiocese."
Now living in a New York retirement home, Coen has been a popular and revered presence at Irish events throughout the New York area for decades.  The self-taught musical priest won three All-Ireland senior championships in 1960 and is best known for playing the concertina.  He's also a singer who plays the flute and tin whistle and has taught Irish music to students of all ages.
The allegation against Coen, which the archdiocese called "credible and substantiated" after completing its review process, was lodged by a young man who alleged that in 1978 when Coen was assistant pastor at St. Joseph-St. Thomas parish on Staten Island, Coen molested him in the church sacristy during a fitting for altar server robes.  The claimant alleged that Coen ordered several boys to stand outside the church, partially unclothed, until he could measure each one for robes.
The man, whose name the Irish Voice is withholding, is the only person to have lodged an accusation against Coen under the Archdiocese's Independent Reconciliation and Compensation Program which was established in 2016.  After the allegation was made, Coen was notified and an attorney who specializes in canon law was provided to him by the archdiocese.
The attorney, J. Michael Ritty, is head of Canon Law Professionals in Feura Bush, New York, just outside of Albany.  One of the most renowned canon law professionals in the U.S., Ritty's firm has been retained by the Archdiocese of New York and many others throughout the country. 
Ritty declined to comment for this story, but the Irish Voice obtained a letter that he wrote to the Holy See in July on Coen's behalf which strongly denied the allegation against his client and lashed out at how the investigation was conducted.
In the letter, dated July 3, Ritty wrote, "Upon hearing the finding of the Archdiocesan Review Board, Monsignor Coen expressed his disappointment, maintained his innocence and affirmed his denial of the accusation. Nevertheless, given his advanced age and weak health, Monsignor Coen instructed me that he did not wish to pursue his defense any further.
"While I respect Monsignor Coen's, wish as his duly mandated advocate I nevertheless wish to speak on his behalf regarding the case…
"In February of this year, I was informed by the Archdiocese of New York that the accusation had been received and that a preliminary investigation was underway… minimal information was provided regarding the alleged offense…
"On April 13, I requested an update on the status of the investigation … no response was given until May 16 when an official of the Archdiocese of New York called to schedule an interview with Monsignor Coen.
"It was not until June 4, prior to the interview scheduled for that day, that I was presented with the substance of the accusation, summaries of the interviews conducted with the accuser and other witnesses, and an unsigned letter from the accuser's wife."
Ritty's letter said the single 1978 allegation against Coen "is filled with inconsistencies regarding the facts and circumstances.  Also, the accuser is inconsistent with regard to whom he told about the incident. And when. Witness testimony contradicts him at times."
The claim, Ritty added, "clearly lacks a semblance of truth…there is no preponderance of evidence."
Ritty further detailed his belief that there is "strong evidence to point to collusion between the accuser, his wife, and his family."  The accuser, Ritty wrote, has a "psychiatric history" and "the accuser's unemployment history and current status, as well as that of his wife, could point to a possible motive to the timing."
Ritty added, "Given the nature of pedophilia, one would expect there to be several victims, perhaps other boys, especially those present at the time of the alleged incident. Forty years have passed. No others...have presented allegations."
Ritty strongly criticized the rushed nature of the Coen investigation and other charges of abuse the archdiocese receives.
"The manner of handling allegations against priests – i.e., periods of silence, last-minute scheduling of interviews and shorts deadlines for preparation of defense briefs, has become the modus operandi of the Archdiocese of New York," he wrote.
"It bears 'calling out' at it represents a lack of respect for the accused…further, it represents an apparent presumption of guilt by some in the Archdiocese of New York which is inappropriate and unjust and which seems to motivate how the accusation is investigated … it seems there is an effort to find a credible and substantiated preconceived conclusion of guilt which in many cases like the one in question arrives at an unexplainable, untenable and incredible finding."
Ritty's letter concluded by saying Coen has "no fight left in him," and asks that he be allowed to "return to active ministry, albeit limited by his age and failing health. Moreover, I request that the congregation direct the Archdiocese of New York to do all in its authority to restore the good name of Monsignor Coen."
The archdiocese, however, is standing by the findings against Coen, according to spokesperson Joseph Zwilling.
"We are confident in our process…confident in the careful consideration that our lay review board always gives to every one of these cases, " he told the Irish Voice.
The accuser's claim, Zwilling said, went through the channels established by the Independent Reconciliation and Compensation Program, including reporting of the allegation to the district attorney's office with jurisdiction.  (The allegation against Coen is outside the statute of limitations for criminal prosecution).
The archdiocese retains a firm, Renaissance Associates, to conduct investigations of allegations received and follow any leads; once the process is complete, a report is prepared for the archdiocese's Lay Review Board which has six members – a nun, priest, judge, attorney, a retired judge, and a psychiatrist.  They make a determination, which is forwarded to Cardinal Timothy Dolan, head of the archdiocese.
"Cardinal Dolan has always accepted the determination of the review board, and that is the process that was followed in this case," Zwilling said.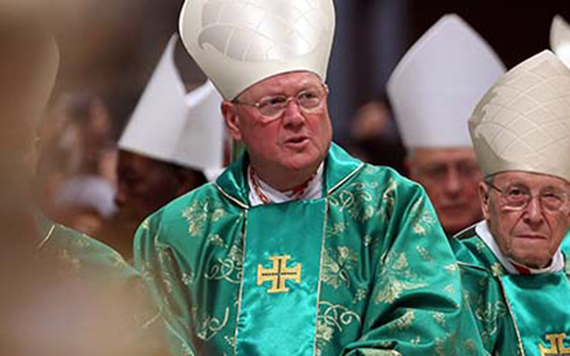 3
The amount of money that the Independent Reconciliation and Compensation Program awarded to Coen's alleged victim – the program is co-administered by Kenneth Feinberg, who oversaw grants to victims of 9/11 – is unknown.  "I would not be given that information," Zwilling said.
The allegations against Coen and the punishment meted out by the archdiocese became public last month when they were published in several Staten Island parish bulletins.
"Monsignor Coen has been suspended and may not function or present himself as a priest," the bulletin said. "The Holy See will decide an appropriate penalty, which could include dismissal from the clerical state or imposing a life of prayer and penance. However, it is certain that Monsignor Coen will never serve as a priest again," the bulletin note said.
Coen has been heartened by the strong support he's received from fellow priests – his colleagues at the retirement home signed a petition in his favor and sent it to the archdiocese – former parishioners and his friends in the local Irish community.
"It's been very hard for me to think that people who have trusted me for years no longer think that anymore," Coen said.
What does he think of the Catholic Church now?  He has always loved ministering and helping people, but the politics are dismaying, he says.
"I have mixed feelings. The church right now is being investigated by the state. They are circling the wagons. They made a mistake in the past moving priests around and they are going in the other direction, declaring people guilty without a proper hearing."
Earlier this year, Coen celebrated 50 years in the priesthood.  "I always wanted to be a priest," he said.  "And I don't have any regrets about that."
Read more: Horrors of Irish Mother and Baby Homes revealed in new report