"I'd like any contest, whenever it does happen, to be about not personalities but people's vision for the future of the country and how we can move on from a situation where we've crawled out of a very difficult recession into one where we can be much more ambitious about the future of our country.
"I'm not going to make my personal life and my family life an issue in any campaign, and I hope and trust that others won't do either," he added.
The speaker is Leo Varadkar, favorite to be the next leader of Fine Gael in a short few weeks and taoiseach as well.
Varadkar, who qualified as a medical doctor but went into politics instead, came out as gay in 2015 to no one's surprise, but now that he is close to the mantle of supreme leader there is some dirty football going on.
Leo Varadkar now 4/7 to be the next Fine Gael leader, but Coveney hot on his tail. Betting: https://t.co/lIbW99xCew pic.twitter.com/ngz70QBbRq

— Paddy Power Politics (@pppolitics) March 1, 2017
Varadkar is an exotic bird by Irish political standards. His father is from India and is a retired physician; his mother is from Waterford. The last son of a foreigner to be taoiseach was Eamon de Valera many decades ago.  In a land where orthodoxy and tight-knit family dynasties in politics are the norm (current Taoiseach Enda Kenny is a son of a politician; so too is Varadkar's chief rival Simon Coveney), Varadkar is certainly an exception. The fact that he is gay has also become an issue, much though the media and others say they wish it was not.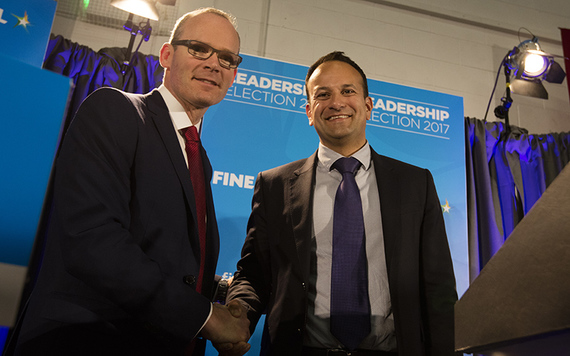 2
The Independent Newspaper group has taken to printing vivid pictures of Coveney with his wife all over their front and inside pages. Articles about whether Varadkar's sexual orientation will damage him (written in sorrow rather than anger, don't you know) have begun appearing.
Then there were photographs of Varadkar on vacation with his boyfriend, also a doctor, and questions asked (more in sorrow, of course) if this would cause enormous problems if he was present on overseas trips.
(Personally, I'd love to see homophobe Vice President Mike Pence's face if Varadkar, with his partner in tow, shows up at the White House next year.)
How will Holy Catholic Ireland react to all this? It will very much break down along age lines, with the younger generation not giving a toss and the older rural types not happy, it seems to me.
That is certainly how it looked when the gay marriage referendum passed and only 38 percent of Ireland said 'No.'
Comment: Why Leo Varadkar having a boyfriend does matter https://t.co/swTEcVs3sS pic.twitter.com/EMESagr9LK

— Independent.ie (@Independent_ie) February 22, 2017
The fact that Varadkar addressed the issue head on will help him. It is all out there and the campaign has only just begun.  He would be only the fourth elected leader of a country who was openly gay.
In the end, of course, it should come down to competency, and Varadkar's meteoric rise has certainly proven to everyone he does not lack the talent or ambition.
Ireland could do with a new and urgent burst of energy, with a new leader who will take on the huge issues such as Brexit and European debt, not flinch from them.  Varadkar certainly seems to be that person, though no one is ruling Coveney out.
There is also the fact that this Irish government is propped up by opposition party Fianna Fail, whose members abstain on no confidence motions but could easily bring the government down if they decided to vote against them.
It will be a leadership contest like none before in Irish politics. The winds of change are certainly blowing and old timers will hardly recognize the country these days. That is all for the good, and Varadkar would help secure that openness and vibrancy.