Tributes have poured in to commemorate the life of Tom Moran, the Irish American activist, philanthropist and businessman who passed away on Sunday, August 12 after a short illness.
Moran was chairman emeritus of Mutual of America at the time of his death, having led the insurance giant as president, CEO and chairman during his 43-year career with the company.
As well as being an extremely successful business leader with Mutual of America, Moran, 65, played a critical role in the Irish peace process; transformed Concern, the worldwide relief agency when he took over as chairman; became chancellor of Queen's University in Belfast; was presented with the Irish Presidential Distinguished Service award; and helped numerous charities, always anonymously.
Irish President Michael D. Higgins issued a statement about honoring Moran with his award in 2015.  "I have learned with sadness of the passing of Tom Moran, a leader in the Irish community in America who will be greatly missed. In 2015, I presented Tom with a Presidential Distinguished Service award in recognition of his work for Ireland, on this island and in the U.S., supporting peace, but also supporting education and opportunity. Sabina and I would like to extend our deepest sympathies to his wife Joan, his family and many friends at this time."
4
Irish Foreign Affairs Minister Simon Coveney also offered his condolences. "I learned with sadness today of the death of Tom Moran in New York. Tom made a very significant positive impact on Irish American relations, in particular supporting peace in Northern Ireland. My sincere condolences to his wife, Joan, and to his wider family and friends," he tweeted.
Niall Burgess, secretary-general of Ireland's Department of Foreign Affairs and former Irish consul general in New York, also paid tribute to Moran. "Mourning the death today of Tom Moran. Nobody would be more uncomfortable with eulogies -- nor more deserving. He was the underdog's fierce champion -- a humanitarian and a rebel. The best of company and the most loyal of friends. Ar dheis Dé," he tweeted.
Read more: Thomas Moran - a dreamer, a doer and a force for good
The noted Irish radio broadcaster Adrian Flannelly, a long-time friend of Moran, told the Irish Voice, "Tributes to Tom Moran include his humanitarian efforts, philanthropy and especially his significant contributions to the Northern Ireland peace process. His personal support for many of us was invaluable.  His open door policy was not as widely known. Tom's interest, guidance and financial support in no small way was crucial for the success of many."
Former Sinn Fein leader Gerry Adams, who knew Moran for decades, issued a statement on behalf of the Sinn Fein leadership, including Mary Lou McDonald and Michelle O'Neill.
"It is with very deep regret that we heard the news of Tom Moran's death in New York," Adams said.
"Tom was introduced to the peace process by Bill Flynn and became a crucial player in his positive involvement with political representatives of loyalism making clear his main aim was a shared understanding of the peace process and building support across all communities. He will be deeply missed. Our condolences to his wife Joan and his wide circle of family and friends…Ar Dheis De Go Raibh A Anam Dilis."
Queen's University Vice Chancellor Professor Ian Greer said, "We are grateful for Tom's unwavering support and commitment to the university since he was appointed chancellor in May 2015.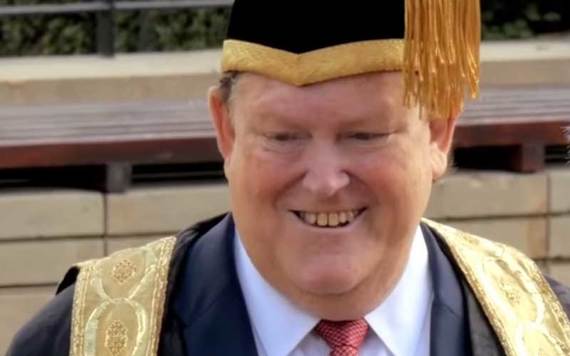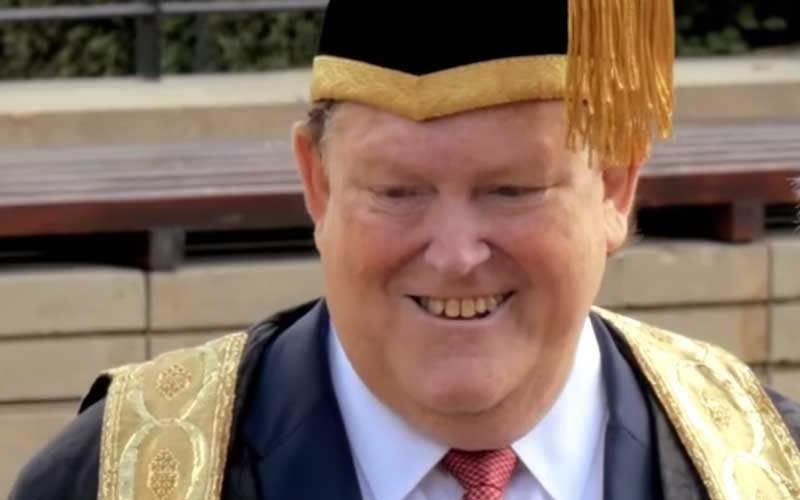 4
"Tom considered it a privilege and honor to be our chancellor and embraced the role with passion and excitement, often commenting how special it was for him to be part of the Queen's family."
Moran was deeply committed to Irish humanitarian charity Concern, and took many trips to global hot spots where Concern staffers work.
"Typical obituaries end with a recitation of loved ones left behind by the departed: 'He or she is survived by…'" a posting on Concern's website said.
"In the case of Tom Moran, who left this earth on Sunday, August 12, such a listing would be impossible, because Tom is not only survived by a vast community of loving family, friends, and colleagues, but by countless men, women and children around the world who have been — and will continue to be — touched directly by his love, generosity, and boundless belief in the humanity and dignity of all.
"Tom was a Concern Worldwide U.S. Board member for more than two decades, and Board Chair from 2001—2017. His relentless commitment to our mission from day one allowed Ireland's leading humanitarian organization to establish roots in the US. His personal generosity and dauntless evangelism on behalf of the organization set a tone and an example followed by hundreds of others, a community of loyal supporters that has provided a rock solid foundation for innovation, influence, and impact in transforming the lives of the world's poorest people."
Moran was born in 1952 on Staten Island, one of three children of an Irish-Italian-American mother and an Irish American father, with roots in counties Fermanagh and Tipperary. Moran's maternal grandfather, Arturo Quaranta, was from outside of Salerno, Italy, and as Moran pointed out in an interview with Irish America magazine, he "was a lover of all things Irish, especially Peggy O'Neill," his wife and Tom's grandmother.
4
Always a modest man, Moran was quick to give credit to others, beginning with the sisters who educated him as a young boy. When he first started grammar school, he wasn't able to speak. However, the nuns of the Daughters of Divine Charity worked with him, and by the time he was in the second grade, he was talking.
At the age of 14, Moran began his first job as a janitor at his high school. He followed this by working as the french fries man at Nathan's Hot Dogs, a short-order cook, and a cemetery worker. While attending Manhattan College, he drove a cab during the night shift.  
After earning a BS in mathematics, Moran began working at Mutual of America in 1975. Back then, his job was to "paperclip anything that needed to be signed" whenever a pension had been sold. When there was a pile of contracts to be signed, he would bring them to then Mutual president Bill Flynn.
It was from Flynn that Moran learned another important lesson, about making sure that the people who work for a company, no matter how big or small the role they play, know and feel that they are important.
At Mutual, Moran met his wife, Joan, in 1976. The couple married in 1983 and both worked for the company – Moran as president, CEO and chairman, and Joan responsible for the company's technology. They shared a love of family and friends and a passion for philanthropy and volunteerism.
Mutual of America published an obituary in Tuesday's New York Times praising Moran's commitment to the company.
"He was a visionary leader, transforming the company into one of the most respected financial services companies in the nation. Tom touched the lives of so many individuals worldwide, and he was particularly loved by his Mutual of America family," the obituary said.
"Those of us who were fortunate and blessed to have known and worked closely with him will fondly remember his wisdom, integrity, compassion, caring nature, great sense of humor, limitless energy and a love of life that had a contagious effect everyone he met. He serves as an inspiration for all who knew him."
A funeral Mass is scheduled for Friday, August 17 at St. Patrick's Cathedral on Fifth Avenue.