One of the greatest Irish American leaders of all time, Tom Moran, passed away Saturday, August 11 after a short illness. He was 65. A funeral mass will be celebrated in his memory at St. Patrick's Cathedral on Friday, August 17.
As well as being an extremely successful business leader with Mutual of America; he played a critical role in the Irish peace process; transformed Concern, the worldwide relief agency, when he took over as chairman; became Chancellor of Queen's University in Belfast; was presented with the Irish Presidential Distinguished Services award; and helped numerous charities, always anonymously.
Patricia Harty founding editor of Irish America Magazine , which inducted Moran into the Irish America Hall of Fame in 2012, stated: "He was a man who didn't just give money, he gave of  himself, and when he helped someone he made them feel that they were giving him a gift."
Moran's induction into the Irish America Hall of Fame:
 Sinn Féin ex-leader Gerry Adams, who knew Tom Moran, for decades issued a statement on behalf of the Sinn Fein leadership, including Mary Lou McDonald and Michelle O'Neill.
"It is with very deep regret that we heard the news of Tom Moran's death in New York.
"Tom was introduced to the peace process by Bill Flynn and became a crucial player in his positive involvement with political representatives of Loyalism making clear his main aim was a shared understanding of the peace process and building support across all communities. He will be deeply missed. Our condolences to his wife Joan and his wide circle of family and friends…Ar Dheis De Go Raibh A Anam Dilis."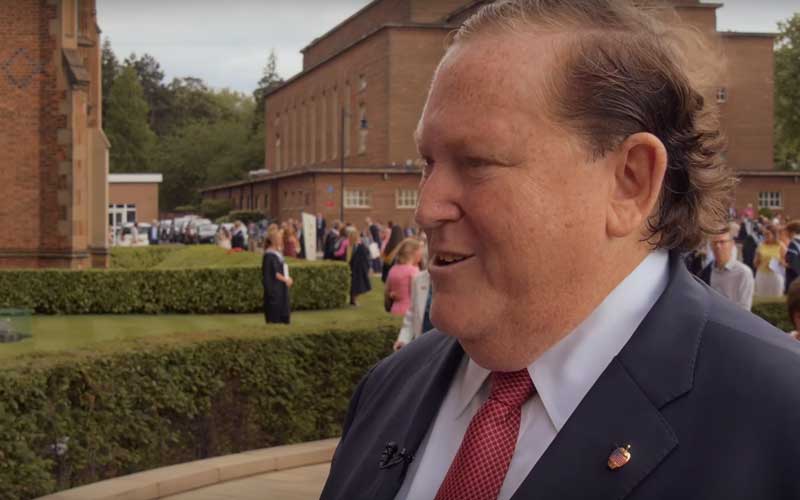 3
Niall O'Dowd, the founder of Irish America, Irish Voice and IrishCentral, said: "Tom will be deeply missed. He was one of the great humanitarians of our time, not just in the Irish community but among Americans. His passing, along with Bill Flynn, former Chairman of Mutual, ends an era that will be remembered for all the right reasons, among them the commitment of both men to a peaceful Ireland.
"A visit with Tom Moran was always a wonderful event mixing Irish wit, business expertise and deep compassion and empathy for those less well of. I especially remember a story he told about being in grave danger in Afghanistan when he went there as part of his role as Chairman of Concern despite deep misgivings by many.
"Somehow having Tom tell it made it both humorous and deeply insightful. He was an amazing combination. Tom took everything but himself seriously. There was never a hint of pretension or assumed airs. The kid from Staten Island who once drove a cab to survive would never have let him. In his wife Joan, he found a wonderful and kind partner who was as down to earth as him and an inspiration also."
"He and Bill Flynn transformed Mutual of America with the help of men like Ed Kenney and all shared a charitable vision deeply unusual in corporate America, I had the pleasure of working closely with Tom on the Irish peace process and found him the most generous soul with the most perceptive vision of anyone I have ever met.
"Classically, Tom went to the other side, to try and understand Ulster loyalists and made a huge impression on them which helped greatly as the peace process was unfolding. We will never see his likes again. To know Tom Moran was to feel better about this world we live in, that there are very special people out there."
On Monday evening Ireland's Tanaiste (Deputy Prime Minister) Simon Coveney, tweeted:
I learned with sadness today of the death of Tom Moran in New York. Tom made a very significant positive impact on Irish American relations, in particular supporting peace in Northern Ireland.
My sincere condolences to his wife, Joan, and to his wider family and friends.

— Simon Coveney (@simoncoveney) August 12, 2018

Queen's University Vice-Chancellor Prof Ian Greer said "We are grateful for Tom's unwavering support and commitment to the university since he was appointed Chancellor in May 2015.
"Tom considered it a privilege and honor to be our Chancellor and embraced the role with passion and excitement, often commenting how special it was for him to be part of the Queen's family."
Sinn Féin MLA and the party's higher education spokesperson Caoimhe Archibald said: "As Chancellor of Queens, he made an invaluable contribution to the education of our young people but he also played a key role in our peace and political process, acting as an unofficial US peace envoy in the past and was also a noted philanthropist and leading international humanitarian, serving as chairman of Concern Worldwide.
"We offer our deepest condolences to his family, friends and all those who knew him at this sad time."
PSNI Chief Constable George Hamilton said: "Sad to hear of the passing of Tom Moran in New York earlier today. A great friend - full of honesty, candor and wisdom. Authentic advocate for policing and the peace process. Many of us in leadership will miss his support, counsel and humor."
Former chairman, president and CEO of Mutual of America, Tom Moran was born in 1952 on Staten Island, NY, one of three children of an Irish-Italian-American mother and an Irish-American father, with roots in Counties Fermanagh and Tipperary. Moran's maternal grandfather, Arturo Quaranta, was from outside of Salerno, Italy, and as Moran pointed out in a previous interview with Irish America, he "was a lover of all things Irish, especially Peggy O'Neill," his wife and Tom's grandmother.
Always a modest man, Moran was . quick to give credit to others, beginning with the Sisters who educated him as a young boy. When he first started grammar school, he wasn't able to speak. However, the nuns of the Daughters of Divine Charity worked with him, and by the time he was in the second grade, he was talking. At the age of 14, Moran began his first job as a janitor at his high school. He followed this by working as the french fries man at Nathan's Hot Dogs, a short-order cook, and a cemetery worker. While attending Manhattan College, he drove a cab during the night shift. Through these diverse work experiences, Moran learned valuable lessons and developed the beliefs that continue to influence his life and work today.
Read More: Tom Moran named Chancellor of Queen's University Belfast
After earning his B.S. degree in mathematics, Moran began working at Mutual of America in 1975. Back then, his job was to "paperclip anything that needed to be signed" whenever a pension had been sold. When there was a pile of contracts to be signed, he would bring them to then-president (and 2011 Hall of Fame inductee) Bill Flynn. It was from Flynn that he learned another important lesson, about making sure that the people who work for a company, no matter how big or small the role they play, know and feel that they are important.
On a personal note, it was at Mutual that he met his wife, Joan, in 1976. The couple married in 1983 and both worked for the company – Moran as president, CEO and chairman, and Joan responsible for the company's technology. They shared a love of family and friends and a passion for philanthropy and volunteerism.
Moran, rarely one for the spotlight, has in the past praised Mutual of America for creating an atmosphere of giving within the company, with all employees either actively volunteering for or donating to various causes. Under Moran's stewardship, Mutual is a sponsor of Public Broadcasting and was the corporate underwriter for Bill Moyers' show. For Moran and Mutual, it was not about completely agreeing with what someone says but about promoting thorough discussions of important issues, which can lead to a
better society.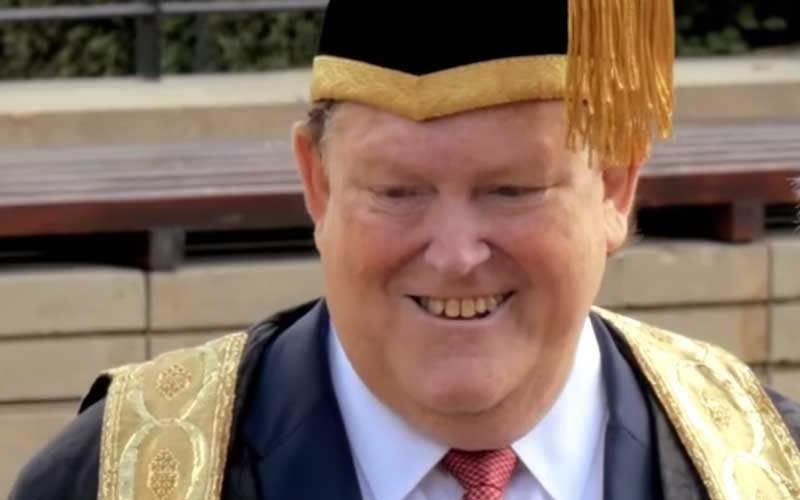 3
Mutual influence on Moran was apparent when one looks at the causes he was personally involved with: disabilities, Concern and the Northern Ireland peace process. Tellingly, he never discusses his philanthropic work in terms of what he has done, but rather by discussing what the organizations do.
In 1992 Moran became involved with the Abilities Foundation, which works to improve the lives of people with disabilities, and through them he is also involved with the Henry Viscardi School for students with severe physical and medical disabilities. Moran was drawn to these programs due to their shared belief that people with physical disabilities can and should pursue their dreams.
Moran was the chairman of Concern Worldwide (US), an organization founded in 1968 in response to the famine in Biafra. Today, Concern has programs in 28 of the world's poorest countries, and implements emergency responses to disasters, in addition to targeting poverty and hunger. Moran first became involved as a donor for the organization. His passion for Concern's mission quickly grew, and he joined the board, eventually becoming the chairman. In this role, he took an active approach, which has given him the opportunity to travel to Afghanistan, Haiti, Rwanda and the Sudan. These intense and important trips left him even more impressed with and dedicated to Concern's work.
Read more: Tom Moran, Gabriel Byrne receive Ireland's presidential medal
It was through Flynn that Moran's involvement with the Northern Ireland peace process began. He had first visited Ireland in 1970 and enjoyed his time there, but he credits Flynn and Bill Barry with generating his passion for the country and its future. In his involvement with the peace process, Moran worked behind the scenes, resulting in strong friendships with those on both sides of the conflict. When he was honored as Irish American of the Year in 2008, accolades were bestowed on him from Ian Paisley, Gerry Adams, former Taoiseach Bertie Ahern, and Sir Hugh Orde, then-chief Constable of the PSNI, among many others.
In addition to these praises, Moran was awarded numerous honors, including the Ellis Island Medal of Honor, which celebrates "remarkable Americans who exemplify outstanding qualities in both their personal and professional lives, while continuing to preserve the richness of their particular heritage." It is a fitting description of Tom Moran.
May he rest in peace.