The upcoming Nexflix series "Anne" is a coming-of-age story based on the children's classic "Anne of Green Gables" about a courageous young outsider who has to fight for love and acceptance and her place in the world. Set in the late 1890s in Canada, 15-year-old County Donegal native Amybeth McNulty plays the young orphaned girl who transforms the lives of her adopted parents and eventually the small town in which they all live with her spirit and imagination. Cahir O'Doherty talks to McNulty, who has made an indelible impression in her first full-length feature performance.
You can count on one hand the number of classic children's books that put a spirited young girl making her way in the world at the center of the story.  So when one finally does come along that's as well made and acted as Netflix's new show "Anne," it's time to pay attention.
At just 15 years of age, Amybeth McNulty has become the latest breakthrough Irish actress to be cast in a major title role production. Think of it as the audition piece of a lifetime for the Co. Donegal-based actress, who doesn't waste a single frame proving her talent as the brilliant but brittle young girl she's been cast to play.
Based on the children's classic "Anne of Green Gables" by L.M. Montgomery, Netflix has shortened the title to "Anne" and updated some of its themes.
"We definitely include issues that we're facing today," McNulty told our sister publication the Irish Voice during an interview last week.
"It's a contemporary story that just happens to be set a hundred years ago. We have sexism and sexuality and prejudice and bullying. We're definitely bringing in that side of it while staying very true to the original story itself. I think that anyone will be able to relate to it, which is really nice."
McNulty has lived in Donegal her whole life and auditioned for the part by sending a show reel to the Canada-based producers.
"I got the email from my agent about the show," she explains. "I was doing a few audition self-tapes that day for a few different shows. This was one in the mix of them. I quickly got a note back from them, which was exciting because I've never gotten an offer before from a self-tape."
The next thing she knew she was being invited over to Toronto for some follow-ups that, she says, blew her mind.
"I never thought I'd get the role so I just called it a little holiday to Canada. There I did an audition in a garden where I had to talk to flowers and build a throne out of sticks. It was definitely the most interesting audition I've done," she remembers.
But the last audition of the series went badly for her and she was quite certain she didn't get the job, she says. Then out of the blue two weeks later, back in Ireland, she got the call to say she got the part of Anne, and she was beyond shocked.
"I definitely relate to Anne. We both talk way too much. We both adore books," McNulty says. "I don't have the red hair, I only wish I did, but we had an awful lot in common so it was kind of a click for me immediately."
On-screen she's a natural in the role, giving an award-worthy performance that feels effortlessly real.
"I loved how there were complete switches in her emotions. I had to do very dark and deep scenes and then there were others where I had to be beyond cheerful about," McNulty says.
One of the things that make most Irish film actors quite unique in the industry is their approachability. That's probably because the cardinal sin in Irish life is to have "notions" about yourself.
Nowhere is that more true than in Co. Donegal, where getting above your station is actually a capital offense. How does she square being an increasingly famous teenage actress with being an ordinary teenager growing up outside Letterkenny?
"It's kind of strange honestly.  It's even more strange for my friends and family and all. They say, 'I'm sorry you're going to New York and Canada to film for six months? What are you doing?'"
One of the first professional productions McNulty did was in London for three months and that was hard, she says.
"I was 11 at the time and I missed home and it was so different. But now I'm at the point where it's become fun to explore other parts of the world and be on TV. It's still absolutely unreal for me."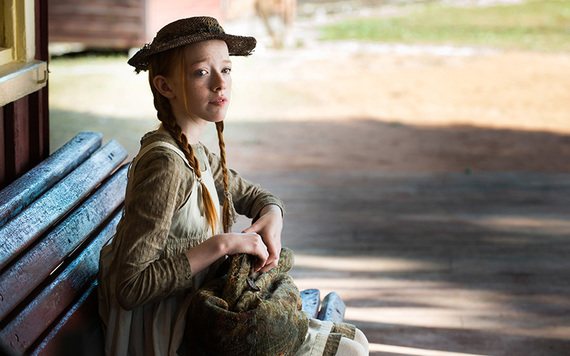 2
Two-time Oscar nominee Saoirse Ronan, born in the Bronx but raised in Ireland since childhood, also had her first big breakthrough role at the age of 11. Does McNulty see any parallels? Is her career an inspiration?
"Saoirse is my number one favorite actress actually," she confesses. "I guess I relate to her because she's Irish and she started very young. My grandparents definitely keep my feet on the ground; they take good care I don't swell my head.
"I really don't want to become boastful or full of myself or anything. So far I'm very lucky that I haven't gone that route. You kind of have to stay true to yourself, and that's all you have to do."
Is she doing the Junior Cert, the Leaving Cert, the equivalent of U.S. junior high and high school exams?
"I'm actually home schooled. I don't do exams myself but if I want to I can totally do them," McNulty says.
"Currently I'm studying online, doing all the normal stuff, playing my ukulele, going to the beach. It's very nice after the six months I spent in Canada to come home to Donegal, sleep in my own bed, see my friends. It warms my heart, it really does. It's just so beautiful and friendly here and I adore it."
One of the things that really evoke the 1890s in "Anne" is the costumes. They're more than usually perfect, including the flower-covered hat that defines her character's brilliance and vulnerability.
"I think as soon as I saw the hat I loved it," McNulty agrees. "It was trouble, though, because it kept breaking and falling apart. It looked great but oh my goodness. I'm absolutely obsessed with every item of clothing in the show, honestly."
Whenever she plays a character it's never completely pretend she says.
"I think there always has to be a sense of realism to it, no matter what you're playing. For Anne it was really easy for me to become a part of her. I'm 15 and she's 13 and there's not a big difference for me," McNulty says.
"I've never been to school so her first day was the exact same as it would have been for me. We were kind of experiencing it together. It was a really new and inspiring for me."
Do her parents have a background in the business? How does a girl from Donegal get an audition that leads to a major new show in the U.S.?
"My whole family is involved in the business here and there. They're either writers or they work in Scottish opera or just acting in general," she says.
"My grandfather did a lot of acting until just a couple of years ago. There's always been that kind of background for me. I just thought if I can do this for the rest of my life or for just a few years – however long I would enjoy doing it – then why not? Somehow it landed me here so I have been incredibly lucky."
What does McNulty want people to know about Anne? Why should they tune in when the eight-episode series begins streaming May 12 on Netflix?
"I would love people to see her love for the world and even though she has struggled through so much how brave she can be in a very scary world," she says.
It's a lesson that never goes out of style.