It took six days – but finally, new British Prime Minister Boris Johnson and Taoiseach Leo Varadkar eased, in part, deteriorating relations between Ireland and Britain with a telephone talk on Tuesday morning
The 15-minute phone diplomacy, described by a British spokesperson as "warm," happened after Johnson, who arrived in Downing Street last Wednesday, was accused of snubbing Varadkar.
Sinn Féin Vice President Michelle O'Neill described Johnson's failure to contact Varadkar earlier as "discourteous and offensive."
Keep up-to-date with IrishCentral's Brexit news here
Johnson hadn't had a conversation with Varadkar for six days, despite talks with Dublin on their first day or two in office by his three predecessors Gordon Brown, David Cameron and Theresa May.
Following a frosty reception in Scotland on Monday and a visit to farmers in Wales on Tuesday, Johnson is expected in Northern Ireland on Wednesday.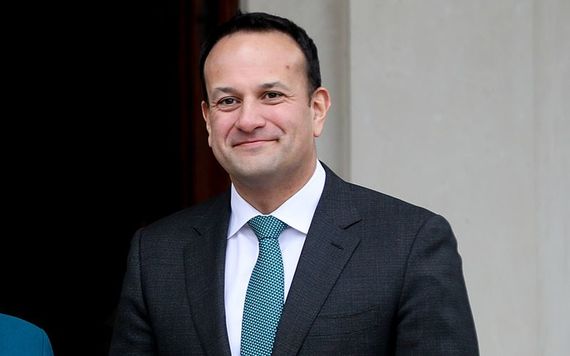 3
He paved the way for a visit with his brief phone chat with Varadkar which was described by officials as mainly chit-chat.
They discussed addressing a gathering in London's Trafalgar Square when Johnson was mayor and Varadkar was Ireland's tourism minister.
Then, according to Johnson's spokeswoman, they talked about Brexit when he made it clear Britain will be leaving the European Union on October 31 "no matter what."
The taoiseach, according to a statement from his office, emphasized to Johnson that the backstop to ensure an open Irish border was necessary as a consequence of the decisions taken by the U.K.  The statement also said Johnson was told the EU is united in its view that the withdrawal agreement reached by Theresa May and the EU could not be opened.
Read more: Direct rule would be imposed on Northern Ireland in no-deal Brexit
Varadkar told Johnson that alternative arrangements could replace the backstop in the future but "thus far satisfactory options had yet to be identified and demonstrated."
Varadkar invited Johnson to Dublin at a future date to "share further their respective analyses on Brexit and to continue discussion of bilateral matters including Northern Ireland, the Good Friday Agreement and the Common Travel Area."
While Johnson and Varadkar were talking, Sinn Féin leader Mary Lou McDonald told party members at an event in Belfast that the time has come to have a discussion on Irish unity.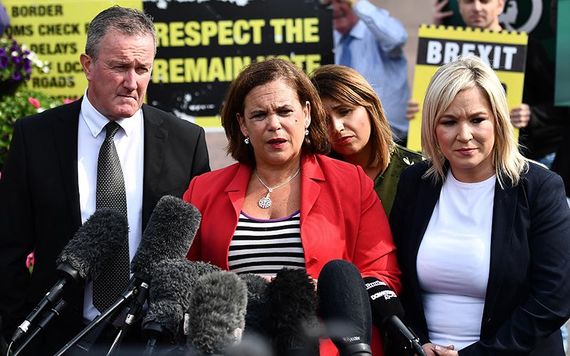 3
She said a growing number of people in Northern Ireland, including many from a unionist background, are now considering their future in the context of Brexit.
She said many are now open to discussing the prospect of a new Ireland, an agreed Ireland and a united Ireland.
McDonald also kept alive the possibility of Sinn Féin reaching an agreement with the Democratic Unionist Party and other Stormont parties on the restoration of the power-sharing administration which was interrupted and suspended more than two and a half years ago.
She confirmed that Sinn Féin and other Stormont parties are expected to meet Johnson in Belfast.
One of Johnson's first moves following his appointment as British prime minister last week was to set up a special group of six Brexiteer ministers which has been called a "war cabinet" to ensure Britain leaves the EU without a deal by Halloween.
In an accusation that Johnson earlier snubbed Varadkar, O'Neill said, "This lack of communication is highly offensive given the disastrous impact that Brexit will have for Ireland."
O'Neill rejected the suggestion the British government might move to legislate to introduce direct rule in Northern Ireland ahead of the October 31 Brexit deadline if the power-sharing devolution at Stormont is not restored by then.
"Direct rule is not acceptable, we cannot go backwards, we can only go forwards," she said.
New British Foreign Secretary Dominic Raab has said direct rule from Westminster would be imposed on Northern Ireland in the event of a no-deal Brexit.
Northern Ireland Secretary Karen Bradley was sacked by Johnson last week, and replaced by Julian Smith, an MP from Scotland. "My responsibility as secretary of state is to represent and work for every citizen in Northern Ireland and to work equally with every party," he said.
"I'm very clear on both the spirit of that (Good Friday) Agreement and the law."