If you have information on the story below contact the investigation team in Dundalk at 011-353-87-1326930; the New York investigation team at 347-304-6685; or Crimestoppers Ireland at 011-353-800555111.  All calls will be dealt with in confidence.
Gardai (police) in Ireland are close to making an arrest in one of the most heinous crimes ever committed in the country, the cold-blooded execution of Detective Garda Adrian Donohoe in January of 2013, and are looking for vital assistance from the Irish community in Woodlawn and nearby Yonkers to bolster their case as the lead suspect lived in the area up until last month.
The reward for credible information leading to a conviction is €100,000, or roughly $112,000.
Members of the Department of Homeland Security plan to distribute posters in Woodlawn and Yonkers urging those with information to come forward.  The posters will also be offered to local businesses and pubs to display.
"Investigators believe people living in the Woodlawn/Yonkers/The Bronx area of New York may have information that could assist this investigation.  A substantial reward is on offer for information leading to the arrest and conviction of the persons involved," the poster says.
6
Sources close to the investigation in Ireland told the Irish Voice that there's "no question" the suspect is known in New York, and that people who were in contact with him could greatly help the investigation. 
The lead suspect in the brutal slaying, a 26-year-old native of Crossmaglen, Co. Armagh who cannot be named in order to prevent future risk to the case, traveled to New York on a British passport in March of 2013 and lived in the Woodlawn/Yonkers area until he was apprehended by Immigration and Customs Enforcement (ICE) agents on May 18 of this year for unlawful presence in the U.S. Irish authorities alerted the Department of Homeland Security after they discovered he left the country via the U.K., and the agencies worked together to track the suspect's movements and whereabouts while he was here.
After he was caught by ICE he was held in a New Jersey detention center until May 23, when he was deported to Dublin and placed under immediate arrest by waiting gardai for crimes committed in 2011 involving a stolen car.  He pled guilty to the charges before escaping to New York, and is now serving a six-month jail sentence.
The suspect, sources told the Irish Voice, did not keep a low profile during his time in the Irish enclaves of Woodlawn and Yonkers.  He used his given name, was employed on and off in the construction industry, was a fixture in Irish pubs, maintained a circle of friends and had been active on social media.  One source said that he even attended a Halloween party dressed as a cop.
He also became a father last year.  His partner, an Irish woman with U.S. citizenship who he met in New York, gave birth to a son and returned to Ireland with the child last week.  Gardai have not verified for certain if the couple married before his deportation, though it is believed that they did.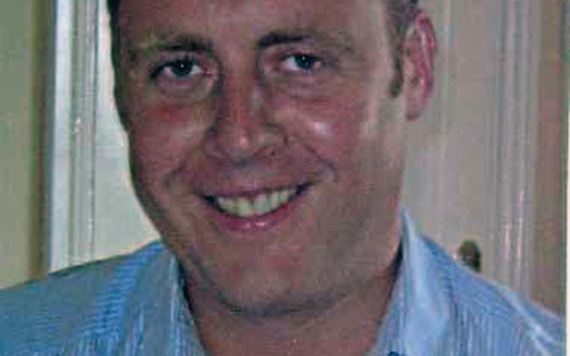 6
Gardai are aware that the suspect spoke of his involvement in the Donohoe murder to people in New York.  Any evidence gathered from those who knew him would greatly strengthen the prosecution, the source said.
"We are asking anyone to please come forward. We have made some progress in New York and we are hoping to capitalize on that.  There are many people – employers, friends – who would have encountered him," the source added.
Gardai have yet to question the suspect about the murder, or charge him with the crime, because they are continuing to build their case.  There are five suspects in the botched robbery slaying that shocked Ireland, two of whom, brothers, are in Boston and are also being watched.  The suspect who lived in New York is the one who gardai believe pulled the trigger.  The other two suspects are residing in Ireland.
Gardai are aware that those with information, especially the undocumented, could be fearful of talking to authorities.  It is stressed that the suspect is not part of a paramilitary gang or other larger criminal network which could lead to reprisals.   Department of Homeland Security investigators, he added, are interested in only one thing: justice served in the killing of a cop.  Undocumented witnesses will not be apprehended.
In 1994, an S visa category was created to help law enforcement prosecute crimes and terrorism, and allocates a maximum of 200 visas per year.  S visa holders can apply for permanent resident status – a green card – if the information provided has "substantially contributed" to a successful investigation or prosecution of a crime.
Gardai will travel to New York to take statements if a substantial lead or leads develop.  Members of the gardai have made the trip several times, and continue to work in close collaboration with the Department of Homeland Security.
Garda Donohoe was only 41 when he was killed, married with two young children.  A native of Co. Cavan, he was a member of the gardai in Dundalk, Co. Louth and was widely beloved for his dedication to the job – two of his brothers are also members of the force – and his community involvement with the local youth GAA club.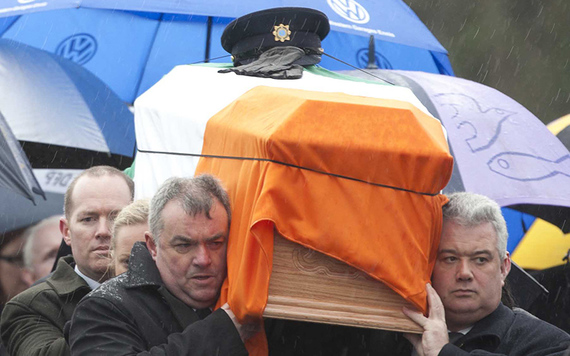 6
On the night of January 25, 2013, Donohoe and his partner, Detective Garda Joe Ryan, were escorting takings from a local credit union to a nightsafe at a bank in Dundalk in a routine drop, part of a three-car convoy.  A Volkswagen which had been waiting for the convoy blocked the exit; when Donohoe exited the car to investigate, he was ambushed and shot.  Ryan, his partner, was taken at gunpoint from the car. The suspects and a driver quickly escaped to the North with €4,000 in cash, and Donohoe died at the scene.
Ireland, a nation unaccustomed to members of its police force being gunned down in cold blood, mourned Donohoe's death with a full state funeral attended by more than 5,000, including Taoiseach Enda Kenny, President Michael D. Higgins, then Secretary of State for Northern Ireland Theresa Villiers and many other politicians and dignitaries.  Gardai have diligently investigated his murder ever since and will not stop until all those responsible for the crime are convicted.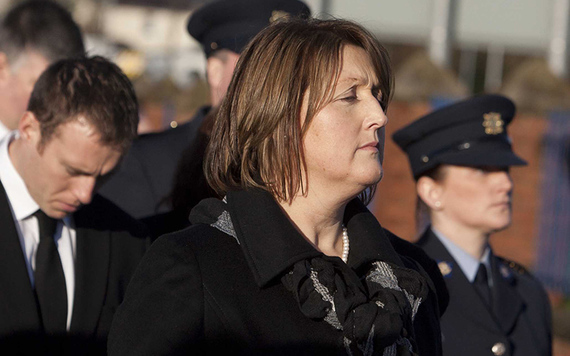 6
"Adrian left a wife and children behind," the source told the Irish Voice.  "They are looking for closure and they deserve that.  What happened to Adrian was an affront to democracy and law and order.  It has affected the whole country and our garda station in Dundalk in particular.  We are very hopeful that people in New York will help us achieve justice."
Here is the full Irish police flyer in full:
6
To report information, contact the investigation team in Dundalk at 011-353-87-1326930; the New York investigation team at 347-304-6685; or Crimestoppers Ireland at 011-353-800555111.  All calls will be dealt with in confidence.