Ireland's leader calls on the United States to appoint a special envoy to Northern Ireland ahead of his St. Patrick's Day meeting with Donald Trump.
Irish leader Leo Varadkar has called for the United States to appoint a special envoy to Northern Ireland, ahead of a meeting with President Donald Trump on Thursday.
But the envoy could have a new role, ensuring that Brexit does not help destroy the Northern Ireland peace process, which America played such a huge role in creating.
Read more: The Brexit crisis - a major IrishCentral conference in New York this March
The call for a Brexit role comes after the British government released a long list of Irish goods that would have tariffs placed on them in the event of Brexit. Such goods would have no tariff if sent North but would have heavy tariffs if sent to mainland Britain.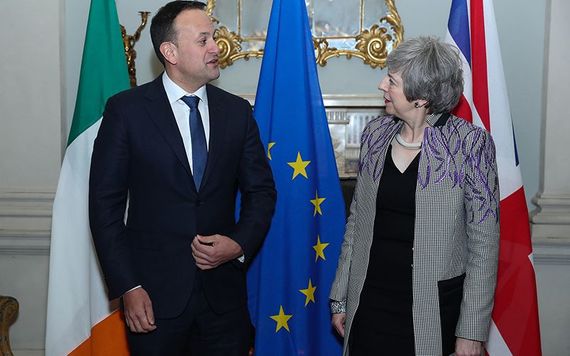 3
It was widely seen as an intimidating gesture by the British government as they seek pressure on Ireland to compromise on the backstop.
The Irish Times reported that "The Taoiseach said that while he was not asking America to "take sides" between the UK and Ireland, he was asking that "no trade deal that is done with the UK should ever undermine the peace process". He also said that he would prefer that a trade deal between the EU and US is completed before a free agreement between the UK and the United States is signed."
Keep up-to-date with Northern Ireland news here
Referring to the British attempt to threaten with tariffs Varadkar said: "There is a supreme irony in that the proposals produced by the British government today propose to treat Northern Ireland differently to the rest of the United Kingdom when it comes to customs. And you will be aware that many of those who voted against the backstop did so on the basis that they feared Northern Ireland might be treated differently in a few years' time. The UK proposals will treat Northern Ireland differently in a few weeks' time in terms of customs, rules and regulations."
He said the European Union would be forced to use tariffs against Britain if that occurred, which "will have a serious impact on the British economy and the economy of Northern Ireland."
3
He said that "this can all be avoided" by having a customs union.
"That is why the customs union was invented in the first place," he said
Varadkar said a special US Envoy could help.
"Certainly, if the president is open to wanting a special envoy to Northern Ireland that would be very welcome. We know historically that when the United States has taken an interest in the affairs of Northern Ireland it has helped bring peace . . . so that will certainly be welcome," he said.
Congressman Richard Neal told The Irish Times this week that he intends to raise the issue with Trump during Thursday's annual St. Patrick's Day lunch on Capitol Hill. Varadkar will also meet with Vice President Pence.
Should the United States reinstate a special envoy to Northern Ireland in the light of Brexit? Let us know in the comments section below.