Martin McGuinness was remembered at a month's mind mass at St Patrick's Cathedral last night.
Close to a thousand Irish Americans joined members of the McGuinness family and Sinn Féin's deputy leader, Mary Lou McDonald in paying their respects to the IRA-commander-turned-peacemaker. Also present was Irish Consul General Barbara Jones and film director and Oscar-winner Jim Sheridan
Accompanied by the skirl of bagpipes, the last of the congregation filed in and Monsignor Robert Ritchie began proceedings by declaring McGuinness "a man of history, a man of destiny, a man of peace."
He told the congregation that a month's mind mass was a great Irish and Catholic tradition. This month's mind would be "a special way of remembering" Martin McGuinness and there was nowhere more appropriate in North America than St Patrick's Cathedral in New York City. To this day the building remains "the epitome of being Irish in America" and has been of "great comfort to so many people."
Cathy McGuire sang a rendition of "Here I am Lord" and Mary Lou McDonald read a reading, "A Time for Everything" from the Book of Ecclesiastes; there is it tells us "A time to be born, a time to die… a time to kill and a time to heal… a time for war and a time for peace." McGuinness' was a life that touched by all those things.
4
"The Gospel emphasizes blessed are the peacemakers," Fr Ritchie sermonized. "One of the most important things I can do is be a peacemaker… We need more Martins, people who will make peace actual and real."
A prayer was offered that, "The people of Ireland endure peace after 800 years of conflict."
Further prayers were offered for the souls of the 1916 rebels, the Manchester Martyrs and the leaders of the United States, Ireland and the other nations of the world. A further plea asked that the United States "preserves a fair immigration policy" so that Irish immigrants could choose to make their lives in America for generations to come.
Former Senator and US Envoy to Northern Ireland George Mitchell delivered the eulogy joking that very little had been achieved in his first year because "it took me one year to understand what anyone was saying!"
But once there, "I discovered my Irish heritage, Martin McGuinness and more!"
He reflected that "his leadership was a major factor in the negotiations... and the peace that endures today." Throughout his whole life, he added, McGuinness had been guided by "strengthened by his family and by his faith."
"Truly," he finished, "[he was] one of the most important figures of modern Ireland." The congregation rose to their feet and applauded him down from the altar.
4
The ceremony concluded with the singing of Amhrán na bhFiann and the Star Spangled Banner; the latter saw a clutch of hands raised dutifully over hearts as native born and immigrant alike sang America's anthem.
Men in Aran sweaters marched out bearing Ireland and America's two flags and the congregation followed – silver-haired pensioners in their Sunday best intermingling with dozens of tricolor sash wearers and a least one millennial wearing a Bobby Sands '81' jersey.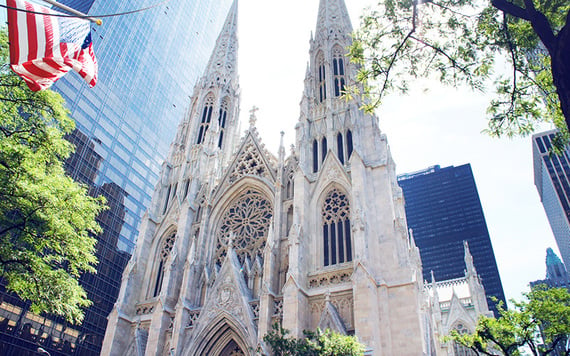 4
Speaking on the steps of St. Patrick's, Mary Lou McDonald paid tribute to Martin McGuinness as a man who left an incredible mark on Irish history. He was a committed Republican, but he knew how to work with others, she said, pointing to his ten years working with three different DUP leaders at Stormont.
His legacy would be the success of the peace process McDonald said. She praised Irish America for its stalwart support of Sinn Féin through thick and thin. "Our friends in America have made  a huge difference," she said, "but we must not sit back, there is much to be done."
On Monday, Irish TD Mary Lou McDonald, Sinn Féin's Deputy Leader, IrishCentral's Founder Niall O'Dowd, Marty Glennon and Joseph Smith from Friends of Sinn Féin joined IrishCentral on Facebook to discuss: