Trinity College Dublin student's body to be repatriated following tragic death after falling from 600-feet cliffs in County Clare.
Authorities have confirmed that the student who died having fallen approx. 600 feet from the Cliffs of Moher, in County Clare, has been identified as an Indian student, studying at Trinity College Dublin.
The 26-year-old student's death was witnessed by other visitors at the popular tourist attraction. The young man was taking a selfie just south of one of the main viewing areas on the cliffs, between the visitor center and the Hag's Head. It's believed he lost his footing and fell to his death.
The Irish Independent reports that the man had arrived at the Cliffs of Moher on a tours bus and was traveling alone. He had been exploring the country in recent months.
While his name has not been released his family in India have been informed and the Irish government is working to repatriate the 26-year-old man's body. Gardai (Irish police) have been working with the Indian Embassy in Ireland since the incident took place on Friday ( Jan 4), at 3.15pm.
On Sunday a representative from the Indian Embassy visited the site of the tragic accident at the popular tourist attraction in County Clare.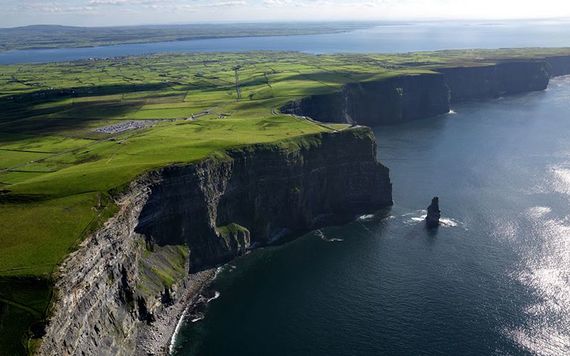 2
Tragic accident
On Friday afternoon at 3.15pm, the alarm was raised at the Cliffs of Moher after the student was seen losing his footing and falling from the cliffs. The Doolin unit of the Irish Coast Guard, the Shannon-based search and rescue helicopter and Gardai were mobilized.
Witnesses watched as the crew of Rescue 114 carefully came into position and removed the young man's body from the water. The man was transferred to the local Coast Guard station where he was pronounced dead.
Police have spoken with a number of eye-witnesses who confirmed that the incident was a tragic accident.
The Cliffs of Moher is one of the most popular tourist attractions in Ireland. In 2017 alone the natural attraction was visited by 1,527,000 visitors. The sea cliffs are located at the southwestern edge of the Burren region in County Clare.
Read more: What to expect on a Cliffs of Moher tour