The group behind the Charlottesville Unite the Right rally posted propaganda messages along the South Side Irish Parade route but Irish fight back with "Hate Has No Home in the 19th Ward" campaign
Posters advertising a white nationalist hate group was found along the route of the South Side Irish Parade, in Chicago on St. Patrick's Day, March 17.
Alderman of the 19th ward of Chicago Matthew O'Shea reported on Monday that he had learned, through social media, stickers the size of posters, advertising the American Identity Movement had been found stuck to 20 light posts, along Western Avenue between 99th and 119th Streets.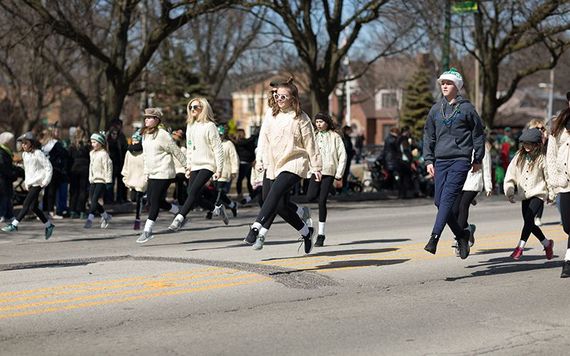 3
In a letter sent to his constituents, O'Shea wrote, "The racist and anti-Semitic positions espoused by this organization do not reflect the values and character of our community.
"We must forcefully speak out against this hatred and counter it with our own message of unity."
The American Identity Movement, formerly known as the Identity Evropa, is a white nationalist group, which was among those who organized the Unite the Right Rally, in Charlottesville, Virginia in 2017. They have previously been branded a hate group by the legal and civil rights advocacy group Southern Poverty Law Center, according to the Chicago Sun-Times. The group is among those being sued for the white supremacist rally that turned deadly, resulting in the death of 32-year-old Heather Heyer.
3
O'Shea said he's contacted a number of city agencies about the stickers, including Chicago Police, the Department of Streets and Sanitation and the Commission on Human Relations.
He told the Sun-Times "When I contacted all departments, no one was aware of this."
O'Shea confirmed he would request a criminal investigation.
The white nationalist hate group confirmed they were behind the stickers. These stickers, the size of small posters, included the group's insignia, featuring a bald eagle and stars and stripes. They included calls such as "Embrace your identity," "Nationalism not globalism," "Defend America" and "Protect American Workers." Samples of the stickers were posted to the group's Twitter account on Monday evening.
Similar posters were seen last years in Chicago's West Loop and the west suburbs.
In February, police ordered five men in Oak Park, in West Chicago to take down an Identity Evropa banner hung across an overpass on an interstate. The banner featuring skulls warned "Danger: Sanctuary City Ahead."
In response to the poster spotted on St. Patrick's Day, O'Shea told the Sun-Times, "We live in a safe community. We call them out for being cowards and spreading hate."
The Irish American Alderman urged locals to pick up a "Hate Has No Home in the 19th Ward" sign from his office to post in the area.
White nationalist "propaganda" found along Sunday's #SouthSideIrishParade route has been removed and Alderman @mattoshea19 urges residents to pick up anti-hate posters from his office. They read: Hate Has No Home In The 19th Ward @WBBMNewsradio pic.twitter.com/tok8woxHQ4

— Bernie Tafoya (@BernieTafoya) March 19, 2019
NPR reported on Tuesday that the American Identity Movement have been found pamphleting, protesting and, among other hate groups, attempting to recruit at the University of Montana, the University of Utah and the University of Denver.
Also in early 2017, multiple Identity Evropa posters were found at in the University of Chicago campus, according to DNA Info.
Accord Anti-Defamation League the group's protests and postering across America increased by 180% in 2018.
Reporter: "Do you see white nationalism as a rising threat around the world?"

Trump: "I don't really."

We saw a nearly 50% increase in white nationalist hate groups between 2017 and 2018. https://t.co/LMTb73Nxzt pic.twitter.com/8rVhQKHRfW

— Southern Poverty Law Center (@splcenter) March 15, 2019
White nationalists hide amongst Republicans
In November 2018, Republican Art Jones, a Holocaust denier and activist anti-Semite, lost out to incumbent Democrat Dan Lipinski in the 3rd Congressional District race in Chicago. Support for Jones came in part from the 19th Ward, where he scored 40 percent of the vote in two precincts.
O'Shea told the Sun-Times, residents in the area likely backed Jones because the area included right-leaning voters and he is Republican.
According to the Southern Poverty Law Center (SPLC) the group formerly known as Identity Evropa, American Identity Movement, has managed to "successfully launder [the group's] image enough for their members to gain access to the Republican Party" despite the fact that it former leader Eli Mosley has praised Nazi Germany and endorsed the "Nazification of America."
In June 2018, the group's current leader Patrick Casey said in a podcast appearance that he is "totally in support of people getting involved in not only their local Republican Party chapter but also organizations like the College Young Republicans."
The SPLC said, "Like many newer alt-right organizations, Identity Evropa tries to cloak its white supremacist ideology with pseudo-intellectualism meant to appeal to young, white, male college students — no swastikas here, but clean-cut boys with flashy haircuts and pressed khakis [sic]."
Should these groups be banned for posting such posters in public places? Let us know in the comments section below. 
Read more: How would the Irish have survived without emigrating to the sanctuary cities of the US