Elphin bishop says the 66.4% of Ireland's electorate who voted Yes to introduced less restrictive abortion laws have sinned in the eyes of the Catholic Church.
Bishop of Elphin Kevin Doran has said he believes all Catholics who voted "Yes" in Ireland's referendum to repeal the Eighth Amendment of the Constitution, which means the Irish law restricting abortion will be changed, should go to confession.
In total 66.4 percent of the 2.15 million voters who took to the polls on Friday voted Yes.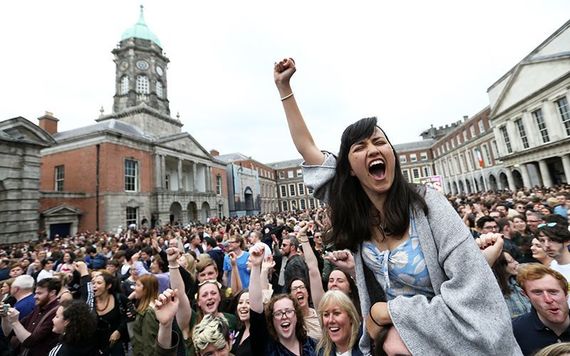 3
The Bishop, speaking on RTE Today on Monday, said he believed that voting Yes is a sin if someone "knew and intended abortion as the outcome."
Bishop Kevin Doran tells @TodaySOR 'Catholics who voted Yes should consider coming to confession, where you would be received with the same compassion as any other penitent'. He says voting Yes was a 'sin'. #8thRef @RTERadio1


— Today Sean O'Rourke (@TodaySOR) May 28, 2018

He said "every person's vote has both a moral significance and a political significance".
While "the Catholic Church is a family and nobody ever gets struck off what I'd say to a Catholic who voted Yes is this, if you voted Yes knowing and intending that abortion would be the outcome then you should consider coming to confession".
Read more: Why the "Yes' vote won so decisively in Ireland's abortion referendum
He said: "Ultimately all sin, and sin is not just related to this area, but all sin is about decisions that impact on our relationship with God."
When asked if it was a sin to vote Yes he said "If they knew and intended abortion as the outcome, yes, I believe so."
He was then asked if those who have not confessed their sins should receive communion he said "That's a matter for their personal conscience because I can't see into someone's heart or soul as they approach the altar.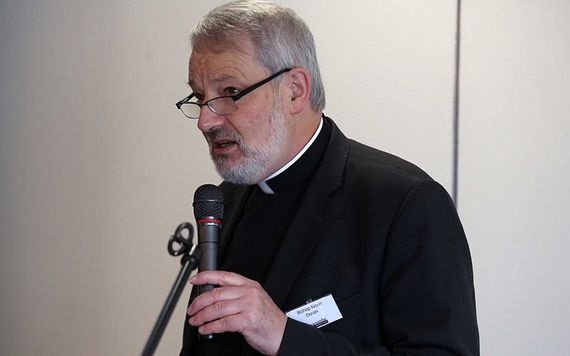 3
"In over 40 years as a priest I have never turned anybody away from holy communion because the presumption, as people approach the altar, is that they come in good faith.
"I think ultimately this is about asking people to take personal responsibility for their own relationship with God and their own relationship with the church. But I would be putting down a marker that it isn't something that you can just take as casual, like it doesn't make any difference."
The Bishop who presides over diocese in Roscommon, Sligo and Galway, and County Westmeath said that this notion that Catholic Church would in insist on repentance is not new. Doran said it's been part of the Catholic Church for 2,000 years and "it is all about the mercy of God and the renewal of the relationship."
Doran said he did not believe that the result of the referendum would change Irish people's core values.
He said here was now a difference between faith - which was personal - and religion, which was communal.
However, he said the results of the referendum illustrated something "a little bit shocking" in Irish society.
"There are cultural Catholics and committed Catholics... To be honest, many people would consider themselves Catholics, religion has become somewhat divorced from faith."
Read more: Does the abortion referendum prove Ireland is no longer solely influenced by the Catholic Church?
He said "I think perhaps one of the problems we face is that for too long we've tended to rely exclusively on a model of faith formation which is addressed to young people in schools, and apart from the Sunday homily there hasn't been serious faith formation in our parishes.
"That's something I've been trying to address in the diocese of Elphin with the establishment of a core of volunteer trainee catechists specifically for parish work."
The head of the Catholic Church of Ireland, Archbishop Eamon Martin spoke from Knock on Saturday. He said Ireland had "obliterated" the right to life of the unborn. He said Ireland is now on the brink of a liberal abortion regime.
Dublin's Archbishop Diarmuid Martin told the Irish Times the Catholic Church is "now moving into a different stage."
On social media the reaction to Doran's comments were mixed:
Let he who is without sin cast the first stone.... So, Bishop, sod off https://t.co/EFgwyyAoF1


— Mike Nugent (@MikeNugent) May 28, 2018

Ages 18-24 voted yes in record numbers, nearly 9/10 and higher in urban areas. Of the pitiful numbers who voted yes and attend Church, many would have been put out by Bishop Doran's sin / excommunication nonsense. The CC in Ireland is dying quickly. And I find that comforting.

— Forrest Trump (@Forrest_Trump20) May 28, 2018

Don't get why people care that a bishop said something was a sin, or why it's news. Of course, it's a sin. Same way sex outside marriage is a sin. Same way, I dunno, eating meat during lent or something is sin, probably. Not going to mass on a Sunday. Am I missing something?

— Mark_Coughlan (@Mark_Coughlan) May 28, 2018