JFK's daughter Caroline Kennedy christened the new US Navy aircraft carrier, the USS John F. Kennedy, at a ceremony on Dec 7. 
Just a few days after JFK's daughter Caroline smashed a bottle on its hull while naming it after her father, the new USS John F. Kennedy launched Monday to move on to its next stage of construction. 
Over the next two and a half years, it will be outfitted with berthing and mess spaces and systems and its catapults and radar will be tested. 
"This move is significant in that it represents a shift in focus from erecting the ship in dock to final completion and outfitting at the pier," Mike Butler, program director for the Kennedy, said in a statement.
Nearly 5,000 shipbuilders have worked hard to build the USS John F. Kennedy right here in Virginia. What an honor to join in christening this new aircraft carrier and celebrate the best shipbuilders and sailors in the world. pic.twitter.com/ozb6ulEeuA

— Mark Warner (@MarkWarner) December 12, 2019
"It is also a testament to the amazing teamwork I see every day between Newport News Shipbuilding and the Navy as we work together to build Kennedy with valuable first-of-class lessons from the Ford."
The former ambassador to Japan and President John F. Kennedy's daughter, Caroline Kennedy, christened the US Navy aircraft carrier, previously known as CVN 79, with its official name the USS John F. Kennedy on Sat, Dec 7, 2019. 
The former president's daughter smashed a bottle of sparkling wine against the ship's hull, as is tradition, at Huntington Ingalls Industries, in Newport, Virginia, where the USS John F. Kennedy was built. 
Caroline Kennedy breaks the bottle, officially christening the future USS John F. Kennedy. #13NewsNow pic.twitter.com/KqVEGOTiHg

— Mike Gooding 13News Now (@13MikeGooding) December 7, 2019
Here is the US Navy's latest video of the dry dock where the USS John F Kennedy's construction was completed being flooded on Oct 29, 2019:
Over 3,000 shipbuilders and 2,000 suppliers have been involved in the construction of the ship since its keel was laid in 2015. The USS John F Kennedy is a nuclear-powered ship and is expected to enter service in the US Navy in 2020. 
On May 29, 2019, the aircraft carrier's 588 metric ton island was landed. Symbolically, on what would have been President John F Kennedy's 102nd birthday. 
While his daughter was unable to attend that ceremony she did send a message which read "I know how proud my father would be of the ship that will bear his name and the patriotism and dedication of all who will sail in her."
WATCH: Color footage of President Kennedy's historic 1963 visit to Ireland
Caroline also christened the first aircraft carrier named in honor of her father in 1967. Nicknamed "Big John," the ship was decommissioned in 2007 and was the last American aircraft carrier to be powered by conventional fuel.
In November 2019, the official seal of the USS John F Kennedy was revealed. At the time it was noted that in addition to honoring JFK's own naval service and vision for space exploration it also featured a drawing of the aircraft carriers including aircraft on its deck, giving a clue to what this vessel would be used for.
Cmdr. Jennifer Cragg of Naval Air Force Atlantic confirmed that the seal "displays future naval aviation capabilities that the aircraft carrier will likely support throughout its estimated 50-year service life."
John F Kennedy's US Navy career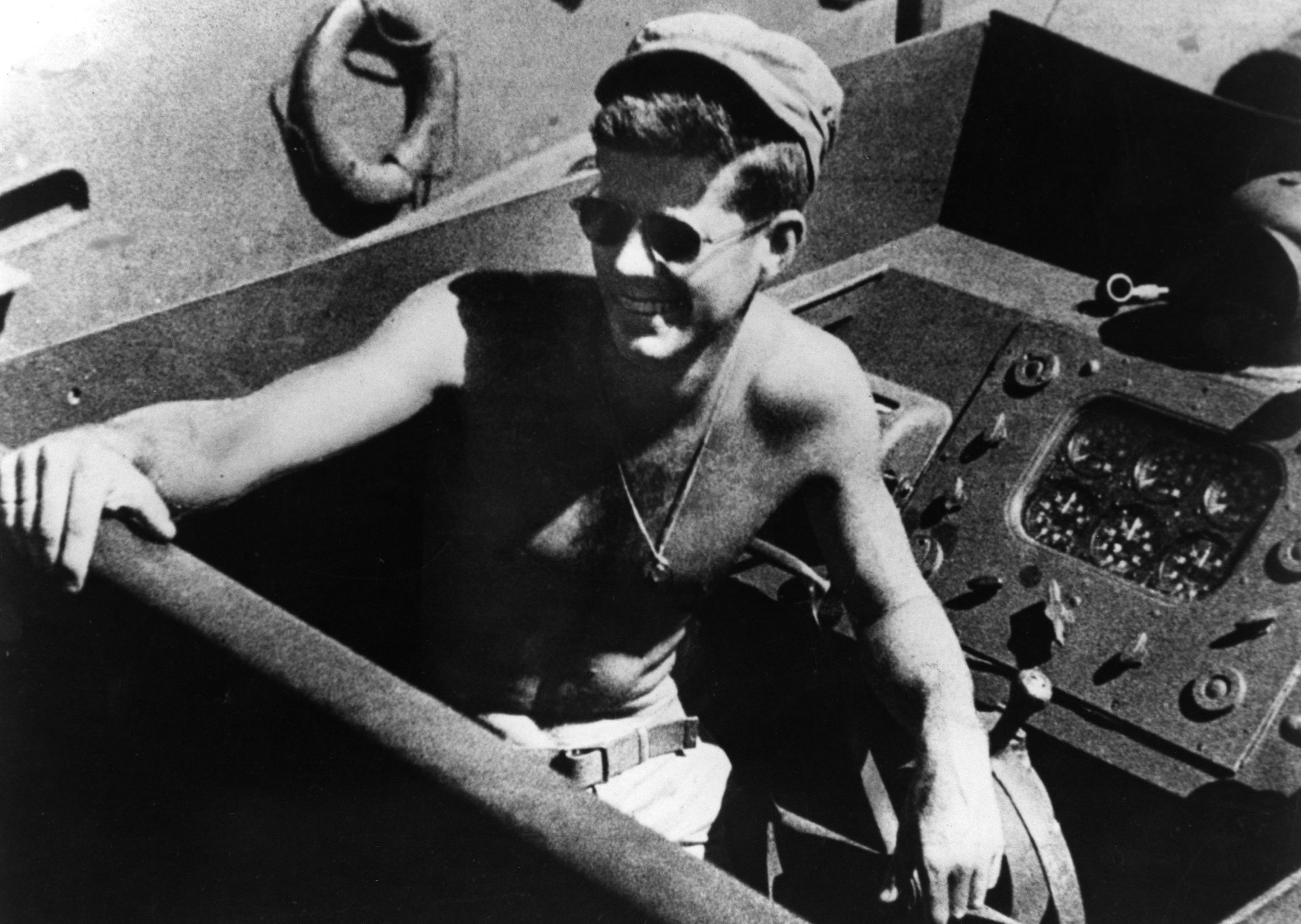 2
At the age of 23, having graduated from Harvard with a Bachelor of Arts in government and international affairs, John F. Kennedy was medically disqualified from entering the Army Officer Candidate School due to lower back problems.
After a year of exercising and strengthening his back and with the help of the director of the Office of Naval Intelligence (ONI), Kennedy joined the United States Naval Reserve, on September 24, 1941.
He went on to serve in World War II and went on to be awarded the Navy and Marine Corps Medal for heroism and the Purple Heart Medal for injuries.
Read more: President John F Kennedy's US Navy career
H/T: UPI