On Sept 21, 1941, John Fitzgerald Kennedy, the young Irish American who would eventually be President of the United States joined the United States Navy.
"Any man who may be asked in this century what he did to make his life worthwhile, I think can respond with a good deal of pride and satisfaction, 'I served in the United States Navy,'" wrote President John F. Kennedy, in August 1963.
At the age of 23, having graduated from Harvard with a Bachelor of Arts in government and international affairs, John F. Kennedy was medically disqualified from entering the Army Officer Candidate School due to lower back problems. After a year of exercising and strengthening his back and with the help of the director of the Office of Naval Intelligence (ONI), Kennedy joined the United States Naval Reserve, on September 24, 1941.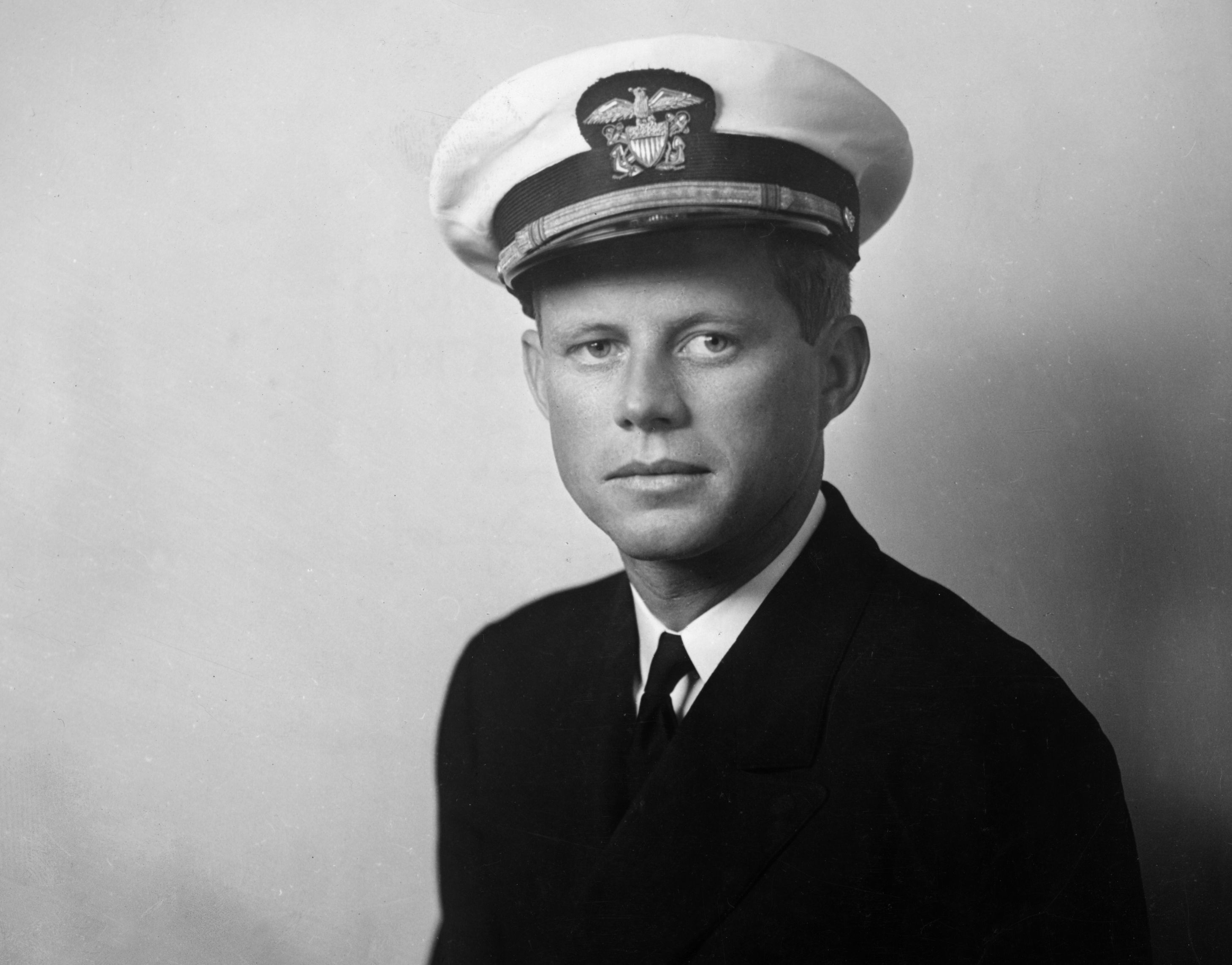 3
By Oct 26, 1941, as an ensign ( junior rank of a commissioned officer) JFK joined the staff of the Office of Naval Intelligence in Washington, D.C.
In 1942, Kennedy attended the Naval Reserve Officer Training School at Northwestern University and went on to volunteer himself enter the Motor Torpedo Boat Squadrons Training Center in Melville, Rhode Island. After completing his training and being promoted to lieutenant junior grade, he was assigned to Motor Torpedo Squadron Four. In January 1943, PT 101, with four other boats, was ordered to Motor Torpedo Boat Squadron FOURTEEN, which was assigned to Panama.
In April 1943, he was assigned to Motor Torpedo Squadron Two and on April 24, took command of PT-109 which was based at Tulagi Island in the Solomon Islands.
World War II hero
The Naval History and Heritage Command give the following report of the night when the PT 109, commanded by Kennedy with executive officer, Ensign Leonard Jay Thom, and ten enlisted men, was one of the 15 boats sent out on patrol (Aug 1 to 2, 1943) to intercept Japanese warships in the straits.
Read more: What did a young John F Kennedy look like during World War II?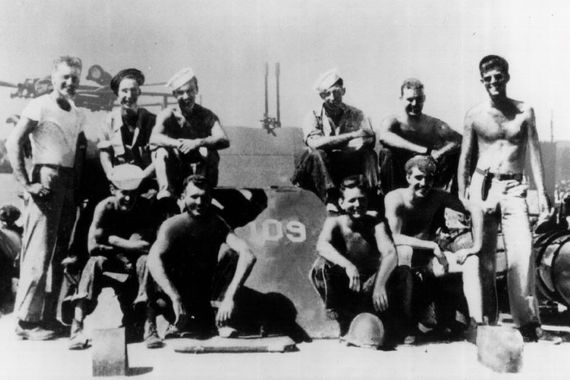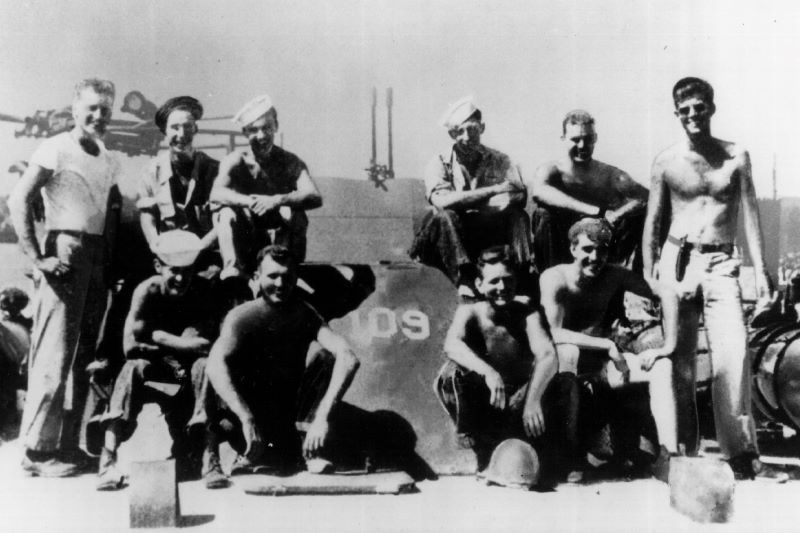 3
They write: "The PT boat was creeping along to keep the wake and noise to a minimum in order to avoid detection. Around 0200 with Kennedy at the helm, the Japanese destroyer Amagiri traveling at 40 knots cut PT 109 in two in ten seconds. Although the Japanese destroyer had not realized that their ship had struck an enemy vessel, the damage to PT 109 was severe.
"At the impact, Kennedy was thrown into the cockpit where he landed on his bad back. As Amagiri steamed away, its wake doused the flames on the floating section of PT 109 to which five Americans clung: Kennedy, Thom, and three enlisted men, S1/c Raymond Albert, RM2/c John E. Maguire, and QM3/c Edman Edgar Mauer."
They go on to describe Kennedy's brave efforts to save the surviving men who were now in the water. JFK "yelled out" and swam to save his men. 
"Although they were only one hundred yards from the floating piece, in the dark it took Kennedy three hours to tow McMahon and help Harris back to the PT hulk. Unfortunately, TM2/c Andrew Jackson Kirksey and MoMM2/c Harold W. Marney were killed in the collision with Amagiri," they report. 
"Because the remnant was listing badly and starting to swamp, Kennedy decided to swim for a small island barely visible (actually three miles) to the southeast. Five hours later, all eleven survivors had made it to the island after having spent a total of fifteen hours in the water. Kennedy had given McMahon a life jacket and had towed him all three miles with the strap of the device in his teeth."
Finding two islands and spending five days searching for help Kennedy and his men survived. They were finally rescued on Aug 8.
Reportedly, in the midst of the crisis on the night of Aug 1, Kennedy gathered his ten surviving crew members around the wreckage. He called on them to vote whether to "fight or surrender". 
He stated: "There's nothing in the book about a situation like this. A lot of you men have families and some of you have children. What do you want to do? I have nothing to lose."
Kennedy and Ensign Leonard Thom, his executive officer on the PT-109, were both later awarded the Navy and Marine Corps Medal for heroism and the Purple Heart Medal for injuries.
Retirement and physical disability
On March 1, 1945, John F. Kennedy retired from the Navy Reserve on physical disability and was honorably discharged with the full rank of Lieutenant.
JFK received several military decorations and awards including the Navy and Marine Corps Medal, Purple Heart Medal, American Defense Service Medal, American Campaign Medal, Asiatic-Pacific Campaign Medal with three bronze stars, and the World War II Victory Medal.
Following his military service, in 1947, Kennedy served in the United States House of Representatives, in the Democratic 11th Congressional district in Massachusetts.
He went on to serve in the United States Senate, from 1953 to 1960, after serving three terms in the House of Representatives.
President of the United States John F Kennedy
On Jan 20, 1961, John F. Kennedy was sworn in as the 35th President of the United States. During his presidency, the Naval officer turned politician was faced with some of the most complicated issues in recent American history, including the Cuban Missile Crisis, the Civil Rights Movement, the Vietnam War, among others.
John F Kennedy was not the only member of the Kennedy clan to serve his country in the military. His older brother Joseph P. Kennedy served as a Navy pilot and was sadly killed during World War II having volunteered for a special mission. His plane exploded over the English Channel, on Aug 12, 1944.
Despite the death of their brother both John and his brother Robert F Kennedy were still both determined to serve. Robert also served his time in the US Navy.
Read more: Prison to Irishwoman "Typhoid Mary" is New York's most haunted island
H/T: US Navy History.mil