William F. Liebenow remembered as his body is laid to rest at Arlington National Cemetery
The late William F. Liebenow has a long list of military accolades, but perhaps one of his best stories is how he saved future president John F. Kennedy's life.
The Washington Post reports how on August 16, Liebenow was laid to rest at Arlington National Cemetery, a year after the former U.S. Navy members death. Liebenow's family says that he would have been embarrassed by the fanfare and that his time in the Navy was spent "just doing his job."
In 1943, Liebenow and Kennedy were tent-mates stationed in the Solomon Islands during World War II. The two sailors both commanded patrol torpedo boats or PT boats. Such boats carried about 12 men, four heavy-duty torpedos, and were built to be agile around Japanese warships.
Read more: Iconic photo of JFK's funeral shows what he meant to America
4
Read More: Amazing archive footage - meet JFK's Irish cousins in 1963
When JFK was on patrol one night, his PT boat was rammed by a Japanese ship causing it to break in two and explode. Two men died, while the rest clung to the front end of the PT boat.
Leadership back at their base, however, presumed all the men had died.
Kennedy and the other survivors swam about four hours before reaching a deserted island. There, they had no food except for coconuts. Their rescue was uncertain.
Six days later, Kennedy and the survivors were spotted by two passing Pacific Islanders. Not speaking the same language, and only hoping that the Islanders were friends not foes, Kennedy carved a coconut for them to deliver to get help.
"NAURO ISL…" JFK carved, "COMMANDER…NATIVE KNOWS POS'IT…HE CAN PILOT…11 ALIVE…NEED SMALL BOAT…KENNEDY".
Thankfully, the Islanders transported the SOS coconut to a nearby Australian coast guard, who in turn relayed the message to American authorities stationed on the island of Rendova.
The Americans, however, were not confident that the coconut message was not a trap. They issued only one rescue boat for the mission and placed William Liebenow in charge.
Read More: Interesting facts about John F. Kennedy ahead of his 101st birthday
Later in life, Liebenow offered two explanations for the question of "why him, why his boat?" He believes that either his was "the best boat crew in the South Pacific," or, "we were the most expendable."
When Liebenow and his rescue crew finally located Kennedy, the two had what is remembered as a humorous exchange:
"Where the hell you been?" said Kennedy.
"We got some food for you," Liebenow said.
"No, thanks," Kennedy replied. "I just had a coconut."
The story of JFK and his rescue coconut would go on to become a selling point in his presidential campaign. Liebenow campaigned alongside Kennedy and was in attendance for the newly elected president's inauguration.
When JFK took over the Oval Office, he had his prized SOS coconut turned into a paperweight which sat on his desk.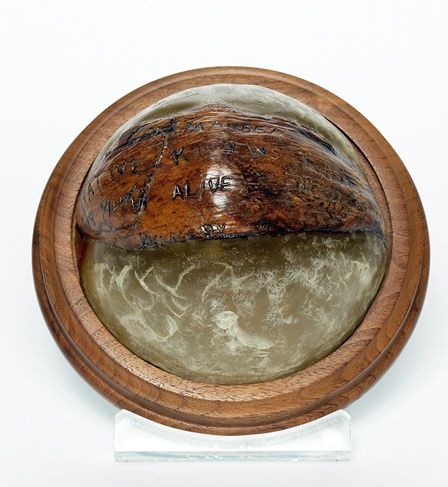 4
Decades later, the bodies of Liebenow and Kennedy lay less than a mile apart at Arlington National Cemetery. At the ceremony for Liebenow, one bouquet stood out from the rest. A red, white, and blue arrangement with a note that read "With deepest appreciation and sympathy. Caroline Kennedy and the John F. Kennedy Library Foundation."
4
Watch the below video from 2009 where a local news team catches up with William Liebenow:
William "Bud" Liebenow, the WWII Navy officer from the Triad who guided his warship into Japanese territory to rescue future President John F. Kennedy and his crew, died Friday at age 97. Read more: http://bit.ly/2m4iWAN WATCH: In 2009, WXII Lanie Pope interviewed Liebenow about his military service.

Posted by WXII 12 NEWS on Monday, February 27, 2017
Want to read more on the Kennedy family? You can find them at our special The Kennedys page here.