Britain First's deputy leader Jayda Fransen faces charges of inciting hatred via social media.
The leaders of far-right British group Britain First were arrested in Belfast on Thursday, accused of behavior intended to or likely to stir up hatred.
Deputy leader Jayda Fransen was rearrested in court just minutes after she was released on bail for the same offense. The 31-year-old had been arrested in London in November 2017 by plain clothes officers of the Police Service of Northern Ireland (PSNI) for questioning about a speech she made at a "Northern Ireland Against Terrorism" rally in Belfast on August 6, 2017. 
Fransen, who is from south-east London, was charged with using words which were threatening, abusive or insulting during her speech and had been released on bail to reappear in court in January 2018 when she was re-arrested. 
It is believed that the re-arrest was a result of anti-Islamic social media comments Fransen made on Britain First's social media pages during her time in Northern Ireland. It is reported that she appeared in a video outside of Belfast's Islamic Center which referred to the center as a "den of iniquity."
Read more: Galway Muslims hope to produce an Irish-language version of the Qur'an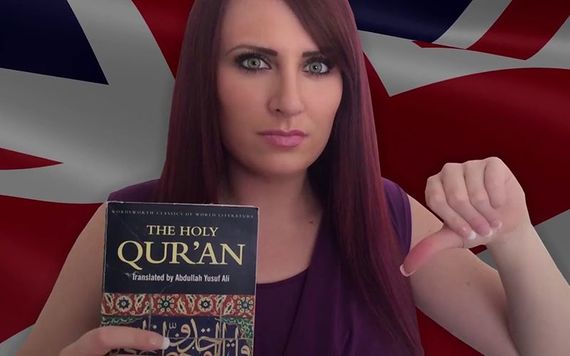 2
She referred to the arrest as a "nonsense charge" and confirmed from the dock that she will contest the charges. 
"I criticize Islam and now they want to send me to prison for two years," she said.  
Earlier on Thursday, Britain First's leader Paul Golding had been arrested by the PSNI as he accompanied his deputy Fransen to court. Ten others gathered in the public gallery to supported Fransen while several protested outside, arguing that Fransen was entitled to freedom of speech with which to make her inflammatory, anti-Muslim remarks.  
Although the judge refused to place a block on her social media use, Fransen is now banned from being within 500 meters of a public demonstration or rally. 
Fransen was at the center of a political storm between the US and the UK last month when several anti-Muslim videos she posted on Twitter were retweeted by US President Donald Trump. The action resulted in a stand-off and a rare public rebuke from British Prime Minister Theresa May. 
Britain First is a far-right, ultra-nationalist British organization formed in 2011 by former members of the British National Party. 
Does Jayda Fransen have a right to make her anti-Muslim remarks?  Let us know your thoughts in the comments section below.