One soldier will face murder and attempted murder charges for the Bloody Sunday massacre in Derry on Jan 30, 1972. Fourteen civil rights marchers died and 14 were injured
The Public Prosecution Service has announced that Soldier F will face prosecution for the murders of James Wray and William McKinney and the attempted murders of Joseph Friel, Michael Quinn, Joe Mahon, and Patrick O'Donnell. Wray was shot in the back and shot again while wounded.
Here are extracts from the BBC's portrayals of the two victims:
William McKinney
"A printer at the Derry Journal newspaper, the 27-year-old was the oldest of ten and was engaged to be married.
"A keen amateur photographer, he had set out to film the Bloody Sunday march on a camera he had received as a Christmas present…
""Willie was not a stone-thrower, a bomber or a gunman. He had gone to the civil rights march in the role of amateur photographer," said the newspaper's tribute to him.
Read more: Bloody Sunday victim's family forgives soldiers
"Saville said there were four soldiers - E, F, G or H - who could have fired at McKinney and another victim, Jim Wray. Up to five more people were injured by the same group of soldiers…
"All four soldiers insisted they had shot at people carrying bombs or firearms - claims rejected by Saville."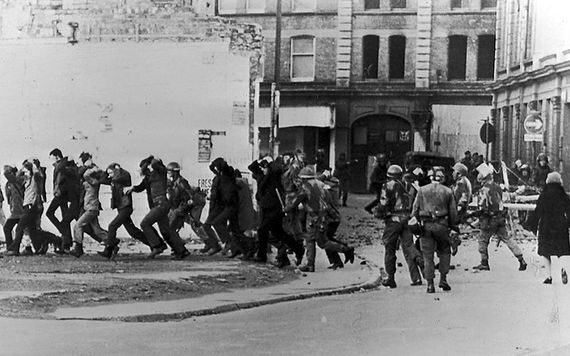 5
James Wray
"The 22-year-old had worked in England for some time and was engaged to an English girl.
"Friends said he was outgoing and worked in a city bar and dancehall at weekends.
"His entire family had attended the march after going to Mass together.
"Mr Wray's death, like that of Gerald McKinney and William McKinney, happened during the chaos as people ran for cover.
"Saville said Wray, who posed no great danger, was shot twice in the back and there were four soldiers who could have fired at him - soldiers E, F, G or H.
"The second shot was probably fired as he lay wounded, said Saville, meaning there could have been "no possible justification".
5
Director of Public Prosecutions Stephen Herron stated that 16 other former soldiers and two former Official IRA members will not face prosecution after available evidence was lacking to convict.
"In these circumstances, the evidential test for prosecution is not met," Herron said.
He continued: "There has been a level of expectation around the prosecution decisions in light of the findings of the Bloody Sunday Inquiry. However, much of the material which was available for consideration by the Inquiry is not admissible in criminal proceedings, due to the strict rules of evidence that apply.
"I wish to clearly state that where a decision has been reached not to prosecute, this is no way diminishes any finding by the Bloody Sunday Inquiry that those killed or injured were not posing a threat to any of the soldiers."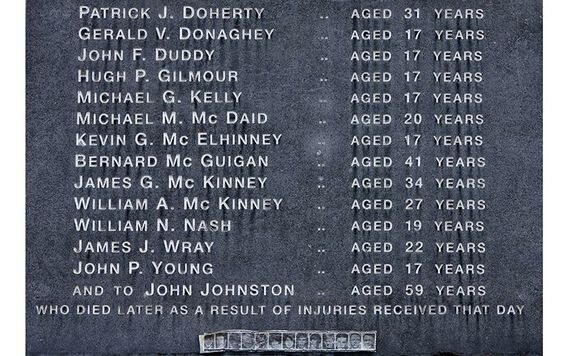 5
In emotional scenes relatives, the families met with the media after the verdict.
They were greeted with applause as they walked to the Guildhall, in Derry, to meet the media.
The Irish News reported that "John Kelly, whose 17-year-old brother Michael was killed, said many had received a "terrible disappointment".
But he welcomed the positive news for the six families impacted by the decision to prosecute soldier F.
"Their victory is our victory," he said."
"We have walked a long journey since our fathers and brothers were brutally slaughtered on the streets of Derry on Bloody Sunday, over that passage of time all the parents of the deceased have died - we are here to take their place."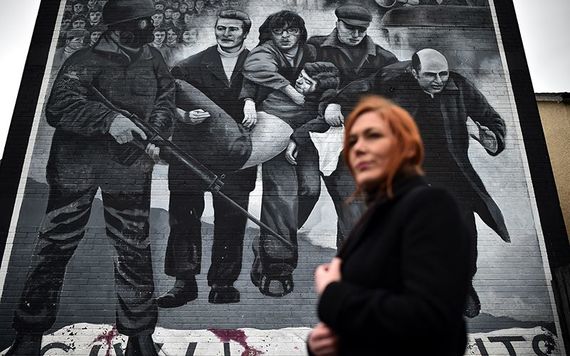 5
The official British response was to praise and promise to protect the soldier.
British Prime Minister Theresa May's official spokesman said: "Clearly, we are indebted to those who served with courage and distinction to bring peace to Northern Ireland.
"The welfare of our former service personnel is of utmost importance and we will offer full legal and pastoral support to anyone affected by today's decision.
"We recognize the suffering of anyone who lost loved ones during the Troubles. As this is now an ongoing legal matter, it would be inappropriate to comment further."
Defense Secretary Gavin Williamson confirmed the Ministry of Defense would support soldier F and pay the legal costs.
He said: "We are indebted to those soldiers who served with courage and distinction to bring peace to Northern Ireland.
"The welfare of our former service personnel is of the utmost importance and we will offer full legal and pastoral support to the individual affected by today's decision. This includes funding all his legal costs and providing welfare support.
"The Ministry of Defense is working across government to drive through a new package of safeguards to ensure our armed forces are not unfairly treated.
"And the government will urgently reform the system for dealing with legacy issues. Our serving and former personnel cannot live in constant fear of prosecution."
Read more: Irish leader calls for US Special Envoy to protect North peace against Brexit