As the British government is reported to be preparing a prosecution against paratroopers who shot dead 14 people on Bloody Sunday in Derry, the family of one of the victims said they have forgiven their father's killer.
Kevin McKinney and his sister Regina McLaughlin, son and daughter of Gerard McKinney who was killed as soldiers opened fire on a civil rights march in January 1972, said they are not pushing for the prosecution and the soldier who shot him will have to "answer to God." 
They voiced their clemency as Tory MP Boris Johnson claimed there would be a public "storm of utter fury" in Britain if murder charges were made against any of the Bloody Sunday soldiers.
Gerard McKinney was a 35-year-old father of eight when he was shot dead in the Bogside as -- according to eyewitnesses -- he held up his arms shouting "don't shoot, don't shoot."
Read more: Karen Bradley, North's incompetent Secretary of State, must resign
The Daily Telegraph reported that an announcement will be made on March 14 that four paratroopers are to be charged with murder. They are among 18 former soldiers, most now in their 60s and 70s, who were investigated in an inquiry launched in 2012 by a small team of senior prosecutors in Northern Ireland. One of those under investigation has since died.
Northern Ireland's Public Prosecutions Service has dismissed media reports suggesting knowledge of the likely outcome of its deliberations on the Derry killings.  It said "second-guessing" the decisions before their formal announcement next week was likely to cause undue distress to bereaved families. But it is widely expected there will be prosecutions of paratroopers.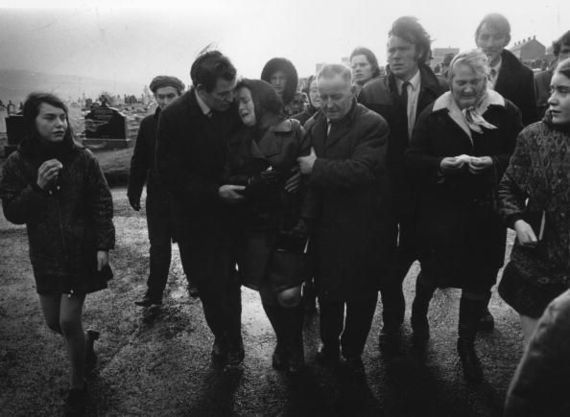 3
McKinney's daughter Regina said, "What's the point in putting them in jail? Their children and grandchildren are going to lose them, just as I lost my daddy."
Her brother Kevin, a father of six who now lives in Donegal, was just 11 years old when his father died.  He said his family had forgiven the soldier, as he "was not to blame, rather it was the British establishment who sent him there."
Kevin added, "We are a very religious family, and as such I believe in forgiveness."
Kevin and Regina's 80-year-old mother Ita was awarded £625,000 in compensation last year over her husband's death.
Kevin said, "The money that my mother got last year was too little, too late. She raised us, all eight of us, on a shoestring, on a widow's pension."
3
He added, "Putting a soldier in jail wouldn't make me happy whatsoever.  Put the British establishment on trial, as well as the unionist politicians of the day who were instrumental in the organization of the paratroopers coming in."
Meanwhile, British Defense Secretary Gavin Williamson is expected to bring forward legislation to protect soldiers from prosecution for alleged historic abuses. It was reported last weekend that he is to propose a 10-year limit for the prosecution of military veterans.
Also this week, Johnson asked in his Telegraph column, "How can we put Bloody Sunday squaddies in the dock for murder, yet tell the IRA they can get away with it? What signal does it send out to our brave armed forces?"
In 2010, an inquiry by Lord Saville reported that firing by paratroopers caused the deaths of 14 people and injuries to others, none of who posed a threat.
The report also said accounts of soldiers to the inquiry were rejected, with a number said to have "knowingly put forward false accounts."
Read more: Shock poll shows DUP hardline on Brexit opposed by their own supporters