In January of 1975, Joe Connor waited for his father to come home.  Connor, his brother, and their Irish immigrant mother were planning to celebrate both of the boys' birthdays at their New Jersey home.  Joe was soon to turn nine; his older brother 11.
But Connor's father never made it home.  In January of 1975, Frank Connor, himself the child of Irish immigrants, was killed in an explosion in downtown Manhattan that turned out to be the work of a Puerto Rican nationalist group called Fuerzas Armadas de Liberación Nacional, or FALN.
5
FALN is back in the news again, following the controversial decision by New York's Puerto Rican Day parade organizers to honor convicted FALN associate Oscar Lopez Rivera at this year's march, to be held Sunday, June 11.  A growing chorus of critics -- many of them Irish American -- are slamming the decision to celebrate Rivera as a "National Freedom Hero" during the parade.
Irish American New York Police Department Commissioner James O'Neill is among the many law enforcement officials who have decided to boycott the parade because of Rivera.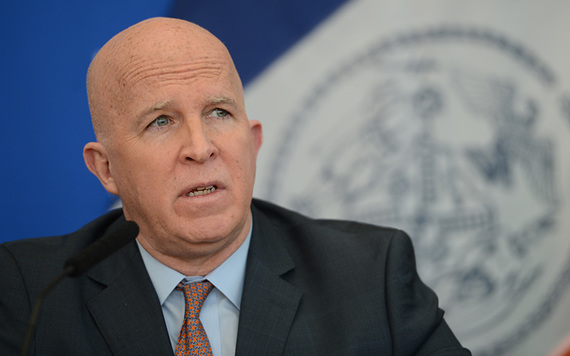 5
"I usually do march in most of the parades with the fraternal organizations, but I'm not going to be marching this year," O'Neill told the New York Daily News last week.  "I cannot support a man who is a co-founder of an organization that engaged in over 120 bombings."
Irish American NYPD police union head Patrick Lynch also blasted parade organizers.
"The annual Puerto Rican Day parade is a magnificent celebration of a proud heritage shared by New Yorkers and police officers alike," Lynch said. "Honoring a remorseless terrorist who refuses to condemn acts of violence effectively steals the parade from the good and honorable people who are proud of their Puerto Rican heritage."
5
FALN claimed responsibility for dozens of bombings and other acts of political violence in the 1970s and 1980.  Their goals included independence for Puerto Rico, which is currently considered a "territory" of the United States. 
The bombing that killed Frank Connor and three others on January 24, 1975, was perhaps the group's most notorious act.  It took place at Fraunces Tavern, a historic landmark in downtown Manhattan that has been around since the days of the American Revolution. George Washington even gave a famous farewell speech to his inner circle there, following the Revolutionary War.
Though no one has even been convicted in the Fraunces Tavern bombing itself, Rivera was eventually arrested and imprisoned on a number of charges related to FALN-sponsored activity.
Along with law enforcement officials, many sponsors have also pulled out of this year's Puerto Rican Day parade.
Rivera, however, does have his share of high-profile supporters who believe his sentence was excessive and, essentially, based on his political beliefs.  Going back to the 1990s, former President Bill Clinton offered Rivera clemency, buts Rivera turned the offer down because the same deal was not extended to other imprisoned FALN members. 
More recently, President Barack Obama commuted Rivera's sentence, after heavy lobbying from the congressional black and Hispanic caucuses.  Hamilton star and creator Lin Manuel Miranda has also voiced support for Rivera.  When Rivera was released from prison earlier this year, he was greeted by thousands of supporters upon returning to his home in Chicago.
Back in February, the Chicago Board of Alderman even voted to name several streets in honor of Rivera.
Frank Connor's son, Joe, criticized the move in a Chicago Sun-Times opinion piece.
"My dad was born to immigrants and raised in New York's working-class Washington Heights neighborhood, very near where several of the FALN members were from," Connor wrote, later adding, "Lopez has never expressed regret nor sought forgiveness; not even at his parole hearing where his very freedom depended on it. Not once in his 2013 autobiography did he express regret for his actions nor cooperate with authorities to bring some kind of closure to unsolved FALN crimes like (the Fraunces Tavern bombing)."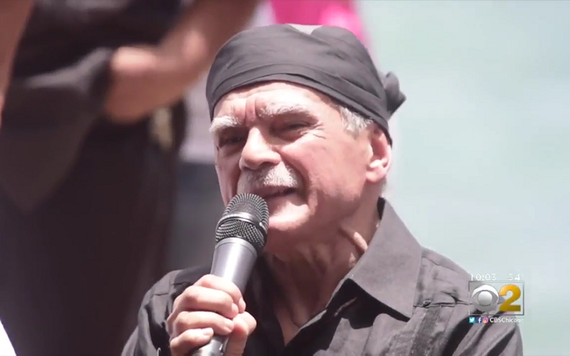 5
The Irish American community, of course, is no stranger to parade boycotts and controversies.  For years, certain elected officials chose to boycott big-city St. Patrick's Day parades which did not allow gay and lesbian groups to march under their own banners.
Then there was the 1983 parade in New York City.  One of the founders of the Irish Northern Aid Committee, Michael Flannery, was chosen as grand marshal.  At the time, Noraid, as the groups is known, dubbed itself as a charitable organization. 
Both the U.S. and British governments, however, believed Noraid was not only supportive of the Irish Republican Army's armed struggle, but actually moved weapons for the IRA.  In 1982, Flannery and four others were indicted for smuggling arms though they were eventually acquitted.  The trial featured assertions that the Irishmen were actually secretly working for the CIA.
When Flannery was named parade grand marshal, some of New York's and the nation's top Irish Americans chose to boycott the parade, rather than be associated with such a controversial figure.  Former New York Governor Hugh Carey and U.S. Senator Daniel Patrick Moynihan sat out the parade, as did then-Governor Mario Cuomo and New York City Mayor Ed Koch.