Ireland's Great Hunger Museum of Fairfield, chosen by Quinnipiac University as the future custodian of the Great Hunger Collection formally housed in Hamden, Connecticut, is collaborating with the Irish American Heritage Museum in Albany, New York, to keep the exhibition in public view.
The collaboration is a welcome event for Elizabeth Stack, PhD, Executive Director of the Irish American Heritage Museum in Albany.
"We are delighted to have some of the collection on display here again for the following months," Stack says, "and look forward to the Fairfield Museum opening in the next few years."
18 pieces from the 170-plus collection will be on display temporarily in Albany starting at the end of September. The exhibition will include works by renowned bog oak sculptor Kieran Tuohy. I sat with Kieran Tuohy in May this year and discussed his craft.
Within the first year of his life, Tuohy had already lived in Ireland, England, and Canada, three countries influenced by the famine— a fact that would shape Tuohy's art. His sculptures are an emotional and transformative education about the years of The Great Hunger.
Tuohy was back in Ireland at five years of age, attending school in Ballinasloe, Co Galway, his mother's hometown. Later, he would return to live and work in England temporarily.
"It just wasn't home," Tuohy says of his time in England.
Unable to work solely as an artist and support himself, he began an apprenticeship in carpentry. However, Tuohy's love of art never waned.
"It was always there, in the background," he says. Interest in the Book of Kells, the Lindisfarne Gospels, and the Book of Durrow, all Celtic art, led to Tuohy's early wood carvings in mahogany and short forays into bog oak.
"When you're in art college, you look at a piece of wood, and you see something in it, and it's all imagining, imagining," Tuohy says.
Yet, this is not how his sculptures are born. Instead, Tuohy uses a more cinematic approach, absorbing everything he learns in his research, reading books, and watching films or documentaries—the knowledge gained takes shape, telling a story, which Tuohy's artwork displays.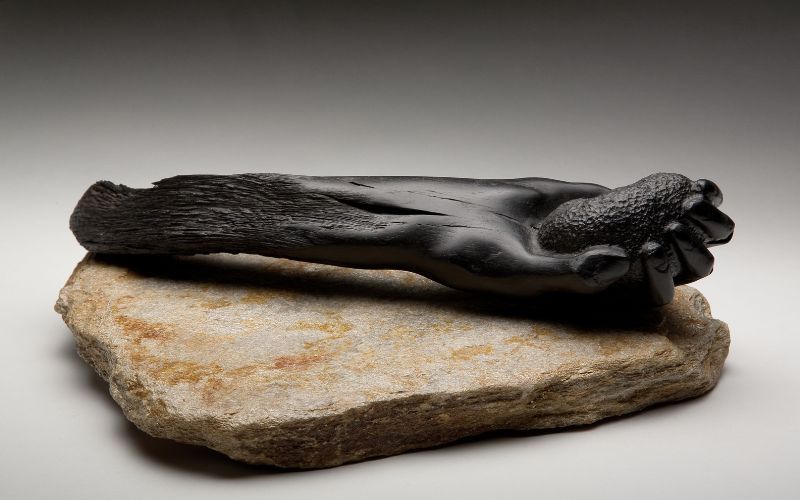 3
Tuohy's pieces in the exhibition at the Irish American Heritage Museum in Albany are the story of the Great Hunger, told in bog oak. These sculptures developed from his first exhibition at Kenny's Gallery in Galway in 2000.
"The first four pieces that sold were of the famine," Tuohy says, "so they wanted me to do another exhibition."
In 2006, the entire exhibition at Kenny's was about the Irish Famine, now widely called the Great Hunger. All the pieces are in the characteristic dark wood of bog oak, a material so hard that "sparks come out of it" when Tuohy first commences his work with a chainsaw.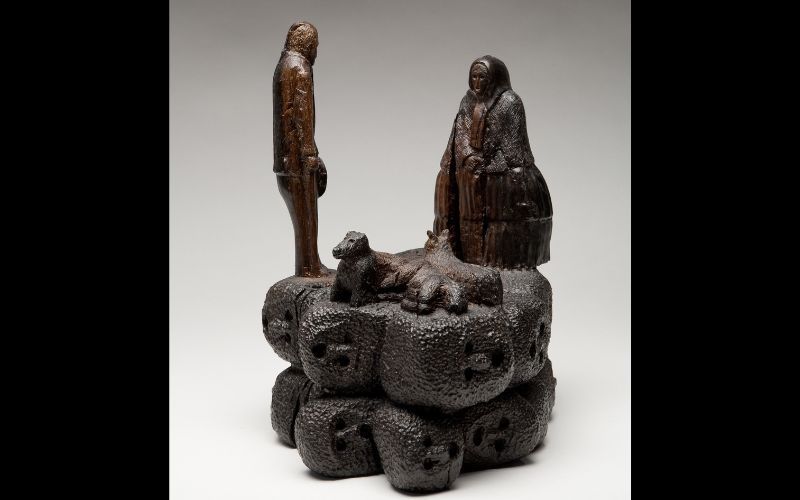 3
Bog oak is unique in that the acidic conditions of the peat bogs in Ireland preserve it, making the pieces that Tuohy works on possibly thousands of years old. Dendrochronology, the science of dating tree rings to the precise year they formed, has shown that some pieces of bog oak used in Tuohy's sculptures are over 4,000 years old. The same sphagnum moss that preserves Old Croghan Man's hand, an Iron Age bog body on display in the Kingship and Sacrifice exhibition at the National Museum of Ireland, goes to work on the bog oak used by Tuohy. Much like Tuohy's own process of absorbing information through research, bog oak sits in a watery grave, absorbing thousands of years of history waiting to be told in his sculptures.
Working with bog oak is a multi-step process. "Originally in the bog, it is very soft," Tuohy says, adding, "It's full of water, just like a sponge. It could take years to dry out." The smaller pieces dry out faster, but larger pieces can take up to two years.
For Tuohy, all the pieces he uses in his sculptures dry out naturally, out of the sun, to prevent cracking. By the time it is dry enough for Tuohy to commence his work, "It's like iron," he says, "sometimes you'd hardly put a dent in it with a chisel."
The use of bogwood goes back to the early 19th century when it was the only wood accessible to the Irish.
"During the famine," Tuohy says, "the tenants couldn't cut down trees. So if they dug up bog oak, they could use it." Tenants used bogwoods such as oak, yew, and willow to build roofs, furniture, and even ropes with timber retrieved from the bogs.
Tuohy would like to see more about the Great Hunger being taught in schools. "A bit more in-depth," he says. "It's only in recent times that people are telling these stories." 
One of the people telling these stories is Kieran Tuohy, a talented sculptor, immersing himself in the history of the Great Hunger and using bog oak that has absorbed the history of its watery grave. Tuohy created a video for Ireland's Great Hunger Museum of Fairfield and continues to show his support for IGHMF in the future.
The Irish Great Hunger Museum of Fairfield and The Irish American Heritage Museum of Albany exhibition collaboration begins at the end of September. Admission is $10.00 for adults and $8.00 for members. 
You can visit Kieran Tuohy's website here.
Many thanks to Quinnipiac University for their permission to use photos for this article. 
This article was submitted to the IrishCentral contributors network by a member of the global Irish community. To become an IrishCentral contributor click here.