Guinness was the most popular beer in America in Q2 2023, according to a recent rating by YouGov.
Guinness, the world-famous Irish stout, clinched a popularity ('liked by') rating of 58% according to YouGov, followed by other foreign beers Corona (53%) and Heineken (51%.)
Rounding out the top 10 in the ranking are Sam Adams, Blue Moon, 'The King of Beers' Budweiser, Modelo, Corona Extra, Stella Artois, and Coors.
Further down the list, Guinness was joined by fellow Irish sout O'Hara's which ranked in 62nd place with 11% popularity.
YouGov then broke its findings down between men, women, Millennials, Generation X, and Baby Boomers -- Guinness retained the top spot in all of the categories except for Baby Boomers, where it tied for the top spot with Sam Adams.
Guinness also had an impressive 92% 'fame' ('have heard of') rating.
YouGov Ratings says it measures Guinness's popularity and fame every quarter. The latest data is based on 1,553 nationally representative interviews of the US population, collected during Q2 2023.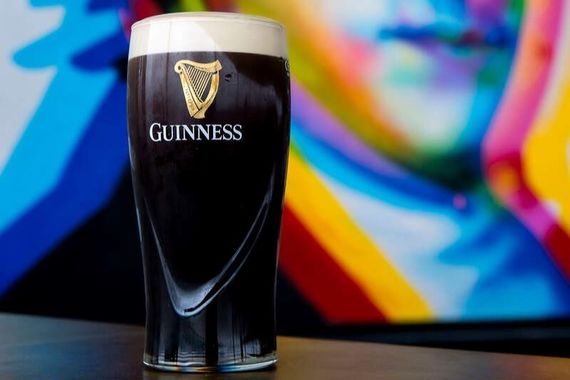 2
Guinness in America
Established in Ireland in 1759, Guinness was first shipped to America - South Carolina, to be exact - in 1817. 
More than a century later, Guinness operated a brewery in New York City in the mid-20th century, though it shuttered after about five years.
Guinness found its way back to the US in 2018 when it opened its Guinness Open Gate Brewery in Baltimore, Maryland.
A year after Guinness opened its doors in Maryland, Nuno Teles, President of Diageo Beer Company USA reflected: "When we started working towards opening the Guinness Open Gate Brewery, we knew we were building something significant that would mean so much to millions of people around the world.
"What we couldn't fully predict is what being a part of the Maryland brewing scene would feel like. It's widely accepted that the US overall is the most dynamic beer market in the world, but the breweries in Baltimore, and Maryland as a whole, have created such a supportive and inclusive environment.
"Each day we're more and more grateful to be here."
Later, in 2021, Guinness set its sights on Chicago for another outpost. The new Open Gate Brewery taproom, restaurant, and bakery is set to open in the West Loop this summer.
Of course, Guinness isn't popular in just America. Diageo says that its 'black stuff' is brewed in over 50 countries and enjoyed in around 150 worldwide.
Now centuries old, Guinness continues to reinvent itself with Guinness 0.0% and Guinness Cold Brew Coffee Beer being launched in recent years.