Happy December 1! The release date of new U2 album "Songs of Experience" is finally here.
The new U2 album "Songs of Experience" was released on December 1 but according to Bono, we could have had the new U2 track list a lot earlier if it wasn't for the impact of Brexit and Trump.
Speaking to the Irish Times, the U2 front-man said, "Brexit and Trump was what went wrong."
"In 2016 the world changed beyond all recognition and we just weren't sure that the album we had finished was what we wanted to put out in that climate.
"The album was ready to go but we found that the songs that were on it just didn't reflect the major changes that were happening – both on a political and on a personal level."
Read more: U2 release new single ahead of Jimmy Fallon show
The original plan for the "Songs of Experience" album was to release it almost immediately on the back of their last album "Songs of Innocence," unleashing the second installment while they were still on tour with the first.
The band has previously achieved this in the 1990s, recording and releasing "Zooropa" while still on tour with "Achtung Baby." The plan for the second Songs installment also looked set to go, according to the Irish Times, but the originally prophesied release period in early 2016 came and went with no new U2 music being released.
Read more: U2 take aim at Trump in first concert of 'The Joshua Tree' tour in Vancouver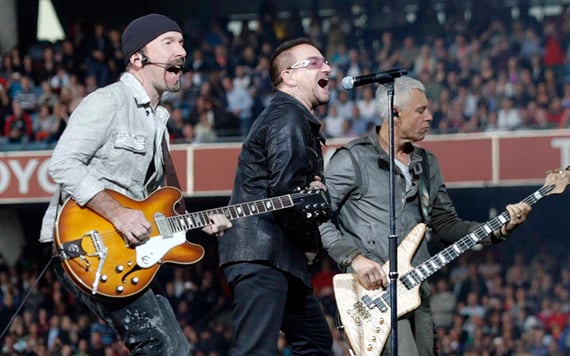 3
The reason, Bono explains, is that the world appeared to them to have changed quite drastically in the short time since they had been writing "Songs of Experience," meaning that the band felt there were changes that needed to be made to reflect how they felt again.
"U2 songs have always come out as stories," Bono said, "they include breaking news as well what's going on in our own lives and what's going on in the more general community. When the world changes, you change with it. We didn't want to release an album where it seemed we were singing about the equivalent of the Y2K bug."
And it was because of this that we were treated to The Joshua Tree tour. With their new album placed to one side to be worked on within the new political climate, the band found that their older material now seemed more appropriate in 2017 than the material they had just produced.
Read more: How U2 helped me beat my cancer
3
"I never sit down and listen to old U2 albums but when I sat down and listened again to the 'Joshua Tree' album in 2016, I found that these songs that we had written in the mid 1980s about Ronald Reagan and Margaret Thatcher made perfect sense for 2017," Bono stated.
"We were singing back then about how 'we need new dreams tonight', and in 2017 we most definitely need new dreams again – and I think that's the way everyone feels about what's happening in the world right now."
Have you listened to "Songs of Experience yet? Let us know your thoughts on U2's new album in the comments section.