Saoirse Ronan's dad Paul Ronan helped give the "Lady Bird" actress her start while the family was living illegally in the US.
The incredible story of "Brooklyn" actress Saoirse Ronan and her family begins in a most unlikely place: The Irish Bronx Theater, started on a wing and a prayer in 1991 by two outstanding Irish actors and characters – Chris O'Neill and Jimmy Smallhorne.
Until O'Neill's premature death in 1997, the venue on Bainbridge Avenue, in the most Irish neighborhood in New York, showcased gritty Irish plays that contrasted greatly with the hokey version of Ireland. A movie Smallhorne made about a gay Irish construction worker called "2X4" won the Best Cinematography award at Sundance in 1998. "Christmas in Killarney" it was not.
The audiences were Irish natives, mostly undocumented, who had always felt theater was for rich and snobby people but who gravitated to the "up from the bootstrap" and realism approach used at the venue.
Saoirse Ronan's father and fellow actor Paul Ronan was discovered while working illegally in New York
O'Neill also had a way of finding new talent and this is how an undocumented bartender from O'Hanlon's on 14th Street, who had a way of entertaining customers including many Off-Broadway actors, was introduced to the business.
The young man, Paul Ronan, suddenly found himself cast in "Da," the first play at the Irish Bronx Theater and often brought his baby daughter to rehearsals. Her name was Saoirse Ronan and the future Hollywood sensation was first introduced to her craft in that little Irish venue.
Another would-be actor who went on to literary success was Colin Broderick, who remembers young Saoirse well. "Paul would show up with his little girl Saoirse and plop her down beside me while he rehearsed," Broderick wrote in his memoir "Orangutan."
Saoirse's father Paul and mother Monica were undocumented immigrants, chased out of Ireland by the deep recession of the 1980s. Monica was a nanny and Paul a construction worker, later bartender. Saoirse was their only child.
Saoirse Ronan and her family suffered through the difficulties of being undocumented in the US
Today Saoirse recalls how difficult early life was for her and for her undocumented parents. "They lived in a terrible little apartment in the Bronx and because they were illegals, they were really badly treated and did some awful jobs," she told the Radio Times.
She instanced two examples of immigrant exploitation, one when her mother was ordered to clean a huge brownstone house on the Upper West Side and got stiffed by the owner and another when Paul, working construction, literally had to shovel shit for hours out of an elevator shaft at the Waldorf Astoria hotel after a sewage pipe exploded.
Then came the breakthrough with Chris O'Neill. He often took his young daughter on the sets where she inhaled the magic of the theater.
"If it wasn't for Chris, neither of us would be acting today," says Saoirse.
The "Lady Bird" star used her New York undocumented experience for her role in "Brooklyn," in particular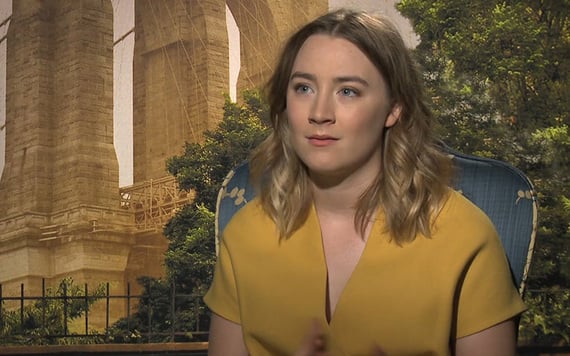 2
When she starred in the film version of Colm Toibín's book "Brooklyn" about a young immigrant Irish woman struggling to find her way in America, she realized she was telling her parents' story.
"'I only realized in retrospect that it is essentially their story,' she said in a Daily Telegraph interview.
"They had nothing, and they were illegal for a few years so they couldn't leave because they wouldn't be allowed back in. My dad started out in construction, then he became a bartender, and eventually, he was discovered by another Irish actor in the bar.
"My mum was a nanny, and she was adamant that she was going to have me there (in America) so I wouldn't ever have to go through the tough time that they had in order to get their visas." Ronan has dual US/Irish citizenship.
"I'm blessed in that I can just move to New York or LA if I want," she's said.
"Even when it comes to work, I don't have to worry about visas. So thanks, Mum! She came to see the film ("Brooklyn") at Sundance, and for me, she was the most important critic because I wanted her to feel like it had authentically portrayed her struggle."
The 23-year-old actress, who grew up in Co. Carlow once her parents made the decision to return to Ireland, has spoken recently of her good relationship with her mother, especially on the release of her movie "Lady Bird" which explores a complex mother-daughter relationship. Ronan even ensured that her Mom was on Facetime to witness her picking up her first Golden Globe for that very part, giving her a shout-out during her 2018 acceptance speech.
"I'm so close to my mam as everyone knows and if our film can help those relationships and if parents can get closer to the their kids as a result of the movie that's great," she said.  
The Irish star was to spend just three short years in New York, first moving to Dublin before her family settled in Co. Carlow. She relocated to Howth, Co. Dublin, with her parents again in her early teens, by which stage she was a household name and already appearing in Hollywood movies and picking up Oscar nominations.
By 2003, aged nine years old, she was appearing in "The Clinic," an RTE production. Just four years later she was cast as Briony Tallis in "Atonement," the role that would see her become one of the youngest ever Academy Award nominees.
From such unpromising beginnings, Ronan now looks set to rule Hollywood for the foreseeable future. As they say in The Bronx' "Whodathunkit?"