An Irish hitman for a notorious Italian crime family with insider knowledge into the JFK assassination, is the true-story behind Martin Scorsese's The Irishman just all one big lie?
Netflix's upcoming $200 million blockbuster flick The Irishman seems to have it all: a gripping crime story about a prodigious assassin who worked alongside some of the most notorious figures of the 20th century, delivered in cutting edge technology by Hollywood's greatest ever gangster movie stars.
Read More: All you need to know about Martin Scorcese's The Irishman
The Irishman is based on the book by Charles Brandt, "I Heard You Paint Houses," but its veracity remains hotly contested.
The Book - "I Heard You Paint Houses"
The book tells the story of World War II veteran Frank "The Irishman" Sheeran, a hustler and alleged hitman who carried out over 25 murders at the behest of the mob and his close friend Jimmy Hoffa, in a career spanning decades. 
7
Its author, Charles Brandt, is the former chief deputy attorney general of the state of Delaware and a medical malpractice lawyer who had helped Sheeran win early parole from prison, due to poor health, at age 71.
Shortly afterward and nearing the end of his life through cancer, Sheeran began confessing incredible secrets as the hidden figure behind some of the most significant mafia murders of all time.
The book and movie delve into Sheeran's relationship with former International Brotherhood of Teamsters (IBT) union leader Jimmy Hoffa, who had immersed himself with organized crime.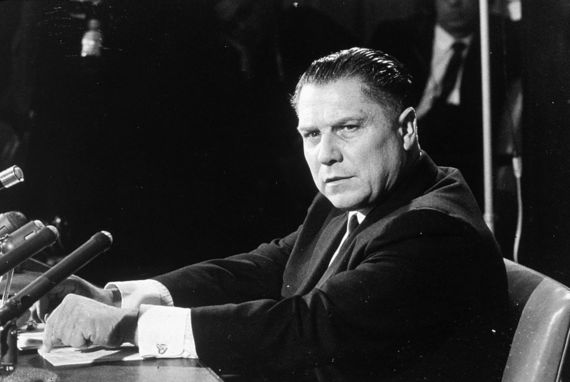 7
Hoffa vanished in late July 1975, his body never recovered and no one has ever been held criminally responsible in the disappearance. 
Sheeran made the claim to Brandt that it was he who pulled the trigger to that and many other unsolved murders.
He also confessed to the murder of Profaci crime family gangster, Joseph "Crazy Joe" Gallo.
Yet Sheeran pulled them off, without ever being arrested, charged, or even suspected of being the perpetrator by any law enforcement agency.
Disputed claims
Ever since the book was released in 2004, there have been dissenting voices to Sheehan's extraordinary stories.
Mob historian and author Andy Petepiece is one such skeptic. Petepiece claims Brandt's work is an "error spewed book demonstrating Brandt's critical lack of knowledge of La Cosa Nostra. He compounds this by weak cross-checking of facts presented by himself and Sheeran."
Jimmy Hoffa's disappearance and murder
When Hoffa was released from prison after being convicted of attempted bribery of a grand juror, he attempted to return to power in the Teamsters union but the mob, who controlled much of the organization, opposed this and wanted him killed.
According to Brandt, in consultation with his fellow mob bosses, Sheeran's patron Russell Bufalino set up the hit.
7
Hoffa's longtime friend Charles "Chuckie" O'Brien drove Sheeran, Hoffa, and fellow mobster Sal Briguglio to a house in Detroit.
While O'Brien and Briguglio drove off, Sheeran and Hoffa went into the house, where Sheeran claims to have shot Hoffa twice behind the right ear. But there is no evidence to back up his claims.
In 2005, blood found and tested in the Detroit house where Sheeran claimed the murder happened was determined not to be Hoffa's. 
Read More: Trailer for Martin Scorsese's The Irishman finally drops
The "Hoffex Memo," a 56-page FBI report on the case lists a dozen men who were suspected of having some involvement in either killing Hoffa or disposing of his remains. Although not claiming conclusively to establish the specifics of his disappearance, the memo records a belief that Hoffa was murdered at the behest of organized crime figures.
It suggests that while Sheeran might have been part of the plot to kill Hoffa, it was Salvatore "Sally Bugs" Briguglio, who was involved in the actual disappearance at the behest of mafioso Anthony "Tony Pro" Provenzano, head of the Teamsters Local 560 in Union City, New Jersey - whom Hoffa was also feuding with. 
Murder of "Crazy" Joey Gallo 
While Sheeran's version of events surrounding Hoffa's disappearance is hard to disprove, his claim to the slaying of renegade Brooklyn mobster Crazy Joey Gallo appears to have more legitimate cracks.
Until Sheeran's confessions, the accepted storyline to Gallo's demise was as follows: Gallo was out on the town with friends, family, his new wife, and her daughter to celebrate his 43rdbirthday.
In the early hours they were unable to find somewhere to eat in Chinatown so wandered into Little Italy to Umberto's Clam House, not knowing it was owned by a mobster named Matty the Horse. 
7
Gallo was at war with the Colombo family who had connections present in the restaurant when they arrived. They quickly left and returned with re-enforcements. One of them—a convicted murderer named Carmine "Sonny Pinto" Di Biase—began shooting and Gallo was hit three times.
Sheeran claims that Gallo's murder happened because earlier in the evening, Crazy Joe was rude to Sheeran's boss Russell Bufalino, who then sanctioned him with the hit.
Sheeran says he was informed by spies not only which restaurant Gallo would choose hours later, but exactly where he would be sitting and given a diagram of the venue. Sheeran arrived at the appointed time and entered alone, trying to seem like a working truck driver needing a break.
Read More: What you should know about Irish American mobster "The Irishman" Danny Greene
"The known evidence totally contradicts that story," says Petepiece.
7
"Four participants in the event describe how the Gallo party arrived at the shooting scene by chance."
"This refutes Sheeran's claim to have known Gallo would be going to Umberto's Clam House that night. Furthermore, one of those involved in the murder became a government witness and told the whole story. Joseph Luparelli's version of the killing was supported by eyewitness descriptions of the killer, ballistic evidence and informants."
"Furthermore, Gallo's bodyguard recognized Carmine (Sonny Pinto) DiBiase as the lead shooter. This was the same man Luparelli had identified."
"The bottom line is that Sheeran's Gallo story is nonsense and the known evidence proves it."
Other Sheeran claims
Sheeran also claims that just before the ill-fated Bay of Pigs invasion of Cuba, in 1962, he was ordered by his mob bosses to drive a truckload of uniforms and weapons to a dog track in Florida, where he delivered the cargo to infamous CIA agent E. Howard Hunt, who, a decade later, would be one of the Watergate burglars.
In November 1963, Sheeran said he was summoned to an Italian restaurant in Brooklyn, where a gangster handed him a duffel bag containing three rifles and told him to deliver them to a pilot, who took the bag and disappeared - to be used in the 1963 John F. Kennedy assassination.
7
Hoffa wanted Kennedy dead because Kennedy's brother, Robert F. Kennedy, the Attorney General of the United States, was harassing him. 
Also, Sheeran tells about taking a suitcase containing half a million dollars in cash to the lobby of the Washington D.C. Hilton, and exchanges it with U.S. Attorney General John Mitchell - an alleged bribe for President Richard Nixon.
On December 1971. less than five years into his 13-year sentence, Hoffa was pardoned by Nixon.
Sheeran's credibility, apart from being a career criminal, was also laid bare after Brandt lost two publishing deals for the book after it was discovered Sheeran had forged a letter he said Hoffa had written to him.
So, did Sheeran come clean as he approached death's door or did he seek to create his own legend before his death? 
Let us know what you think in the comments below