Newly discovered diaries of Elizabeth Taylor have revealed the depths of the feud between the movie star and Jackie Kennedy Onassis.
The former First Lady, who died in 1994 at the age of 64, believed that Taylor had seduced John F. Kennedy. According to Taylor's diaries, the actress had several private meetings with JFK at a secluded bungalow in Beverly Hills during his 1960 campaign for the White House.
A source told RadarOnline that Liz, who was married to fourth husband Eddie Fisher at the time, was "thrilled to be invited to meet Kennedy" during one of his California fundraising visits. The two "hit it off so well, he invited her to see him a number of times." But when Jackie heard the news of the liaison, she exploded in a jealous rage that forced her husband to keep the beautiful actress at a safe distance.
"Had it not been for Jackie's jealousy, Taylor would undoubtedly have been part of what became known as Camelot, his inner circle," says the source.
3
Although Taylor swore to friends "her relationship with Kennedy never went beyond friendship," Jackie was convinced her philandering hubby had slept with the Hollywood star and said some vicious things that got back to Liz," claims the source.
"Jackie was so paranoid her husband was cheating, which he did so often, she was never able to trust any woman who showed any interest in her husband."
However, another source says that Taylor and JFK DID have a dalliance but in 1948, when JFK was a newly-elected congressman and Liz was only 16-years-old, years before he married Jackie in 1953.
Kennedy was invited to the home of actor Robert Stack, where he also found Taylor. After "some chitchat and lunch," Kennedy suggested they all go for a swim – "and everybody got into the pool for Liz's first three-way," according to the source.
After marrying Jackie, JFK racked up a string of female conquests over the years. The women he bedded reportedly included then-60-year-old movie legend Marlene Dietrich, young White House intern Mimi Alford, Mafia moll Judith Campbell Exner, Jackie's press secretary Pamela Turnure, and, most famously, Marilyn Monroe.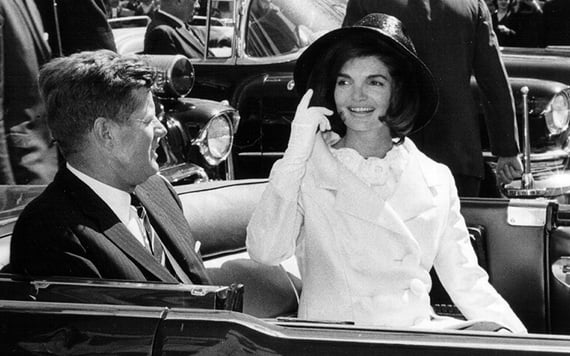 3
"Jackie's fury was fueled by 'tarts' like Marilyn Monroe who always flocked around Kennedy and made her life a living, walking embarrassment because he was tempted so often by so many women," the source notes.
"It made her a woman who was frenzied and paranoid."
As for Elizabeth Taylor, who died in 2011 at the age of 79, a source says one of her diary entries sadly states she "could never convince Jackie that she did not have an illicit relationship with her husband."
Read more: Irish designer says Melania Trump is as glamorous as Jackie O