Major Ben Irwin-Clark offered some very Irish parenting advice on St. Patrick's Day
Duchess Kate Middleton got some hilarious parenting advice from Irish Guard Major Ben Irwin-Clark on St. Patrick's Day.
Read More: Kate Middleton and Prince William celebrated St Patrick's Day with a pint of Guinness
On March 17, The Duchess and her husband Prince William, the Duke of Cambridge, attended the annual St. Patrick's Day Parade in Parade Square at Cavalry Barracks in West London, a tradition that dates back to 1901.
Some 350 soldiers from the Irish Guards marched in the parade, led by their mascot, Domhnall, an Irish wolfhound.
☘️ On #StPatricksDay The Duke of Cambridge, Colonel of the @Irish_Guards, accompanied by The Duchess, are visiting 1st Battalion Irish Guards at the St Patrick's Day Parade. pic.twitter.com/CnfWeJlome

— Kensington Palace (@KensingtonRoyal) March 17, 2019
Kate Middleton has attended every year since 2012, except for 2016 when she chose to stay home with her two children.
Read More: Interesting history behind gold shamrock Kate Middleton wore on St. Patrick's Day
As part of the traditional visit, Kate Middleton, who was decked out in green from head to toe, handed out sprigs of shamrock to those in the battalion.
The Duchess of Cambridge presents shamrock to Officers and Warrant Officers ☘️ #StPatricksDay pic.twitter.com/Wz3L5HZqLy

— Kensington Palace (@KensingtonRoyal) March 17, 2019
During her visit, she stopped to chat with Major Ben Irwin-Clark, whose wife was cradling their newborn son, Rory.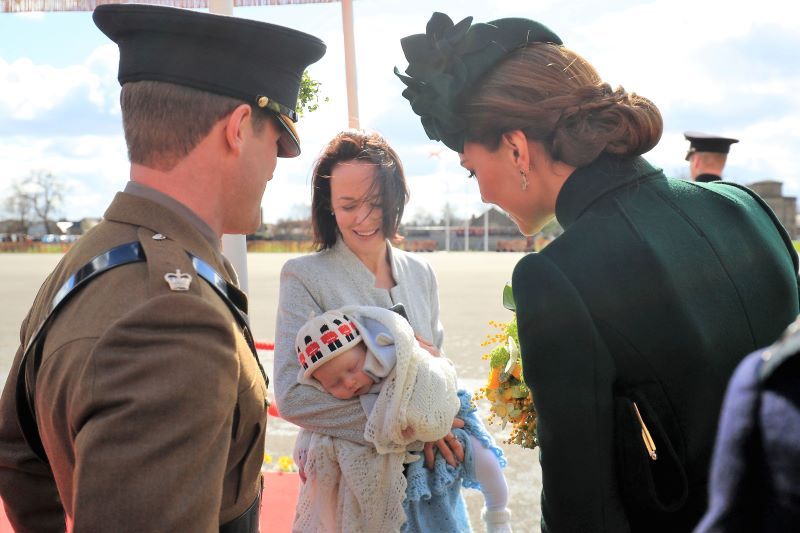 2
Middleton asked Irwin-Clark what their secret was to keeping the newborn baby so soundly asleep.
"Drop of whiskey in the milk," Irwin-Clark hilariously replied before adding, "no it's a joke."
"Oh well enjoy, it just gets better and better," said Kate, who has children George, Charlotte, and Louis with husband Prince William.
Read More: Kate Middleton makes surprise trip to Ireland to "celebrate young people"
Watch the funny exchange between Kate Middleton and Major Ben Irwin-Clark here:
What parenting advice would you offer to Kate Middleton? Let us know in the comments!