"The Banshees of Inisherin," the Irish movie that has recently won three Golden Globes and was nominated for nine Oscars, is among the most influential films according to a new study.
"The Banshees of Inisherin" is among the most influential films, according to new data that reveals which jobs held by onscreen characters on TV and film inspire the most viewers.
A research study from the Irish casino Slotbox looked at the jobs held by the main characters across over 200 popular TV shows and films. A national search data analysis was then conducted to identify any related rise in interest from viewers inspired by the characters. 
Each character was awarded an influence score based on search interest increases following each TV show/film release date to reveal the biggest onscreen inspirations.
Directed by Martin McDonagh and set on a remote island off the coast of Ireland, "The Banshees of Inisherin" focuses on the end of the lifelong friendship between Colm (Brendan Gleeson) and Pádraic (Colin Farrell) - with Colm hoping to recapture his love of creating folk music. 
It seems some fans have been inspired to follow in Colm's footsteps, as he's one of the most influential characters featured in the study, ranking fourth on the list with an influence score of 9.5 out of 10.
Following the release of the film in October 2022, Google searches for 'how to learn music' increased by 9900%. Searches for 'folk music' increased by 108% and 'violin classes' by 5300%.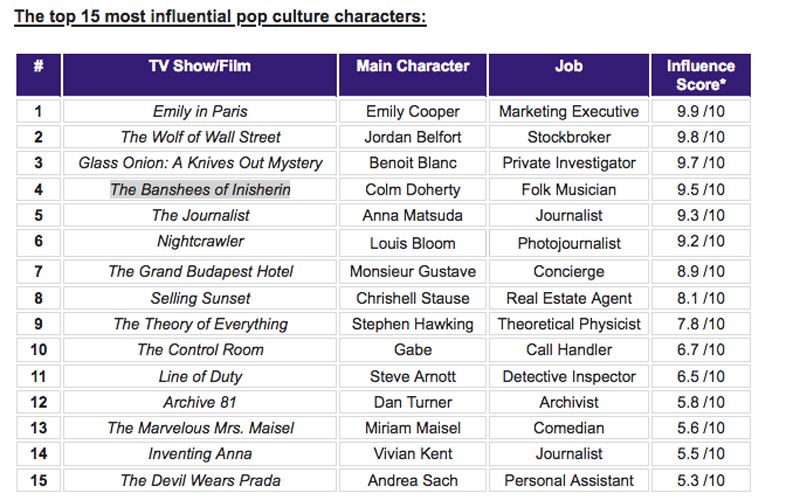 2
While some characters proved to be more inspiring than others, certain professions resulted in consistent upticks in online interest whenever they were portrayed onscreen.
The top job roles that inspired the most searches were detective, followed by journalist, musician, secret agent, and chef.
Onscreen professions that prompted no rise in job searches included astronauts, paramedics, office workers, and cleaners.
Speaking on the findings, Slotbox said: "People look for inspiration in all sorts of places, so it stands to reason that for some, the media they consume and the characters they relate to go some way to helping them figure out what passions they'd like to pursue - including career.
"A lot of TV shows and films these days are centeredd around lawyers - including "Suits," "She-Hulk" and "The Lincoln Lawyer" - and characters are often portrayed as extremely driven, passionate and glamorous, so I'd have expected that to be the most-inspiration profession.
"Careers that orient around passion are understandingly inspiring when shown on screen - such as Colm Doherty's love for folk music - particularly when the main characters are vocal about their love for what they do.
"However, it's not too surprising that people are most intrigued by detective and investigator roles. After all, we've all played armchair detectives when watching TV!"