What's the weather like in Ireland? Well, it rains, that's for sure! Still, it's not the constant deluge you might imagine, and Ireland's climate is actually quite temperate and mild. 
Here's what you can expect from the weather when you visit Ireland, and what you need to do to plan and pack accordingly. 
Read more: Mayo and the Cliffs of Moher tours
7
The Irish climate 
Ireland has a temperate oceanic climate, with the warm air of the North Atlantic Current blowing in from the Atlantic Ocean. The average temperature is a wonderfully mild 50°F.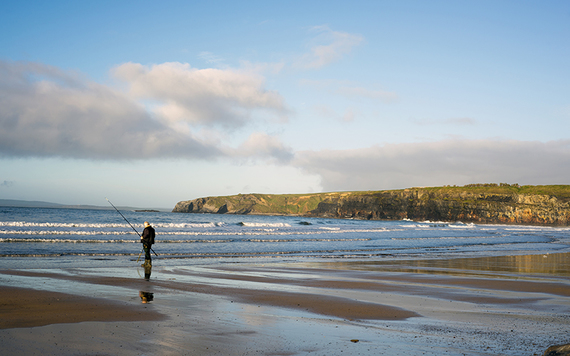 7
The warmest region of Ireland is in the southwest, with Valentia Island in Co. Kerry recording record high average temperatures of 50.5°F, while the coolest is inland. The midlands town of Mullingar, for example, in Co. Westmeath, has an average temperature of 47.8°F. 
Read more: Galway and the West tours
How much does it really rain? 
For better or for worse, rain is one of the things people most closely associate with Ireland, along with Guinness and the color green. But how much does it actually rain in Ireland? 
7
 According to Met Eierann, the national weather service, most of the eastern half of the country has between 29.5 and 40 inches of rainfall in the year. [New York City averages 42 inches per year.] Rainfall in the west generally averages between 40 and 49.2 inches. The average number of wet days ranges from 150 in the southeast to 225 in the west of Ireland.
There are of course some exceptions, like a 20-year rainfall Ireland endured in 4,000 years ago. Just this past summer, Ireland experienced its worst rainstorm in 100 years. 
Seasons in Ireland
In spring (February to April), the average highest temperatures range from 46 to 54°F, with April considered particularly pleasant. In summer (May to July), the averages for highest temperatures are between 64 and 68°F.
7
According to Met Eireann, "The wettest months, in almost all areas, are December and January. April is the driest month generally across the country. However, in many southern parts, June is the driest."
Read more: Kerry and the Wild Atlantic Way tours
Ireland's daylight hours
During the peak summer months (late May to early July), Ireland can get up to a whopping 18 hours of daylight, with darkness only settling in around 11pm in the very middle of the summer. This is what it means to have a "grand stretch in the evenings."
7
The downside to this, however, is much shorter days during the winter, with as little as seven and a half hours of full daylight around Christmastime. Be sure to get an early start to make the most of it! 
What to pack for your trip to Ireland 
The best advice for packing for your trip to Ireland is to prepare for a multitude of weather patterns! While it will hardly ever be freezing cold or swelteringly hot, you should pack for everything in between. In the summer months especially, make sure you bring a jacket and long pants for the cooler evenings, but also pack your sunscreen and a swimsuit for the sunnier days – one of the great things about Ireland being an island is that it means a beach is never far away. For the winter months, you'll want a sensible coat, hat, gloves, and scarf. 
7
Read more: Northern Ireland and Game of Thrones tours
 And of course, you want to be prepared for the rain. Many Irish people are committed to toughing out rain without an umbrella, especially as the varying length and unpredictability of the downpours can make hauling one around with you a nuisance. And, of course, the wind often turns umbrellas inside out. So, while you're more than welcome to use an umbrella, an equally reliable option is a solidly waterproof raincoat and waterproof boots or shoes. 
Do you have any weather advice for people visiting Ireland? Tell us in the comment section.