The Galway peninsula of Renvyle stretches out from Ireland's western coastline as if it longs to reach across Atlantic.
Stretching out from Ireland's western coastline, as if it longs to reach across the water, Renvyle Peninsula is as far removed from city life as a place could be.
Read more: Galway and the West tours
Taking in Derryinver Quay, Ballinakill Harbour, and towns of Letterfrack and Recess, it is a place of natural peace thanks to its protected place on the northern edge of County Galway.
A popular destination for those interested in sea life and all activities that come with it, it boasts stretches of sandy beaches, safe for swimming and diving as well as sea fishing. It has its own adventure center, aquarium, a maritime museum and seaside parks. In this part of the world, Irish hospitality is at its best, too, with welcoming bars, warming hotels and bed & breakfasts as well as plenty of camping spots.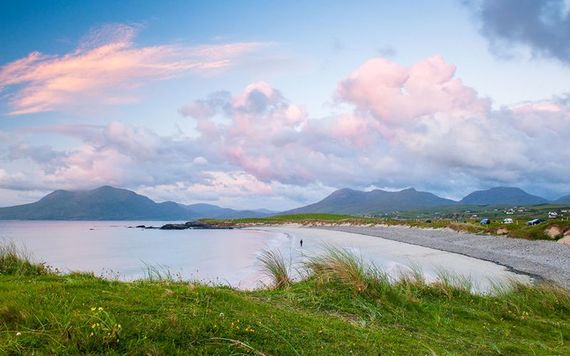 4
You may have seen parts of Renvyle before, without even knowing it, and certainly, you will have read from many authors and poets who have been inspired by its beauty.
William Butler Yeats, Oliver St. John Gogarty and Oscar Wilde all credited this coastline as inspiring some of their great works, while romance of scenery was immortalized in The Field.
Read more: Crowd of 15,000 belt out Galway Girl breaking record
4
Such scenes have remained unspoiled and unchanged in this part of the world, with ancient remains, castles and glorious
Kylemore Abbey
all reminders of the incredibly rich history that lies in its hills.
4
Kylemore Abbey is the monastic home of Benedictine Order of nuns in Ireland, and up until the 1990s was a prestigious boarding school for girls.
With its own Gothic church, immaculate Victorian Walled Gardens and preserved rooms, restored in intricate detail to its former glory when wealthy Henrys ran property in the late 1800s.
Read more: Mayo and the Cliffs of Moher tours
Getting to Renvyle
There is no other way to get to this westerly peninsula other than car and roads are typically winding and undulating. This makes for most spectacular of scenery, of course, and we highly recommend taking your time getting there. Soak up as much of Connemara National Park as you can while you do.
From Dublin or Cork, allow yourself a good four and a half hours, while peninsula lies an hour and a half north of Galway.
Read more: The remarkable story of the Galway Claddagh community
 * Originally published in July 2013 in Ireland of the Welcomes.