"Perhaps someone should have read the handwriting on the bathroom wall (or some such) two weeks ago Saturday night at the Lion's Head Pub. But then, everyone knows that in a bar populated with writers nobody reads anybody's work but his own. Still the signs were there: something drastic was about to happen to the joint. It did. Monday morning the revenuers put a padlock on the door. The aforementioned Saturday night was abound with strange carryings-on, the foremost of which involved the Irish folksinger Liam Clancy and his Indian counterpart, one Shannon Two-Feathers. They closed the place and in a fit of remorse, signed themselves into St. Vincent's Hospital for 'the cure.' "—Joe Flaherty, "Three Nights Without the Lion's Roar," Village Voice, April 1, 1971.
I always loved Joe Flaherty.
And I should have suspected something was up when this article appeared on April Fools' Day.
Back in the early 1970s when I studied British Literature at Hunter College—the British as they had co-opted Ireland, co-opted Ireland's authors into their curriculum: Joyce, Yeats, Shaw, Synge, Swift, Stroker, Kavanagh, and O'Casey were seditiously seated next to Huxley, Woolf and Greene—I couldn't wait for Wednesday mornings when the Village Voice hit the newsstands. More times than not, there was a front-page story by Flaherty. By reading Joe, I knew what his priorities were: baseball (especially Willie Mays), fine cognac (in the form of Remy Martin), politics (he courageously managed the quixotic Mailer-Breslin ticket for mayor in 1969), and, finally, a joint two blocks from my home in Greenwich Village, the Lion's Head Saloon, at 59 Christopher Street.
I loved Flaherty's books: "Managing Mailer" about the great novelist's ill-fated, but often hilarious romp for mayor, and "Fogarty & Co.," a novel about a carouser not much different from Flaherty himself. Fogarty, like Flaherty, was profane, and had a magic with words. With Flaherty, you would often drop the paper because you were laughing so hard. Often, a picture of Flaherty accompanied the story about all the wild happenings going on at the Lion's Head. I just had to meet him.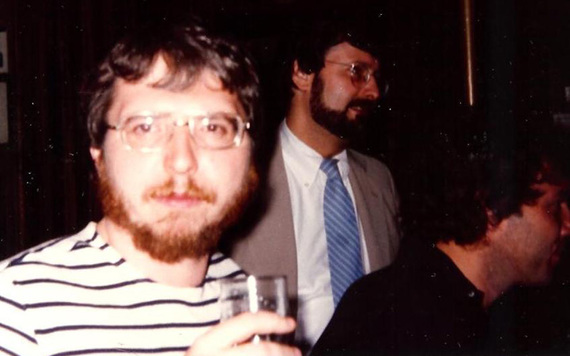 9
I think it was in the spring of 1972 when I went to the Head several times to try and track down Joe. I was unsuccessful several times, but this one time, on a soft, rainy afternoon, there he was alone at the back bar, reading the New York Times. It was early in the day but I had a feeling that Joe may have had a few or the blast from last night was still in force. It was time for him to go and slowly, meticulously, he started folding the broadsheet in a manner that would have made Marcel Marceau proud. There were two construction worker types sitting at the top of the bar barking at each other. As Flaherty finally tucked the recalcitrant paper under his arm and headed for the door, one of the guys said to the other: "Then, this Irish asshole said…" Flaherty didn't miss a beat as he sailed by: "Don't be redundant!"
As they said in Casablanca, it was the beginning of a beautiful friendship.
…Where the Jews Drink Like the Irish…
By 1975 I was a regular and Flaherty was right—it was a great place. There was an emphasis on conversation, repartee, of verbal one-upmanship, baseball and politics. There was no television—Al Koblin, one of the owners, declared that a TV could be brought up from the basement only for the World Series…and if the President was shot—and thus the conversation ran wild.
I soon learned that the bar was co-owned by Koblin, a Jew from Boston, and Wes Joice, a former New York City cop. There was a predominance of Irish and Jews. In fact, Koblin was famous for saying that it was a bar "where the Jews drink like the Irish and the Irish think like the Jews."
Besides having a Joice for an owner, the Irish were abundant. Behind the bar was the super-handsome Michael Reardon, a sometimes movie actor, and Tommy Butler, an Irishman who liked his ponies, especially if he was betting on them. A bald 300-pounder, it was obvious why his nickname was "Sugar." His rebel father had to leave Roscommon during the Irish War of Independence and had settled in Washington Heights where he ran the River Shannon Bar. Like Flaherty, Sugar loved Willie Mays and said he could see the lights of the Polo Grounds from his bedroom window when he was a kid. Both had gotten over the heartbreak of the Giants moving to San Francisco and were now Mets loyalists.
And only the Head would hire a bartender like Paul "Archie" Mulligan, a still aspiring actor in his 40s with a propensity for Scotch whisky and tall tales. Archie was so slow to bring drinks down to the end of the bar that all the regulars moved to where Archie relentlessly told the young waitresses about his acting exploits as Ensign Pulver in "Mister Roberts" ("Hank Fonda told me it was the best he's ever seen!" Archie once told us.) Another time he told of the time he declined to have sex with Marilyn Monroe because he "respected Arthur Miller too much!" (Or was it Joe DiMaggio?) One of those young waitresses that Archie liked to chat-up was Jessica Lange, who went on to a pretty good Hollywood career herself.
Another of the bartenders was one of Flaherty's best friends (along with Butler), the incorrigible Paul Schiffman. Shifty, as he was called, was a retired United States Line sea captain, a published poet ("At Morning Light"), and, as the Irish like to say, "a pregnant writer."
He had gone from guiding ships to the far ports of the world to pushing drinks to landlubbers. It was not an easy transition for Shifty. He had a love for Joseph Conrad, Bombay gin, and Jameson Irish whiskey. As irascible as hell, his phone conversations unintentionally made for great comedy. Once, the phone rang and someone asked: "Do you have a happy hour?" "Yeah," barked Shifty, "Eight o'clock when I get off!"
Another time the phone rang and he didn't utter a word, just hung up. I asked what that was all about? "They wanted to know what time the karaoke started!" To put it mildly, the Head was not a karaoke bar. Although Shifty usually gave out the great lines, he was once the recipient of one, while he was lying in the hospital waiting for a heart bypass operation. Someone came in and asked where the Captain was? "He's in St. Vincent's," I said. "Oh," came the response, "St. Maarten's is much nicer this time of the year!"
Flaherty loved Shifty so much that he put him in "Fogarty & Co." as Captain Saul Shipman, a man with a drinking problem who takes his Circle Line tourist boat on an expedition looking for the white whale off the New Jersey coast before being pulled over by the Coast Guard and sent to "Whiskey School" where he met Fogarty. Shifty was such a charismatic character that I revived Captain Shipman and put him in my book that takes place at the Head (called Hogan's Moat) in my novel "Our Lady of Greenwich Village." To put it mildly, you don't meet people in New York City like Paul Schiffman anymore. They might be somewhere, but not in this pristine New York.
Village Voice, This Way
The Voice offices were right next door and so you were liable to be rubbing elbows with the guys you were reading on a Wednesday morning. Pete Hamill, with maybe Shirley MacLaine or Mary Tyler Moore on his arm—would often be seen, although he didn't drink any more, but had taken his Ph.D. in drink at the Head as he related in his extraordinary memoir, "A Drinking Life."
9
Arthur Bell, the chronicler of gay life in the Village, would often pop in, looking as mad as he actually was.
Joel Oppenheimer, the poet laureate of the New York Mets, could be often seen escorting nubile young things from his poetry classes at CCNY. (I once asked Joel what was the toughest part of getting married again? "Throwing out my pornography collection," he replied earnestly.)
Jack Newfield, the great Voice muckraker, and the man, who along with Pete Hamill, had brought Bobby Kennedy to the bar in 1968, also came in. It was Head legend that Kennedy decided to run for president that night at the Head.
It was a haven for New York sportswriters. Vic Ziegel of the New York Post was a regular until he got married. (It was not unusual for a divorcing couple to fight over who would stay at the Head and who would have to find another place to drink.)
Ziegel was one of the "chipmunks" of New York sports journalism, a group, including Head regular Larry Merchant, who didn't think the national pastime had to be covered as if it was a Requiem High Mass. He once famously said: "If you're going to be involved in a plane crash in Cleveland—crash going in!" On a train going through Germany he was asked: "Spraken ze deutsch?" To which he replied, "Tappan zee Bridge!"
Vic also had one of the best lines about Dave Kingman, the New York Mets slugger. The prickly Kingman hated New York sportswriters—and the feeling was mutual. Kingman went out on a dinner date with a woman regular who was an executive on the women's tennis circuit. The two of them returned to the Head for an after-dinner drink then left together. Twenty minutes later the woman returned—alone. "Ah," said Ziegel, "Kingman struck out again!"
9
George Kimball, the wild, one-eyed sportswriter for the Boston Herald, would drop in when in town. He often brought along Boston Red Sox pitcher Bill Lee, the renowned "Spaceman." (Only the Head could have two Bill Lees, the baseball player and the cartoonist. As Cartoonist Lee would leave the bar he would remind Baseball Lee to "Say hi to mom for me!") But the Head didn't really need a pitcher because it already had Jim Bouton, introduced to the Head by Leonard Shecter, the man who edited Bouton's "Ball Four."
But the Head didn't only have sportswriters bellying up to the bar. There was Dennis Duggan—known to Irish radio audiences as "Dinny"—who introduced a new type of tunnel journalism at New York Newsday, covering the New York City subway system from the Bronx to Coney Island. And then there was the diminutive Mike Pearl of the New York Post who was the best court reporter in the city. And the Head even had a cultural reporter in Stuart Troup of New York Newsday who would come back to the bar and report on what was happening around Gotham.
An World Famous Author Wall
The Head became famous for its wall full of framed book jackets. The first jacket I remember was Fred Exley's "Pages from A Cold Island," his follow-up to "A Fan's Notes," one of the great works of the 1960s. It hung alone, scotch-taped to the wall.
Soon it was joined by others and Al Koblin decided to buy picture frames at Lamston's and do a proper job of it. Over the years, the jackets went up: Pete Hamill's "The Gift," Martin Cruz Smith's "Gorky Park," Vince Patrick's "The Pope of Greenwich Village," "Report from Engine Company 82" by Dennis Smith, Tania Grossinger's "Growing Up at Grossinger's," "Air Time" by Gary Paul Gates, and Max Gordon's wonderful "Live at the Village Vanguard." There were so many more it's hard to keep track: Denis Hamill, Quentin Crisp, Vic Ziegel, David Bradley, Malcolm Braly, David Markson, Bob Drury, Donald Westlake, and Alice Denham, just to name a few. The last jacket to go up, just before the Head closed in 1996, was Frank McCourt's "Angela's Ashes." Frank told me it was one of the proudest moments of his life.
I don't think Lanford Wilson ever had a jacket up on the wall because he was a playwright, but he was a delight. During the 1970s and '80s Lanford had a string of successful plays on Broadway. He had a devoted following of suburban ladies who read that he drank at the Head and they would often descend en masse on the bar after a Saturday matinee. I remember several Saturdays when they bravely marched into the Head in the middle of the baseball season when the raucousness was at its zenith. They spied Lanford, engulfed him, and Lanford, ever the gentleman, gave them his time and bought them drinks until they left.
9
It was often said that writers went to Elaine's uptown to be seen and that they came to the Head after working all day at their craft. There aren't many bars that could boast of having two Pulitzer Prize-winning authors on their daily roster: Lanford Wilson for "Talley's Folly" and Frank McCourt for "Angela's Ashes." It appears that genius does, sometimes, come out of a bottle.
The Clancy Brothers Are Now Appearing in the Back Room
As Joe Flaherty stated in that April Fools' piece, Liam Clancy and the rest of the brothers—Paddy, Tom and Bobby—were often to be found in the pub. It was their base when they were in New York, either on their way back to Ireland or preparing to jet off to various parts of the world on tour.
On one of my first times in the pub, my Guinness was blessed by Tom Clancy himself. Tom was an accomplished Broadway and television actor and would go on to replace Ed Flanders on Broadway in Eugene O'Neill's revival of "A Moon for the Misbegotten" in the 1970s, starring alongside Jason Robards Jr. and Colleen Dewhurst.
Read more: Remembering Liam Clancy, the "best ballad singer ever"
Paddy Clancy, pipe in hand, would quietly sip on his mug of beer and watch all the goings-on around him. One night he stood face-to-face with regular Claude Scales and belted out "The Leaving of Liverpool." Scales, a southern lawyer, and apparently not up on his Irish music royalty, turned to barman Tommy Butler and declared: "He knows all the words!"
"He should," roared Sugar, doubled over in laughter, "he's Paddy Clancy of the Clancy Brothers!" Every time I run into Claude I remind him of that story.
On special nights, as you walked into the bar, you might hear the sound of a guitar emanating from the backroom. It was the boys, maybe backed up by the Furey Brothers or Louis Killen, with maybe renowned composer David Amram accompanying them on his tin penny whistle.  Pete Hamill described one such night in his foreword to "The Irish Songbook": "…[A]round midnight I dropped into my saloon on Sheridan Square. It was like walking into an explosion. I don't know why it happened that way, but all of them were there: Pat, Tom and Liam Clancy, and Tommy Makem, and they had commandeered the big round table in the back room, with about seventy people around them…
The song was 'The Leaving of Liverpool':
…and they moved on to 'Foggy Dew'
… and 'Eileen Aroon'
… and 'Isn't It Grand, Boys?'
… and 'Rocks of Bawn'
…The voices were a shout, a lament, a challenge, a vow, all wrapped into one. Out beyond the confines of the saloon there were people still wrapped in the normal cloak of unhappiness. But inside, in the warmth, around the big table, these four splendid Irishmen and their accomplices banished that normal condition, at least for the duration of the evening."
Yes, it was once like that at the Lion's Head.
Actors Welcomed
There were all sorts of characters at the Head. I remember at least two survivors of the Abraham Lincoln Brigade who fought in the Spanish Civil War: Stanley Postek and Jock Stockwell. There were labor organizers, militant feminists, plenty of male chauvinists, and professional virgins surrounded by satyrs and sexually liberated women, a few I suspected were switch-hitters. Looking back on it, it was the perfect place for an actor to work at his craft by observation. And we had some of the great Hollywood pros at the Head.
There was Jack Warden, one of the great character actors of all time. Jack lived across Sheridan Square above Jack Delaney's Saloon. Whenever back in town from Hollywood he would be at the Head. Jack's long resume was more than impressive: "From Here to Eternity," "Run Silent, Run Deep," "12 Angry Men," "The Bad News Bears," and "The Verdict." He was nominated for Best Supporting Actor for his work in both "Shampoo" and "Heaven Can Wait." He played opposite Clark Gable, Paul Newman (who he took to the Head during a break in the filming of "The Verdict"), Henry Fonda, Montgomery Clift and Burt Lancaster, just to name a few.
9
Unlike many stars, Jack did not come with an entourage. I remember one night when my friends Marilyn Bellock and Jim Rouen were looking for a film to see in the movie section of the New York Post. They saw that "Being There" with Peter Sellers was playing at the Waverly Theatre over on Sixth Avenue. They asked Jack if he knew anything about the movie. He shook his head no. Early the next morning my phone rattled at the office and Marilyn was yelling at me: "Do you know who was in 'Being There'?" I had no idea. "Your friend Jack Warden!" That's the kind of modest man Jack Warden was.
Another great character actor was Val Avery. Who? Well, he was one of those faces that everyone knew, but no one had a name to put on it. Val's first movie was "The Harder They Fall," which happened to be Humphrey Bogart's last. Bogey took a liking to Val and they went fishing. "Are the Academy Awards on the up-and-up?" Val asked Bogey. "If they were," Bogart responded, "Spencer Tracy would win it every year."
9
Val was great pals with Peter Falk, Ben Gazzara, Rod Steiger, John Cassevettes and appeared in every major TV show, from "Columbo" to "Law and Order." He appeared in such movies as "The Magnificent Seven," "Love with the Proper Stranger," "Donnie Brasco," "The Amityville Horror" and even helped break Rodney Dangerfield into the movie business in "Easy Money," which was filmed on Staten Island. Val was a gourmet cook and some of our most interesting conversations were not at the Head but at the meat counter at the Gristedes supermarket on Sheridan Square. His signature line from one of his movies was "I'll eat your liver," but he was a gentle man who would prefer to sauté some calf's liver before digesting it.
You can still see J.D. Cannon on those "McCloud" reruns from the 1970s. As Chief Clifford, he spent two hours yelling at Dennis Weaver at the top of his lungs. But in real life, Jack Cannon, who lived over on Barrow Street, was an introverted drinker, almost unrecognizable out of character. Ed O'Neill from "Married with Children" loved to come in and chat with Tommy Butler. Even Jack Dodson—Howard Sprague on the "Andy Griffith Show"—showed up to drink when he was appearing on Broadway one season. And Academy Award-winner Rod Steiger, who lived in Val Avery's building on Grove Street, always had his mail delivered to the Lion's Head.
Our Revels Now Are Ended
The Lion's Head closed on October 12, 1996—I often point out it died on Columbus Day, not on St. Patrick's Day—and a way of drinking and thinking had ended in New York. There were many reasons for its demise from high rents to a change in the way people thought and acted. For some reason, people would rather squawk on their cell phones or social media than talk face-to-face. The gentrification of Greenwich Village did not help. Young people, because of high rents, could not come to Greenwich Village anymore. They would head to places like Williamsburg to chase their dreams—until the grim reaper known as gentrification followed. A lot of people with money came to the Village for the color provided by the locals. What they discovered was that they evicted the people out of the Village that they wanted to drink with.
9
You won't see any more Joe Flahertys, Frank McCourts, Tania Grossingers, Archie Mulligans, Paul Schiffmans or Tommy Butlers in the Village because they just can't afford it. Rogues with rent control apartments have been replaced by trust fund babies in co-ops. But for one shining moment they were all there. A lot of the Head regulars are dead. Apparently, time doesn't stand still for anything, including the regulars of the sacred saloon.
Sometimes when I return to the Head—now the Kettle of Fish, the foremost Green Bay Packer Bar in New York City, run by an Irishman from Milwaukee, Patrick Daley—I can still feel my friends and I swear I can hear Flaherty making people roar with laughter and Nick Pinto shouting out "Good gracious said Sister Ignatius, I'm shocked that the Bishop has piles" and Archie telling one of his outrageous stories. Their ghosts are still there, but these are happy ghosts, full of life and mirth.
9
At the end of Edwin O'Connor's wonderful "The Last Hurrah" the dying mayor, Frank Skeffington, says to his idolater, Ditto: "How in the world do you thank a man for a million laughs?" And that's the way I feel about the regulars at the Lion's Head. Thanks for the million laughs, lads and lassies.
But I think the epitaph of the Lion's Head was best written by Tom Paxton with his wonderful "Comedians and Angels" which sums up the legacy of the Head—"The Fenian at the Barricade/the Batter in the Box."
And like Tom, I miss my friends tonight and I know I'll miss them—until I join them.
* Dermot McEvoy is the author of the "The 13th Apostle: A Novel of a Dublin Family, Michael Collins, and the Irish Uprising" and "Our Lady of Greenwich Village," now available in paperback from Skyhorse Publishing. He may be reached at dermotmcevoy50@gmail.com. Follow him at www.dermotmcevoy.com. Follow The 13th Apostle on Facebook at www.facebook.com/13thApostleMcEvoy.