Volcanoes currently pose no danger to Ireland's residents, but the island is known for its reoccurring history of volcanic eruptions
Ireland is presently surrounded by extinct volcanoes such as the Slieve Gullion in Co Armagh, Lambay Island in Dublin, Loch Na Fooey in Co Galway, and Croghan Hill in Co Offaly.
According to Irish Weather Online, the majority of Ireland's volcanic eruptions are said to have happened in the Ordovician age, when Central and Western Europe are believed to have been separated from the rest of Eurasia 430 to 480 million years ago.
What was then the Iapetus Ocean began to shrink as North America and Baltica began to join mountains were thrust up in place of the ocean, which remaining parts of still exist today in North America, Ireland, Greenland, and Norway.
Around 60 million years ago, Europe and America were converged and the North Atlantic Ocean was nonexistent. It was when volcanoes began to erupt - because of an upwelling of hot magma from inside the earth is known as mantle plume - in the center of the large continent that the two continents split and the Atlantic was formed.
The Giant's Causeway in Northern Ireland is some of the most impeccable evidence of this happening.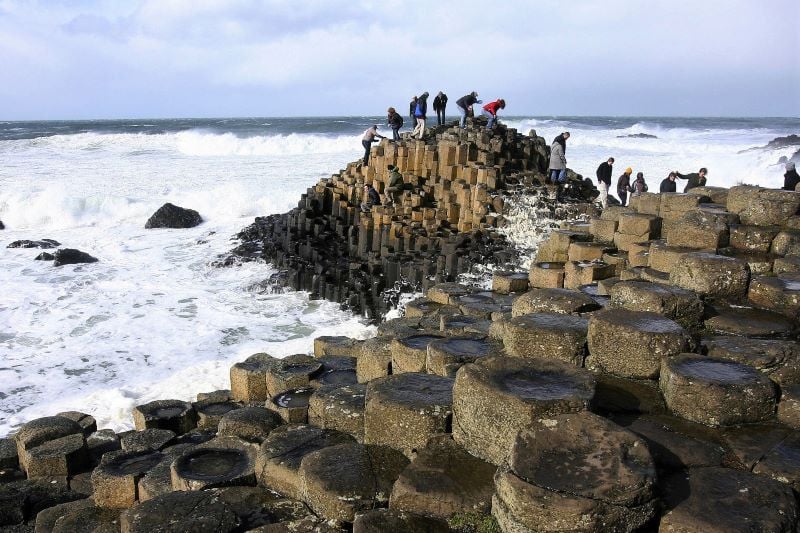 2
There is evidence all throughout Ireland that confirms this volcanic age. Many hills and towns are the remains of an extinct volcano, such as Croghan Hill, The Hill of Allen, and others, and are now among the "harmless auld craters," which are said to have last erupted around 200 million years ago.
Volcanic activity during the Ordovician period also left traces in places like Arklow Head, Co Wicklow, and in parts of the coastline of Waterford. In both counties, volcanic rocks are springing out of erupting submarine volcanoes.
These volcanoes are just as important a part of Ireland's history as any other of nature's creations. The harmless craters are there as a reminder of what once used to be in the Emerald Isle.
*Originally published in 2011.