Hanna Sheehy Skeffington, the Irish nationalist and suffragette, was born on May 24, 1877 in Kanturk, Co Cork. Below, a look at Hanna's inspiring life.
The struggle for universal suffrage in Ireland was a long one, finally coming to an end in 1922 when women were given the right to vote in elections in the Irish Free State. Key to this voting equality was the courage and tireless hard work of suffragettes like Hanna Sheehy-Skeffington, who devoted most of her life to campaigning for the rights of women and Ireland's independence. A dedicated campaigner, Sheehy-Skeffington also traveled to the US to spread her political messages.
Read More: Gunrunners and front-line fighters: The women of the 1916 Rising
Born in County Cork on May 24, 1877, into a family with strong political convictions – Hanna's father David was MP for South Galway, and her uncle Eugene was known as the 'Land League Priest' – Hanna quickly developed into an excellent student, thriving at school before graduating with a BA. She followed this up with a first-class honors MA from the Royal University of Ireland.
In 1903, Hanna married Francis Skeffington. The couple's convictions regarding equality led Francis to take Hanna's name, making them Hanna and Francis Sheehy-Skeffington. This commitment to equality was a strong bond between the two, and within five years of their marriage, they were instrumental in the creation of the Irish Women's Franchise League and the organization's newspaper, the Irish Citizen. Hanna's campaigning was relentless.
In 1913, she was sent to prison for the first time, on this occasion for throwing stones at Dublin Castle as part of a protest, something that cost her her job as a teacher. Once out of work, Hanna could devote more of her time to women's suffrage, writing articles on education and feminism and protesting against the conscription of Irish men to fight in the First World War.
In 1916, during the Easter Uprising, Francis was shot dead by British soldiers despite not being involved in any fighting. Hanna declined the compensation offered by the British and demanded an inquiry into Francis' death. This was duly held, but the officer responsible escaped punishment.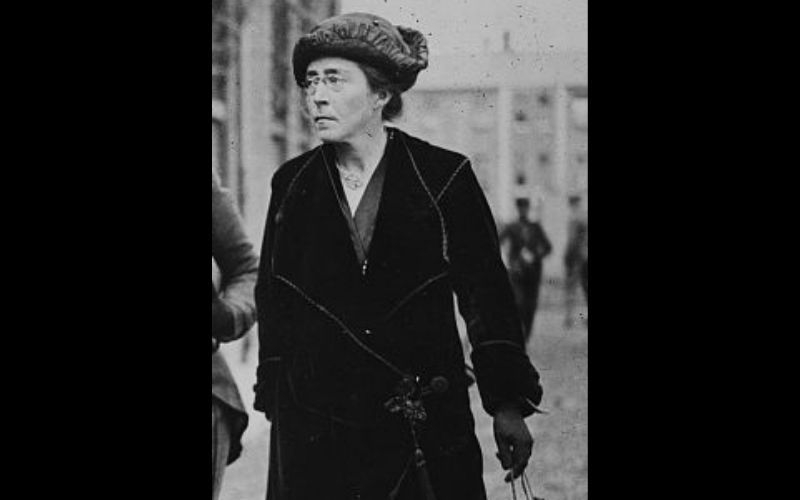 2
Read More: Remembering Lily Kempson, the longest surviving rebel from the 1916 Easter Rising
At the end of 1916, Hanna came to America to travel around the nation delivering a talk titled 'British Militarism as I Have Known It.' This tour raised $40,000, which she donated to the cause of Irish independence. The pamphlet that was made of her talk was banned in Britain until after the end of the war.
Hanna spent over a year touring America and delivering her message before sailing to Liverpool in 1918. Prohibited from returning to Ireland, Hanna snuck back into the country before getting caught. She was sent to Holloway Prison under the Defence of The Realm Act, where she went on a hunger strike and was released.
1922 saw America play a part in Hanna's story once again, as she was sent by Éamon de Valera to tour 25 states, raising funds for the American Committee of Irish Republican Soldiers and Prisoners' Dependents Fund. Hanna's campaigning continued throughout her life: she spent time as assistant editor of a Sinn Féin newspaper, continued to deliver speeches in Ireland, Canada, and the United States and made her living as a journalist, writing about independence, suffrage, and feminism.
In 1946, Hanna died, leaving a legacy of sacrifice, bravery, and a list of achievements befitting of a true Irish hero.
For more stories on tracing your Irish heritage from Findmypast click here.
Read More: Ireland needs to elect more women and this is how we achieve it