Washington DC stalwart Samantha Power's grand-daddy, John Duffy, was also a double-agent for Irish revolutionary leading figure Michael Collins.
Samantha Power is one of stalwarts of the Washington political establishment. She has degrees from Yale and Harvard. She has worked as a journalist. She won a Pulitzer Prize in 2003 for her book A Problem from Hell: America and the Age of Genocide. She was a key member of Barack Obama's election team and went on to sit on the National Security Council and in 2013 became the United States Ambassador to the United Nations. She would be on the shortlist as a future Secretary of State in a Democratic administration.
Not bad for a girl from Dublin.
Power was born there in 1970 and at age nine immigrated to the United States. The Irish always have some skeletons in their closets. Sometimes the bones bring good news. The ambassador was shocked at what tales her skeletons had to tell.
4
Recently, on RTE's Who Do You Think You Are? Power learned that she had a unique connection to revolutionary Michael Collins through her maternal great-grandfather, John Duffy. She learned on the TV show that her great-grandfather, a Royal Irish Constabulary [RIC] man in Athlone, County Westmeath, was secretly active in the Republican movement from early 1917, took orders from Collins, and even helped save him once from a British assassination attempt.
What Power didn't know was contained in Duffy's Witness Statement at the Bureau of Military History [read it here]. The statement only runs 26 pages long, but it has several interesting interactions between the young Collins and Duffy.
Meet the bearded Collins
In 1917 Collins had just been appointed by Kathleen Clarke to run the National Aid and Volunteers Dependence Fund which was located at #10 Exchequer Street in Dublin. With Eamon de Valera still in jail, Collins went to work, not only at the NAVD, a charity for indigent 1916 rebels and their families, but also dealing with building the Irish Volunteers into the IRA. Even this early in his career Collins was interested in intelligence and Duffy presented him with a perfect specimen—someone who was already working for the British in the constabulary.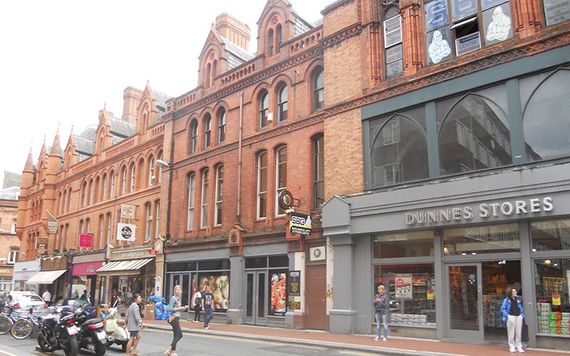 4
Secretly, Duffy was directed to Dublin. In Church Street he "met a man wearing a beard, who was introduced to me as Michael Collins." This is interesting in itself because this is the first time I have ever heard of Collins wearing a beard. Collins liked to wear a mustache for disguise purposes and there are many pictures of him in the fall of 1921 in London when he was negotiating the Treaty with his terrible mustache in place.
4
Duffy was then directed to a pub and there again he met with Collins, who was all business. Let Duffy take it from here:
"I saw Collins at the end of the hall and when he recognized me he signed to me to come on. I accompanied Collins to a small room and sat around a table with him…We adjourned to an outer room and sat round a bigger table. Michael Collins had a heap of leaflets which he handed out to each one, telling us to read them carefully and if there was anything objectionable in them not to be shy to mention it.
"The purport of the leaflets was that Michael Collins himself was to get a clergyman to call to every police barrack in Ireland. to induce all young men up to twelve years' service to leave the Force. In the case of men who had between 12- and 25-years' service who were married, they were to get compensation, and any men having over 25 years he (Collins) was to write to them personally to leave the Force and take their pensions.
"When I read the leaflet, I told Collins that I did not agree with it. He asked me my reasons. 'Well,' I said, 'if you are going to get a clergyman to call to all police barracks to induce men away from the Force the whole scheme will be defeated before it is put into operation because, if you carry out that scheme, you will have half the clergy in Ireland shot, because, I added, before that clergyman is halfway to the Parochial House, information regarding the object of his journey will be on its way to Dublin Castle.' He then asked me for my alternative and I said: 'There is not a parish in Ireland where there is not a branch of your organization. Let them get a decent man or two, and let them not be 'yahoos', to call on the parents of every young man in the Force having up to 12 years' service.' 'If you do that,' I continued, 'these young men will be said and led by their parents that flared them more so than by any clergyman, and you can tell those people to tell their parents if you are successful in this organization and ever form a police force, they will be the first to be taken into it.' On hearing my recommendation, he (Collins) immediately drew a cross through the leaflet and my suggestions were taken down by him in shorthand. A messenger took the notes away who later returned with fresh leaflets which embodied my suggestions."
There are several interesting points here. The first is how Collins handled the situation when Duffy spoke up. One of the reasons Collins was such a great leader is that he knew how to handle men (and women) and departmentalize his duties. In the years ahead, he would be head of the IRB, Minister for Finance, Commandant-General of the IRA, and Director of Intelligence of the IRA, just to name a few of his duties. To make things work he was also a great delegator of responsibility. If you had a good idea, Collins was all for it. If you succeeded, he would come back to you for other missions. If you failed, you were out.
Read more: How Michael Collins' Dublin fishmonger helped beat the British
What is especially interesting here is that he was trying to get young policemen to quit the RIC, which he would later change his mind about. Collins soon realized—as he did with Duffy—that the more agents he had within the British forces the better.
Later on, Duffy, disgusted with British atrocities, wanted to quit. Collins was furious.
"When I returned to duty I saw my old friend, Dr. McDonnell [Collins' contact], and I told him that I had intended leaving the Force, giving him my reasons. He sent word to Collins immediately of my intention. Collins sent down a courier by return with instructions on in his own handwriting that under no circumstances was I to leave the Force and that if I did so I would be looked upon as a 'coward.' The word 'coward' decided my determination to remain on."
Years later Collins had the same reaction when his "Spy in the Castle," Dave Neligan, wanted to quit the G-Division of the Dublin Metropolitan Police and Collins would not let him. Collins knew how important friendly policemen were to the cause.
Collins wants intelligence
At this same meeting, Collins told Duffy what he wanted from him:
"Further, he asked me would I be able to get the key to the police cipher code. I replied that it would be impossible for me to meet his request at the present time, as I was then only an ordinary duty constable and would not have access to such documents."
Eventually, Collins got what he wanted because Duffy was a brilliant spy—and locksmith—in his own right:
"As I was taking up my books one day to check against Sergeant Harte's, I saw the Co. Inspector and the Crown Solicitor (Heferin) standing at courthouse and as I was passing the Co. Inspector's office I observed the key in it. I pulled the key out of the lock and examined it very closely, making a mental picture of what it looked like. I returned it immediately to the lock and went back to my stores where I drew an outline of the key on a piece of paper. That evening I went down to McDonnell's a hardware shop in the town and asked to be shown some keys. I picked out three made keys that I thought would suit and took three unmade keys also. I tried these keys in the lock when opportunity presented itself, but none of them would fit, so I took one of the unmade keys that I thought would suit and widened it with a little loot-saw. I then tried it in the lock of the door and found it fitted perfectly.
"This gave me the advantage I was looking for access to the Co. Inspector's office without enlisting the aid of anybody else. On a Saturday night I started out to fulfill the request made by Michael Collins to obtain a list of names of prominent I.R.A. men all over the country who had come under police observation. It did not take me long to find the lists required and I took them away. I worked all the Sunday copying out in my own handwriting the names, addresses and crimes of the men concerned and the complete list numbered 3,912 names. I passed this list on to Frank Simon, the local I.R.A. Leader. On that Sunday night I returned the files to the office on the completion of my task."
But Duffy wasn't finished yet. He then went about getting the cipher codes that Collins wanted:
"Following this episode, I succeeded in getting hold of the key of the police cipher code. This I also passed on to Frank Simon. As this code was in general use throughout the country for military and police every day for a period of three months without being changed, and as the authorities had no suspicions that it was in the possession of any undesirables, arrangements were made whereby a Post Office clerk named McNamara would transmit police messages to the I.R.A. for the purpose of decoding. In this way the I.R.A. knew the contents of a message even before it reached the Co. Inspector's, office. One message came through from, I think, Dublin Castle, to the effect that police and military were to round up a number of prominent I.R.A. men in Co. Roscommon. This message was again decoded by the local I.R.A. in time to allow them to escape the net. When it came to the ears of the Co. Inspector that Volunteers were moving out of the whole county, he became suspicious and the round-up operation was not carried out."
Saving Michael Collins
Perhaps Duffy's great contribution to the cause of Irish freedom was saving Collins from assassination:
"I remember one evening the D.I. [Deputy Inspector] summoned all men of the station to the dayroom. Reproduced a photograph of members of Dáil Éireann which he passed round to each man asking them if they were able to identify any man in the group. When they were not, he took a life-size photograph of Michael Collins with two issues, a side issue and a front issue, and passed them round, but no man said he knew him.
"He put the photographs back in his pocket and then he made a speech to this effect: 'The man whose photograph you have seen is coming into Roscommon tonight from Boyle with Father O'Flanagan. He is responsible for the murder of all your comrades and men.' Continuing, he said: 'Every road that is leading into this town is to be guarded by policemen and a policeman is to be with each group of military. This man is to be taken off the car and shooting is good enough for him.'
"When we were dismissed, I made my way to the post office and from there to John Brennan's house where there was a man always to receive any messages that I might be able to convey. I told him to get two cyclists for every road leading into the town as soon as possible and to have Collins taken off the car as far out from the town as he possibly could and to tell Father O'Flanagan to meet me at 6.30 p.m. at the south side of the chapel. Collins was taken by the I.R.A. in a place named Kilteevan, about five miles outside the town. When I subsequently met Father O'Flanagan at the appointed place, he asked me the best time to bring Collins to the town, and I told him at midnight, but to be sure that all military and police lorries had returned to barracks."
A lovely shock for Ambassador Power
According to the Sunday Independent, Power was stunned that her great-grandfather saved Collins' life. "Who knows how history would have turned out if not for the tip?"
The witness statement brought Power to tears.
"Whenever he walked out the door and said goodbye to his wife and daughter," she said, "he was taking a risk it would be the last time he saw them. The RIC were targets to the IRA and if the British had discovered he had informed, I presume he would have been shot on the spot. And it looks like he did on one occasion save Michael Collins's life. It's very moving. I'm proud."
Power should be proud because it was through ordinary men like John Duffy that Ireland's fight for freedom was successful.
* Dermot McEvoy is the author of the "The 13th Apostle: A Novel of Michael Collins and the Irish Uprising" and "Our Lady of Greenwich Village", both now available in paperback, Kindle and Audio from Skyhorse Publishing. He may be reached at dermotmcevoy50@gmail.com. Follow him at www.dermotmcevoy.com. Follow The 13th Apostle on Facebook.