In an era when it is possible to find your neanderthal genetic code with a mail order swab of saliva, this should have been a simple task. It was a birth certificate, but one surrounded by mystery and shielded by law
I am a journalist, used to uncovering things that are deliberately covered and bringing to light things that were forgotten. All I had to do was make a formal request for records. But what records, and where were they?
The stories around my father's childhood were incomplete as if the story behind them was a great secret or a tragedy best left forgotten. And his adoptive parents were a colorful team, Irish Catholic on the mother's side and English/Austrian Protestant on the father's. His father converted to Catholicism so my grandmother would get her big wedding in St. Mary of the Mount, a grand work or architecture seated on a mountaintop in the largest Irish community in Pittsburgh. My grandfather's religious status would come into play in the later adoption.  
Read more: Meet the US cop who found his long-lost Irish mother through a DNA test
His adoption took place during the Great Depression, and time was making it less likely that I would ever get to the truth. But time was not the only roadblock in finding the facts of family history. The Catholic Church is a veritable fortress, protecting secrets of the repentant followers as well as hiding their own indiscretions. At the start of the 20th century, adoption was something to be hidden, like sex itself. It was rarely discussed in polite company and even then only referred to in hushed tones.
I had to convince my father that I had a justifiable reason to drag him into the quest for information. Irish citizenship would broaden my career path, I explained. Although there was a possibility that this would be an uncomfortable journey, one that would rekindle the adoptive-child memory of being unwanted, and also the possibility that it would end in pain.
I was seeking records necessary to prove his mother was an Irish citizen because, with that, he and I would both be considered Irish citizens under the law.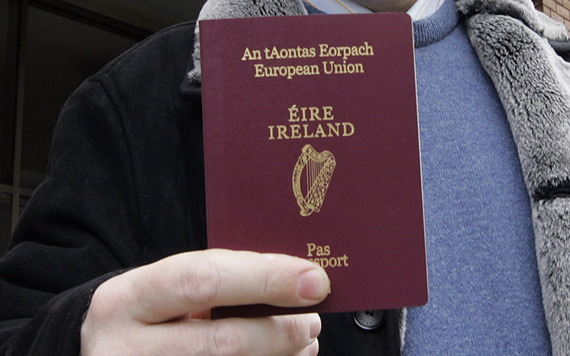 4
I hadn't dreamed that I had a strong connection to Ireland until I checked the website of the Consulate General of Ireland here in New York City. There I found the requirements for the application for Irish citizenship and was surprised to see that first-generation Americans and their children were also regarded by Ireland as Irish. But there was an obstacle among the requirements, and it was a big obstacle. I would not only have to find his birth parents, but I would also have to provide my father's birth certificate.
Read more: How to get an Irish passport
My father's life - fact v fiction
My father never had a birth certificate. He could not provide one as a soldier in the Korean War era, for application to Officer's Candidate School in the US Army. It was 1950 when borders were tightened and papers were important for schools, weddings, medical records. The document never surfaced. There was also some question of the actual date of birth, which would be another complication. What was going on here?
Knowing this had been tried and failed more than 60 years before I set out to separate fact from fiction. With my father's approval—which wavered during this journey—I began by following up on the family stories which offered tantalizing clues.
My grandmother got a letter from Ireland in the 1970s from a woman who said she had just found out she had a half-brother in the United States. My parents did not reply to the letter.
Marie also produced a newspaper clip from Chicago with the obituary of a man she claimed was my father's biological father. My parents again did not believe it.
My grandmother was the source of many stories. Mariah Griffin Sheldon was a premature baby born to a large Irish family, she survived to become a small, buxom woman possessing a domineering personality. She was often seen at parties with a cigarette in one hand, a drink in the other, and a penchant for embellishing stories.  Her premature birth left her with a gynecological condition which made it impossible to conceive children of her own. That led to their decision to adopt two years after she married my grandfather Harry.
She occasionally told stories of a young immigrant girl who came to the States from Boston, as her Galway family had done. The girl's name was "Mary" and she worked variously at the Schenley Hotel and as a domestic for Pittsburgh wealthy families.
Mary and  "Patrick's" dalliance
Mary met a man, reportedly at an Irish picnic outing. He was by my grandmother's account, a good-looking man (just as my father grew to be). In June of 1931, Mary found herself unmarried and pregnant. According to my grandmother, the man she called "Patrick" left the city and may have resettled in Chicago.
Patrick Gannon never married Mary. Mary gave birth in a Pittsburgh hospital in 1932 and put the baby up for adoption. Shortly afterward, Mary returned to Ireland and never came back.
There were stories with missing details, some tantalizing if it hinted at scandal and politics.
Read more: How my orphaned Irish father rediscovered his family
One concerned a relative who was a congressman and did nothing to help her remain in the states. Was this baby actually from an employer's indiscretion? Without the adoption records, it was not clear whether she was deported or had freely chosen to start over back home in Ireland. Either way, baby Patrick remained in the care of a Catholic orphanage run by nuns.
Given the Dickensian stories of orphanages from "Philomena." Ireland's Mother and Baby Homes, and the Depression-era stories of America's "Little Orphan Annie," one might expect this story to end badly. But it did not.
The adoption process
Marie's memory of the adoption process was clear. Marie and Harry had gone to the orphanage to inquire about Mary's little boy "Paddy" who was now about three years old. The wily nuns, in a sense of fair play, brought out several young boys for their consideration before bringing out the one my family requested.
The black-haired, blue-eyed boy who came into the room was smiling and — in my grandmother's memory —was holding tightly to a little medicine bottle.  Paddy had the bottle of medicine for an ulcer on his lip, and he was holding it as much for security as it was in preparation to go if he was accepted. I don't know if he had any other possessions other than his clothing.
After a trial period of living with Marie and Harry, Paddy arrived at Children's Services Court in Pittsburgh with his foster parents. Paddy was asked by a judge if he liked living with the couple. Simple, direct questions to a child barely four years old. Do you like your new mommy? Do you like your new daddy? Would you like to live with them? The questions were answered in a manner that satisfied the Pennsylvania judge and the corresponding dignitaries in County Galway, Ireland. On the Irish side, the officials included witnesses and a priest who signed the papers after statements from the birth mother. Those records were then sealed as per the custom of the state of Pennsylvania in 1935. Adoptions were secret and even grown children had no legal rights to information about their birth parents contained within them.
My grandfather's new life
Paddy started a new life with this rather bohemian couple who both came from large extended families. Harry and Marie had a very active social life. They were not so solid as parents but possessed a creative, irresponsible streak that set them up to be fun grandparents.  
Paddy entered school without an official birth certificate, which probably meant that Pittsburgh schools took a baptismal certificate into account. He later entered the army without a birth certificate, but they were not able to find the document required for officer's candidate school. There was a question about Paddy's actual birthday, and that may have caused the documents to be invisible whenever a search was made.
4
My father met my mother because my grandmother Marie dragged him to the soda fountain at the neighborhood drug store to see Marcy, the pretty blonde-haired, blue-eyed Polish American girl who worked there. She was as fair and light as my father was Black Irish.
Patrick Sheldon married Marcella in 1953, and a couple of years later started their own family. Neither of them had brothers or sisters (that we know of) but my parents had five children of their own, born almost every 18 months from 1955 to 1962. And a generation later, there were seven grandchildren.
Finding proper proof of my Irishness
I had been the child who spent a lot of time with the grandparents Marie and Harry and their stories. From her, I learned to mix drinks and light cigarettes, how to socialize and how to begin to assert myself. My grandparents took us traveling to give my parents some time off. I learned to love travel and that was to lead me to my Irish quest.
I was Irish, on my father's biological side. But the adoptive side would make me third generation American already, and that wouldn't work for Irish law.
I sought to prove my father's Irish roots and it began with a phone call to a woman who handled records for a long-gone orphanage. Sister Barbara was a pleasant woman, who asked about dates (the first stumbling block) of the birth and the mother's name. "Mary" isn't much to go on, and even after I added other possible names from the family stories, there was no record. I was disappointed, but I said: "perhaps this story is already written." Sister Barbara agreed with a little too quickly, reminding me of the sign in the haunted forest  from the "Wizard of Oz." It warned: "witch's castle… I'd turn back if I were you."
But I didn't.
A friend said he didn't understand the difficulty. He went straight to a New Hampshire judge and had the court open his records. He said in this day and age, there is no reason not to have your background information, especially for medical purposes. But he was dealing with New Hampshire. I had to deal with the Commonwealth of Pennsylvania.
Adoption records in Pennsylvania are handled by the Department of Health, Children and Youth Services. I contacted them by email, and then followed up with a phone call. No one there would talk to me. There were restrictions concerning adoption files and only my father could speak with them. This second-hand communication took more time, but eventually, we narrowed down the facts that would satisfy our search.
I needed the full name of the mother, so we took a guess that it was indeed the same family name as my grandmother. I offered the name of the man rumored to have been the father, and I identified the year and date of birth within two days. Weeks later, I was not able to find out about progress because of course, they could not speak to me. My father had begun to get cold feet and I had to convince him all over again.
They found the file of the Orphans' Court.
My father's biological mother had remarried in Ireland by the time the papers were signed in 1935, but the record had her family name as the one I had given. The surprise was the father's name was mentioned in the file as well.
Irish law requires original documents as proof of citizenship, and the lady at the Allegheny County records department made it clear that nothing was allowed to be removed from his adoption file. No matter that this case was already 83 years past, it was almost a historical document by now. I still could not have those documents.
Then came my big break. The clerk said she could transcribe the court document and certify the validity of the record with their official seal. She would also issue a statement to swear to the name change due to marriage.
I would have to wait for these documents. In the meantime, I inquired as to whether this would be enough for Irish law regarding citizenship. No, there was still a major obstacle. I would need that birth certificate, something that has never shown up anywhere since my father's birth in 1932.
I wasn't going to travel to Pittsburgh to sit in a clerk's office, so I went online and did a search. The first one that pops up is Vital Records-US. I applied, paid by credit card, and waited.
It was six months before they acknowledged my application. I inquired about the status of my request and got a message that noted there would be delays because of Hurricane Irma.
Except this office was in clearly Pennsylvania and I filed my inquiry from Manhattan. There was no hurricane in the path of either city. At the end of seven months, I received a call from a service agent. They had just now gone into the file and had questions. Again, I gave them my father's name, his birth mother's name, and the alleged father's name. Each time, they were not giving me any assurances. Then they said they could not send a birth certificate. Why not? I had the information and waited seven months for this standoff.
The clerk said: "Well, you are asking by a different name." I said "I gave you all the names legally in the birth record, and under the law, a son is allowed to request his father's birth certificate. So why not?"
She said, "the names are different." Of course they are, he was adopted. Yes, the additional names I gave are in this record, but they said only he could request this birth certificate. Why is it that only he could do this?
"Because it is confidential," she said. I was frustrated and angry. I replied "I just told you who knocked up my grandmother in 1931! How could you possibly have any information more confidential than that?"
Seven months shot. I was still nowhere near fulfilling the Irish requirements.
The silver bullet - Mary has her final word
I went back to Pittsburgh and had my 87-year-old father request the document personally at the records department. There were a number of older people there, and the staff seemed to be more efficient as well as patient with them. They asked my father for the same information but also his Army identification number. To my surprise, he rattled off more than a dozen digits committed to memory long before I was born. The clerk asked us to come back in an hour.
We did it. The first time my father ever had a birth certificate. And, the family rumor was right, we'd been celebrating his birthday a day before his actual birth date.
We are almost there, and then the documents from the Orphans' Court case arrived. Decades of embellished stories, rumors, and naughty jokes were all swept aside. The stories Marie Sheldon told her grandson, all had a basis in the facts of the case. There it was: Mary was in a court in Galway giving her child to an American couple for adoption. The officials from the Catholic agency assured the mother that this was a Catholic family and that the adoptive mother was a distant relative of the birth mother. It was signed not by a judge, but by a Catholic priest and a few witnesses.
But there was one more note that was included in the transcription of the records. It was from the birth mother—my biological grandmother— to the court.
"I wanted to bring the child back with me, but my mother was against it."
I was stunned. I had been dealing with bureaucrats and officials with no sign of human feelings. But there were feelings in Mary's words. From a young woman who finds herself in trouble with few options. She wanted the child. But what were her choices in 1932? It was not a matter of morals or convenience or scandal. It was a baby forced out of its mother's arms by one restrictive society with no options for a future in the other. The young woman's plight became as real as if it happened today. Her words hit me like a brick. I cannot stand people who cry, but I found myself tearing up rereading this young woman's words.
I filled in the missing information about her life in Ireland. She married and had a family in Ireland and her life ended in 1987 at the age of 80. She never saw her son grow up to be a handsome Galway/Sligo hybrid in Pennsylvania. Nor did she ever see her daughter-in-law and their five children and seven great-grandchildren.
4
It seems like an awful lot of life to miss because of morals.
But one of her grandchildren refuses to follow convention. The one who listened to his Irish American grandmother's stories is the one who followed the path to Mary. Sometime later this year, he will travel to Ireland, to a little cemetery in Galway and find her gravesite with her Irish family. At the end of this quest, he will have one thing to say to her. "You did the right thing." And add, "Grandma!"
~~~~~
* Patrick Sheldon is a Journalist and retired CBS News Producer in New York. His work began at The Pittsburgh Press and includes reports for KDKA Radio and stage work with Pittsburgh Civic Light Opera. He has a home in the historic Scots-Irish neighborhood of Pittsburgh's North Side and he is currently interested in business and journalism in Ireland and the EU.
Read more: Little evidence that babies were sold to America from Irish mother and baby homes