Corruption "is not the norm" in CLRG Irish dancing competitions, says Helaine Sander, ADCRG.
Editor's Note: Helaine Sander, ADCRG reached out to IrishCentral after reading our recent poll results where the majority of respondents said that competitive Irish dancing is in need of reform. Among some of the respondents' grievances were claims of corruption on judging panels at competitions. While Sander, who grew up Irish dancing in Brooklyn and has been an ADCRG (CLRG-certified Irish dance adjudicator) for more than 30 years, indeed laments some portions of the evolution of Irish dance, she insists that "corruption" is not the norm when it comes to judging.
Below are Helaine's words:
"Shoulders back. Arms down. Nice rhythm! Watch timing! Great effort!" I'm sure you've seen these comments on your marks over and over. I saw them on my comments as a young dancer. And today, I make those same comments as an ADCRG!
Read More: An insider's look at judging the World Irish Dancing Championships
I love Irish dancing. As a young dancer, my dance class was my happy place growing up. I felt most alive when dancing. It brought me great joy and great friendships. My closest friends today, are those I have met through dancing. I sit beside many of them today, judging our current young dancers.
I competed in the early years of the Oireachtas. It was such a thrill to travel and meet dancers from all over the world when competing in Ireland. I loved it all! I later taught for over twenty years with An Rince Mor School of Irish Dance and have had students place at regional, national and world level competitions. Some former students are now CLRG teachers themselves.
Irish dancing has evolved over the years. Some changes have been improvements (there was a time when being an Aer Lingus stewardess was enough criteria to judge at a feis!) and some not so much.
[Editor's Note: CLRG now offers a robust examination for people wishing to become adjudicators. The 2019 syllabus for CLRG's ADCRG Exam is available online.]
While I am indeed saddened by the evolution of Irish dancing to a level of extreme pageantry, I am more concerned about the perception of consistent corruption in judging. I have read articles on IrishCentral than seems to reinforce this notion.
I want to reassure your readers, that this is not the norm. I have been a CLRG adjudicator for more than thirty years. While I have heard rumors to this effect, I have NEVER been approached by anyone EVER, to compromise a competition result. It upsets me that IrishCentral readers may feel this is the standard, when it is definitely not. The people I judge with year after year are all above reproach. Sometimes, people may not agree with a result, but that doesn't mean it is corrupted. Sometimes, I pick a winner based on something intangible. The dancer has moved me in a way that others haven't.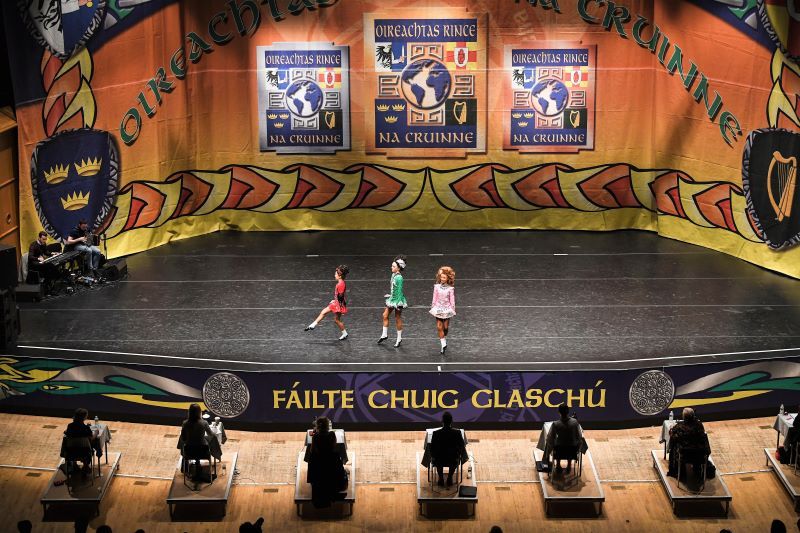 2
Read More: Top results for the 2019 CLRG World Irish Dancing Championships
I can appreciate the athleticism and high level of difficulty some competitors demonstrate, but it must remain an art form first. I often hear Irish dancing referred to as a sport. It is definitely not a sport. We should not be blurring the lines on this. Some of our competitors are performing risky moves with a high level of difficulty. I want to stress that just because a child can do these moves, it does not mean that they should. Their bodies are still developing. We should be not be putting unhealthy stresses on them.
We do have different opinions when adjudicating. We appreciate different styles. That's why there are panels of 3-5 to allow a broader range of opinions. Parents may think we know who is standing before us, but I want to reassure them, their children are essentially in disguise when they come before us! Their hair color is not their own, their skin color is altered, there is so much make-up and the dresses have so much bling, they all blend together. They may as well be wearing a uniform. They all look alike! Nobody stands out except in their dancing. If anything, we work hard not to be negatively distracted by all the glitz.
I want parents to feel that Irish dancing is a fair outlet. I want to reassure parents that Irish dancing is predominantly a joyful place to be. Please don't allow a very few unethical people to ruin it for you or your children. They are definitely the minority. The majority of those involved in Irish dancing are decent, ethical individuals. Dancing should bring pure joy and delight. I wish that for all Irish dancers.
Read More: CLRG makes official changes to 2020 World Irish Dancing Championships