It's almost 60 years since John F Kennedy was sworn in as the 35th president of the United States and since then the Democratic Party have been mesmerized by the Kennedy style.
Peter Canello of Politico recently wrote: "The pressure for candidates to fit the Kennedy mold—in looks, style, and political bearing—became so oppressive that the writer Garry Wills coined a term for it: 'The Kennedy imprisonment'."
Read More: Scandalous, rebellious, and tragic life of JFK's sister Kick remembered on her birthday
In the 2020 presidential race, the Kennedy ghost has re-emerged, mostly in the person of former Texas Rep. Robert Francis "Beto" O'Rourke.
6
46-year-old O'Rourke has made no secret of his admiration of the Kennedys and unlike the JFK version of the Kennedy clan, has adopted the Bobby variant, honed post-Dallas. That of the surviving brother searching for meaning in a strange and violent world.
O'Rourke "evokes the less sexually aggressive Bobby rather than JFK. There's far less swagger in Bobby's image, crafted late in his life after the open-bar era of the early '60s had ended." They even share each other's first two names.
Read More: Tracing emigrant Irish roots of Texan presidential hopeful Beto O'Rourke
The Bobby Kennedy of the later '60s strived to overcome an earlier reputation for conservatism, the vestige of having once worked for the notorious Sen. Joe McCarthy, and for ruthlessness in having served as his brother's political prod.
Bobby may have been late to the causes of the '60s, but he presented his conversions as the product of deep, intensive soul-searching.
6
O'Rourke, the onetime adolescent writer of poetry, himself took to the road in search of inspiration before deciding on a presidential run, only to find himself chastised by some observers for self-indulgence.
Skeptics accuse O'Rourke of being too conservative, despite the spirited idealism that surrounded his 2018 Senate run against Ted Cruz.
His fundraising success suggests he retains a passionate grassroots following, (his 2020 campaign raised $9.4 Million in 18 days) but his early struggles on the campaign trail raise a legitimate question of whether current-day voters are simply too cynical to fall for a "Kennedyesque" candidate.
Read More: Could Beto O'Rourke ruin Joe Biden's shot at the presidency?
While they share uncanny physical resemblances, O'Rourke's success will be built on the "freshness of his presentation, his skateboarding spontaneity, his sense of being a man apart—apart from the corruption of Washington, the calculations of the party elites and the demands of the special interests. That's the aspect of the Kennedy formula that remains potent," says Canello.
Pete Buttigieg has followed a clear Kennedy path: attending Harvard, studying in England, serving in the military, and preaching generational change and "a fresh start."
The 37-year-old mayor of South Bend (Ind.), Pete Buttigieg has a natural means of erasing the predatory womanizing from the JFK image: He's gay.
6
"His extroverted husband, ubiquitous on social media, provides both the reassurance of domestic tranquility and a reminder that the Buttigieg candidacy is groundbreaking in more than just his audacity in running for the White House while serving as a small-city mayor.
"His fearless pursuit of the nomination, while eschewing the usual credentialing process, marks him as a man apart, too.
"Democratic primary voters love to make a statement and voting for a gay man may feel more refreshing, and more like a symbolic repudiation of Donald Trump, than opting for a more conventional Kennedy stand-in."
JFL's Policy Vagueness
John F. Kennedy was neither the most liberal nor the best-credentialed Democrat in the 1960 primaries, but he encapsulated the hopes and dreams of the electorate.
He evoked themes that proved irresistible to liberals (generational change, a we-can-do-better scolding of a neglectful Republican stewardship, the need for national unity), but were vague enough not to alienate moderates who might be fearful of overreach.
Yet Canelo makes a more controversial assertion when it comes to Democrat values versus putting them into action.
6
"While Kennedy's persona—his glamour, sex appeal, erudition and speaking style—was a big part of his success, there was a more durable truth undergirding his breakthrough: Voters love Democratic values and aspirations, but are terrified of Democratic legislation. Kennedy's vagueness on policy was as important to his success as his precision in articulating the challenges of the '60s was."
Democrats can point to Clinton, Obama, and Carter as a roadmap to Kennedy style presidential success. 
"The little-known Bill Clinton preached a Kennedyesque message of generational change and we-can-do-better idealism to capture the party's heart. Despite generating a suspicion that he put strategy ahead of principle, he cruised to two victories," says Canello.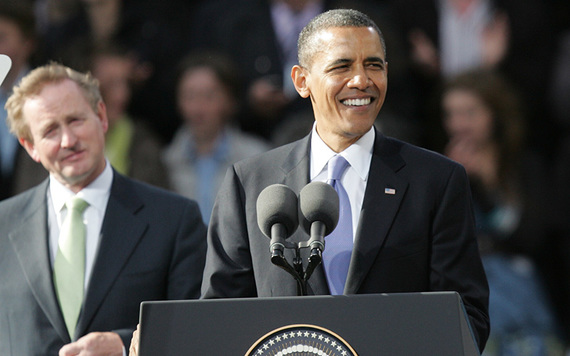 6
"The largely unknown Barack Obama asserted his own Camelot connection by campaigning alongside Ted and Caroline Kennedy, while Caroline penned a New York Times op-ed predicting he would be 'A President Like My Father'."
"Obama's message of hope and change was castigated as vague and empty, but it served the crucial purpose of inspiring liberals without alarming moderates. He won twice."
Read More: Has Joe Biden's 2020 run ended before it started?
Finally, Jimmy Carter, seemingly came out of nowhere to win the Democratic nomination in 1976.
He too evoked generational change and a hopeful, I'll-never-lie-to-you message, and prevailed in a close race.
Do you think Democratic candidates should evoke the Kennedy style for 2020?
Let us know in the comments below.