Texas presidential hopeful Beto O'Rourke, who recently launched his campaign for the Democratic nomination for the 2020 election, has Leitrim roots on his father's side and Carlow on his mother's. He comes from a long line of railroad workers.
His great-great-grandfather Bernard O'Rourke was born in Glencar, North Leitrim on November 30, 1830, and he died in a buggy accident on August 28, 1896, in Talmadge, Otoe County Nebraska. He is buried in Saint Benedict's Cemetery there.
Researcher and genealogist Mary Cummins has done an amazing job and uncovered a large amount of information on the O'Rourke roots. This article she turned up on Bernard's death is from the Kansas Chief newspaper of August 1896. She has also done amazing work on the Find My Grave discoveries relating to the O'Rourke family.
The Kansas newspaper writes: "Barney O'Rourke, well known about here, and who owned a farm north-east of town, but who lived near Nebraska City, was last week returning from that city to his home, with another person, in a buggy, when, by the horses taking fright, or some other accident, they were thrown out. O'Rourke's collar-bone was broken, but it was thought that he was not otherwise hurt. However, he was undoubtedly injured internally, as he suddenly became worse, Friday, and died that evening. When the Rock Island road was being built through here, he operated a boarding car."
Read more: How to pinpoint where your ancestors lived in Ireland
His Find a Grave reads as follows:
Glencar, County Leitrim, Ireland

DEATH

28 Aug 1896 (aged 65)

Talmage, Otoe County, Nebraska, USA

BURIAL

Nebraska City

,

 

Otoe County

,

 

Nebraska

,

 

USA
He became a naturalized American citizen in 1868 in Buchanan County, Missouri.
His wife Mary Anne MacDermott O'Rourke died in 1923. 
Her home town newspaper eulogized her: MRS. MARY A. O'ROURKE DIES WHILE VISITING HER SONS. Mrs. Mary A. O'Rourke, 74 years old mother of J. F. and H. J. O'Rourke of Nevada street. El Paso, died Saturday at 1411 East Nevada Street. Mrs. O'Rourke arrived in El Paso last Monday from her home in Herington, Kan., for a visit with her sons. Besides her sons here, she is survived by two daughters in Herington, Mrs. Frank Connolly and Miss Alice O'­ Rourke; a son, B. J. O'Rourke, of Parsons. Kan., and a brother, P. J. McDermott, of Liberal, Kan. The body will be forwarded tonight to Harrington for burial by the J. J. Kaster & company. El Paso Herald, El Paso, Texas. Transcription by Mary Cummins.

Mrs. Mary A. O'Rourke Dead. Mrs. O'Rourke is dead. This simple message, which passed from neighbor to neighbor and on through the town Saturday, brought a shade of sadness to the hearts of all who heard it, for this good woman who has lived among us for a number of years, had endeared herself to all by her simple kindness her consistent Christian life, her charming personality and her cheeriness at all times.
The children loved her, the young people enjoyed her the older friends trusted her and came for sympathy and understanding and her immediate family and friends adored her. Her passing leaves a place that cannot be filled, but her life among us leaves a pleasant memory of kindly service and unselfish devotion to family, friends and her religion, that is an inspiration to all and will linger long after she has gone.
Mrs. O'Rourke left Herington about ten days ago to visit her brother at Liberal and two sons at El Paso, Texas and was taken ill with pneumonia the second day of her visit there. Her daughter, Miss Alice went to her, arriving the day before her death and everything possible was done to save her for her family and friends but death claimed her on Saturday morning at eight forty-five.
The body arrived in Herington Monday morning accompanied by her daughter and her two sons, H. J. and J. F. O'Rourke and their wives. The older son B. J. O'Rourke of Parsons and his son, Bernard, arrived Sunday afternoon, also Mrs. C. G. Stevenson of Pratt, Kansas, a niece.
The brother, T. J. McDermott of Liberal. Kansas, was prevented from coming by sudden illness. Mrs. O'Rourke has made her home with her daughter, Mrs. F. P. Connolly for over five years and the funeral was from this home to St. John's Catholic church where a High Requiem mass was said with Father J. B. Glynn officiating. Prayers for the repose of her soul were offered by the ladies of the Altar society and the Knights of Columbus at the home Monday afternoon and evening.
Interment was made at St. John's cemetery. Out of town relatives and friends were Mr. and Mrs. J. F. O'Rourke and Mr. and Mrs. H. J. O'Rourke of El Paso, Texas; B. J. and Bernard O'Rourk of Parsons, Kansas; Mr. and Mrs. C. G. Stevenson of Pratt, Kansas; Mr. and Mrs. J. C. Cole of Dalhart, Texas; Mrs. Jas. Gleason and Mr. and Mrs. J. P. McSteen of Kansas City, Missouri and Mrs. John Crowley of Pratt, Kansas. Mary Ann McDermott was born near Cleveland, Ohio, August 20th, 1848 and died at El Paso, Texas, January 27, 1923.
She was married to Bernard O'Rourke at St. Joseph's Cathedral, St. Joseph, Missouri, August 26, 1866. Nine children were born of this union, three of whom died in infancy and one son, Domino, died May 4, 1807, being killed while in railroad service. Mr. O'Rourke died at Talmage, Nebraska, August 26, 1896. The O'Rourke's lived at St. Joseph, Missouri, for many years coming west with the Rock Island Railroad as it built from that place. Mrs. O'Rourke leaves the following children: - B. J. of Parsons, Kansas; ,J. F. and H. J. of El Paso, Texas; Miss. Alice and Mrs. F. P. Connolly of Herington, besides a brother, T. J. McDermott of Liberal, Kansas, and twelve grandchildren.
4
Read More: WATCH: Beto O'Rourke talks border issues, immigration while getting a teeth cleaning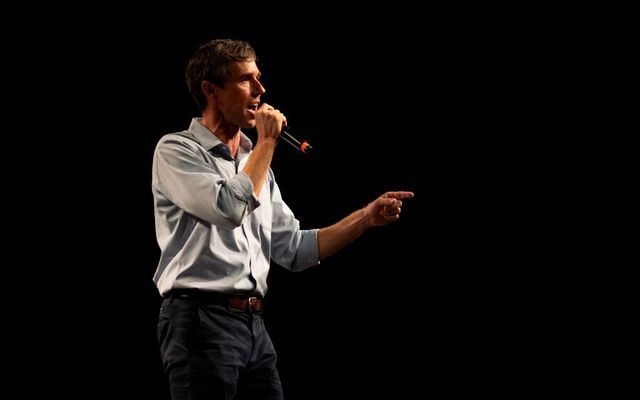 4
The 46-year-old former Texas congressman also has Irish connection on his mother's side with family hailing from there the  Carlow-Nationalist.ie reports. Her name was Melissa Martha Williams.
"The Nationalist can reveal that his maternal great-great-great-grandmother was one Mary Ann McGrath, who was born in Milford in 1837. The daughter of Michael McGrath and Margaret Doyle, she was christened in Tinryland parish. She emigrated aged 12, arriving in the port of New York in January 1850, according to records. She married Meath man Edward Fyans and had one daughter, Elizabeth. Mary Ann died aged 81 and is buried in Milwaukee."
Read More: Is this the sign we've been waiting for that Beto O'Rourke will run in 2020?
In 2018, the politician was narrowly defeated in a senate state race by Republican Ted Cruz. Known for his charismatic personality and optimistic viewpoint, he has been dubbed 'the new Bobby Kennedy.'
What do you make of Beto O'Rourke? Let us know in the comments section, below.