In "White Cottage, White House - Irish American Masculinities in Classical Hollywood Cinema," his five-chapter long deep dive into Irish American masculinity in the classical Hollywood era, lecturer in film studies Tony Tracy persuasively explores the way depictions of Irish masculinity were used by Hollywood to "consolidate and reinforce hegemonic whiteness in midcentury America."
Think of the common images of the Irish American man in film in the 20th century: gangster, priest, soldier, beat cop, sports hero, construction worker, the list goes on. 
It didn't start out that way though. In the silent era, Irish people were far more frequently portrayed unsympathetically as domineering servants, idiot drunks, or worse. Finding the way toward the embrace of whiteness and welcome in America was not initially assured for the Irish.
Tracy sees an ironic but illuminating progression from James Cagney's "Public Enemy" to John Wayne's "The Quiet Man" and this book ends in 1960 with the election of John F. Kennedy, a progression from Famine refugee to ultimate insider that is a story of transformation in itself.
The first chapter of the book follows actor James Cagney's onscreen career, as he's cast in roles that gradually evolved alongside the public opinions of what it meant to be Irish American.
Cagney's journey from gangster movies that associated the Irish ethnicity with underworld crime eventually made the startling journey toward rootin' tootin' "Yankee Doodle Dandy" (1942) where his Irish background is finally used to symbolize American patriotism.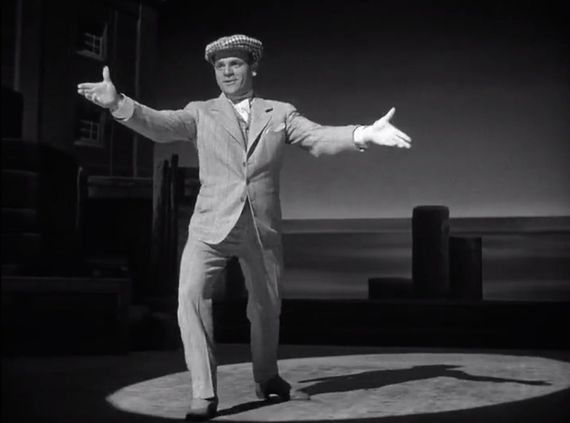 2
That's some rubbernecking progress. It's interesting and illuminating how quickly the embrace of whiteness and settled status within the American racial hierarchy leads to increasingly conservative depictions of Irish lives and attitudes.
As the Irish are embraced by the dominant culture, they are simultaneously curtailed within increasingly rigid hegemonic of gender and race. This provocative and often original study will be of interest to both the film scholar and the general reader interested in Irish American depictions onscreen in the 20th century.
"White Cottage, White House - Irish American Masculinities in Classical Hollywood Cinema," State University of New York Press ($32.95).