Malachy McCourt to lead the funeral dirge on March 21 "Bernie Madoff of landlords'" buys historic pub as locals fear the worst for the end of the beloved tavern
The ghosts of Dylan Thomas and the Clancy Brothers are about to descend in a rage on the sacred White Horse saloon on Hudson Street in Greenwich Village.
I went to the White Horse Tavern on Hudson Street on March 6  to have a liquid lunch with my pals, Neil Granger, and Joanie Leinwoll. I was soon informed that the sacred pub had been sold.
The New York Post soon had a headline that was not comforting: BERNIE MADOFF OF LANDLORDS' TO BUY FABLED WHITE HORSE.
'Bernie Madoff of landlords' to buy fabled White Horse Tavern https://t.co/nwrhCZS0TO pic.twitter.com/RwE9fFENkG

— New York Post (@nypost) March 8, 2019
They were talking about slumlord Steve Croman who just got out of the calaboose for tax and loan fraud. He also had to ante up $8-million bucks in restitution to rent-stabilized tenants he had terrorized. If that wasn't bad enough, the name Anthony Scaramucci surfaced. How can anyone forget "The Mooch," the talkative Trump Communications Director who lasted at the White House less than two weeks, a record surprising even for the Trump administration?
Read more: Lion's Head roared - Greenwich Village saloon was home to many Irish and other rogues
Steve Cuozzo reported in the Post that "Croman will have no involvement in the White Horse. If the sale goes through as scheduled on April 9, the Tavern will be leased for 15 years to veteran Manhattan restaurateur Eytan Sugarman. The lease is now in escrow. Sugarman is partners with Scaramucci in Midtown steakhouse Hunt & Fish Club. But Scaramucci won't be going from the White House to the White Horse—neither he nor other Hunt & Fish partners are involved at the tavern, Sugarman's rep said…Their sale contract with Croman stipulated that the White Horse must be leased to operators who would operate it as in the past. Sugarman vows to run it 'exactly as it is,' according to Meridian Capital Group broker James Famularo, who negotiated the lease."
Villagers have heard that "exactly as it is" pledge before about such historic places as the Waverly Inn and the Minetta Tavern, which were then turned into playpens for the rich and the vacuous. However, since the buildings contain 17 market-rate apartments it appears this deal is not so much to acquire a historic pub, but more a real estate transaction.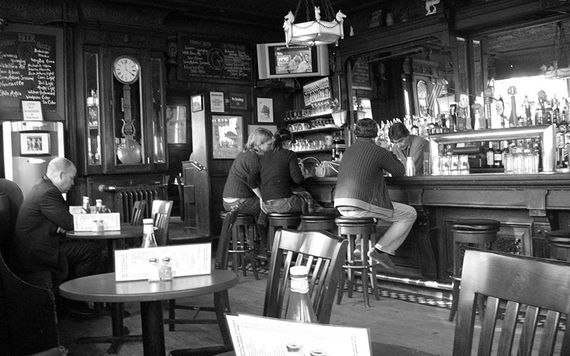 7
Clark Whelton, a former Village Voice staffer and former speechwriter for Mayor Ed Koch, speculated that since "the three and four-story buildings on Hudson Street that were sold in the White Horse deal don't offer enough square footage for the kind of condo sales the buyers would need to make money. We can be sure these guys are not going into the bar business, so the buyers are almost certainly looking at a bigger deal, and maybe partners with others who already have interests in the future of this block."
"Exemptions to the zoning and historic district laws could be easy to get," Whelton told IrishCentral. "In the old days the Voice, and [editor] Mary Nichols, would be on this issue non-stop. But today the local weeklies don't have the clout to get pols runnin' scared. And the old Village-protecting crowd is mostly gone. Bottom line:  the real attraction for the buyers are the air rights for the White Horse properties and the other low-rise buildings that circle the block."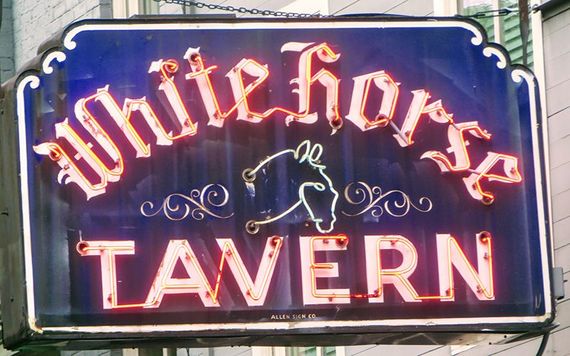 7
A swift reaction from Greenwich Village saloon society
Besides Dylan Thomas and the Clancy Brothers, who got their start singing in the back room of the joint, other well-known artists who have hung out there over the years include writers Jack Kerouac, James Baldwin, Norman Mailer, Michael Harrington; musicians Bob Dylan and Jim Morrison; and the great social activist Jane Jacobs who lived down the street.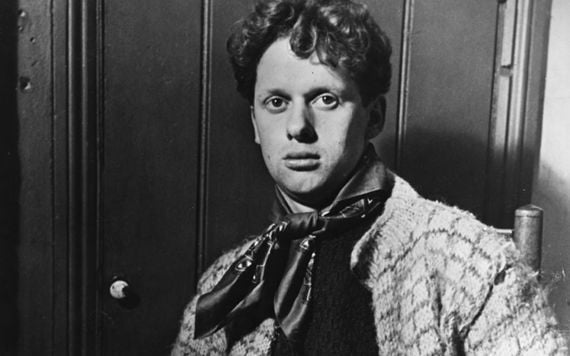 7
The news of the transaction hit the Internet by late afternoon and the reaction from long-time Villagers and habitants of the White Horse was swift.
Author and radio host Malachy McCourt told me that he was prepared to lead a wake at the White Horse. When I asked him if he was serious he emailed me, "Yes I am serious about the gig. Peter Carlaftes of Three Rooms Press asked me to do it. He lives in the Village and is appalled at the destruction of the artistic life. So the answer is of course Yes! So Thursday, 21st March at 4 pm and only the God-guy knows what will happen, but let's go for it!"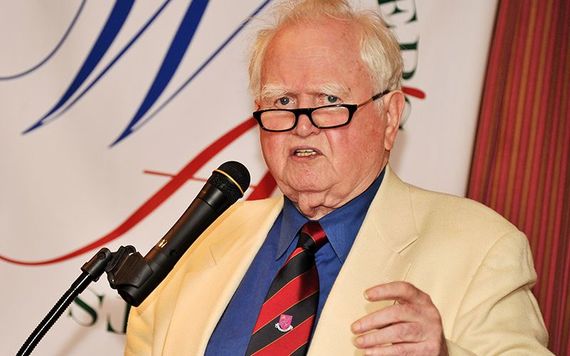 7
I reached out to other White Horse drinkers and the sentiments were heartfelt.
Musician and composer—his musical score to the 1962's Manchurian Candidate still haunts—David Amram had a paean to the White Horse of the 1950s: "I will leave my composing dungeon and celebrate the White Horse of the 1950s  with Malachy at 4 p.m., and we will all have a toast to Ernie's succulent overcooked knockwursts, non-stop schmoozing between  Jimmy Baldwin and Dan Wakefield, the Zola Sisters charming us all, weekends crowded with  C. Wright Mills fans, moving men, ex-boxers, crazy poets and neighborhood cats and kitties, filmmakers, homemakers, and stay-awakers!!"
Writer Mary Breasted Smyth also had some great memories: "[Village Voice editor] Mary Nichols used to drink in the White Horse when she was fresh out of Swarthmore. She told us Dylan Thomas would be getting vastly drunk at the bar while his wife wept to her about having no money to buy the children mittens against New York's bitter winter. Of course, one could proclaim against the evils of demon drink, but there were also the evils of a world that never did pay a great poet what he was worth. They can't pretend to be buying the glory of that language now by buying the White Horse building, those heartless investors. 'Time held me green and dying,' he said, 'Though I sang in my chains like the sea.' Eat your hearts out, real estate cannibals, you'll never sing like that."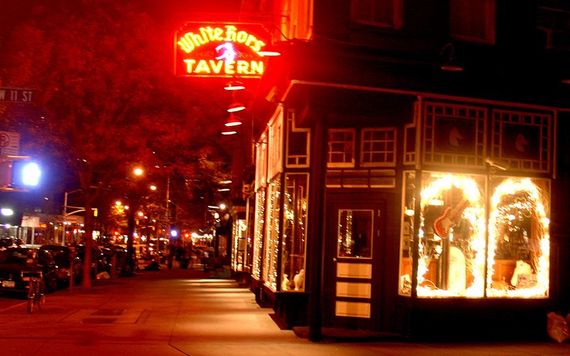 7
Back in 2004, I interviewed the late, great American novelist David Markson [Wittgenstein's Mistress, Vanishing Point, Springer's Progress, etc.] about how he first discovered the White Horse. "I was in Columbia graduate school or had just finished," he told me, "but was still living there, and Dylan Thomas gave a reading. He was my favorite poet and we went back to talk to him afterward. I said, would you like to have a drink with us, the graduate students, a few would-be writers? He had to do something first, but he met us at a bar [near Columbia], the old West End, and we were chatting, and he was impressed that I was in correspondence with [writer Malcolm] Lowry because they had known each other. So when we said, 'Can we do this again?' he said, 'Yes,' and I called him, and I picked him up at the hotel with a couple of friends, and he said, 'Let's go down to the Horse.' I didn't know what he was talking about. So all these people who over the years have gone to the White Horse because of Dylan Thomas—I'm one of the few who I can say was taken there by Dylan Thomas." There is still a photo of Thomas and Markson bellying up to the bar in the far back room.
There is a great sidebar in Liam Clancy's stark autobiographical documentary, The Yellow Bittern. It was filmed at the White Horse about two years before Clancy's death in 2009. He is standing in the middle of the bar, over the pumps, and he tells a story, circa 1956, about his time at the White Horse.
7
One of the regulars, a woman, was disappointed that her drinking joint has been taken over by young intellectuals, who have come to worship at the shrine of the dead Dylan Thomas.
"Who are these fucking people?" she asks Liam.
"They're fans of Dylan Thomas."
"Who the fuck is Dylan Thomas?" she asks.
"Well, he's the great poet." He turns and points to Dylan's picture up on the wall.
"That's him?" she says. "Jesus, he was a lousy lay!"
Liam then adds, "Geez, I hope no one ever says that about me!"
And believe me, from what I've heard, no one ever did!
No one knows if the good times are over at the White Horse, but like a good friend it has supplied us with much love, laughter and stories over the years. As they say in New Orleans, Laissez les bons temps rouler, so let's hope the good times continue to roll at the sacred New York saloon, the White Horse.
Read more: HBO documentary on New York city's greatest newspapermen, Jimmy Breslin and Pete Hamill
* Dermot McEvoy is the author of the The 13th Apostle: A Novel of Michael Collins and the Irish Uprising and Our Lady of Greenwich Village, both now available in paperback, Kindle and Audio from Skyhorse Publishing. He may be reached at dermotmcevoy50@gmail.com. Follow him at www.dermotmcevoy.com. Follow The 13th Apostle on Facebook.