US House Speaker in Dublin enforces messages to British government that any change to Ireland's border with the United Kingdom would not be acceptable
Speaker of the United States House of Representatives Nancy Pelosi used very strong language warning the British government that a new Irish border would be unacceptable.
Pelosi was speaking at an event at the Department of Foreign Affairs in Dublin as she led a congressional delegation to Europe this week.
She said the British people had fairly voted to leave the European Union but "as they work that out, not to think for one minute that there's any comfort for them that if they leave the EU they will quickly have a US-UK trade agreement.
"That's just not in the cards if there is any harm done to the Good Friday accords. Don't even think about it."
She denied the US was taking sides. "We're just holding to our values. It's an ideal that is a model for the world. Other places copy so that they can make peace and find common ground."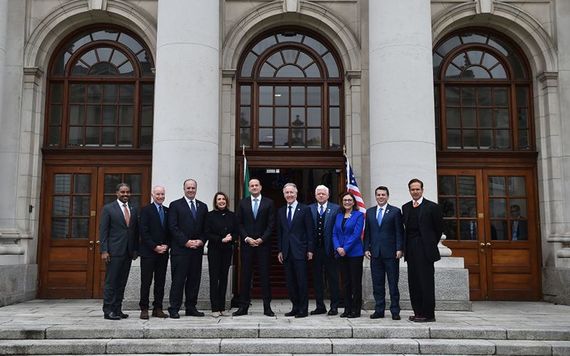 2
Earlier a similar strong message had been issued by the US delegation when they met the Brexit supporting European Research Group (ERG) in the British parliament.
"A number of the ERG members were not exactly pleased with what they heard from the US side," Congressman Brendan Boyle said.
The two-term congressman said most British politicians appreciated the position of the US delegation and "the constructive role that we are playing".
"The one exception clearly was the ERG who never explicitly accused us of taking sides but, as they expressed it, it is clear that their world view is that the Border issue is 'concocted' and that it is really just being used by Remainers in London, Brussels, Dublin and Washington all in some sort of grand conspiracy to force them to do something that they don't want to do," said Boyle.
Thank you to @SpeakerPelosi @RepRichardNeal @RepBrendanBoyle and all the US delegation for coming to visit Ireland at this important time. Your friendship and ongoing support is so valued and appreciated. #Brexit . pic.twitter.com/aTBsvnkqIp

— Simon Coveney (@simoncoveney) April 16, 2019
Tánaiste Simon Coveney told the Pelosi lunch that Ireland respects the UK's decision to leave the Union.
"We have no desire to make life difficult for the UK," he said, "We want our nearest neighbors to thrive and to prosper."
Coveney said Britain had the right to make up its own mind but "they don't have the right to determine ours".