Northern Ireland Secretary James Brokenshire concluded his three-day visit to Washington and New York yesterday to brief senior politicians and business leaders here on the current political situation in Northern Ireland.
Speaking to IrishCentral he said the UK government is determined to see the power-sharing government at Stormont restored as soon as possible.
Northern Ireland has been without a working devolved government since January, when the coalition led by the two main parties – the Democratic Unionist Party (DUP) and Sinn Fein – collapsed over a green energy scandal.
"Making a success for the UK and Northern Ireland within the UK as we leave the European Union is at the absolute forefront of the aims and intent of the government now," Brokenshire told IrishCentral.
"The Prime Minister has set out a number of objective that are directly relevant to Northern Ireland around a Common Travel Area and a frictionless, seamless border. In our letter to the European Union triggering this process we have said we don't want to see an adverse effect on the Republic of Ireland either."
4
The emphasis on the common travel area and on a seamless border will be looked at closely within the context of the Belfast Agreement (Good Friday Agreement), Brokenshire said.
"On the border we have been very clear that we don't want to see a return to the borders of the past, in other words that physical land border that gave that impression of separation."
"We now have this seamless invisible border where people are able to live their lives and the local markets and small businesses are able to trade across it."
"On the border issues it is largely about the movement of goods and what customs arrangements are put into place. We are open minded about the solutions on that, whether that is a bespoke customs agreement or whether that is an associate membership of the Customs Union. We have not reached that point of the negotiation yet."
Asked what shape new customs controls might take he replied: "What we want is effectively tariff free and barrier free trade in goods. Yes, of course, there are ways in which technology might be able to play a part in respect of consignments, movements of goods, etc."
"If you think about it there are certain differences that already exist on the island of Ireland. How we have Customs and Excise Duties that operate. There are differences in that between the Republic of Ireland and Northern Ireland. I think there are solutions and approaches that can be taken."
Does the Conservative deal with the DUP to form a government not place the latter's thumb on the scale when it comes representation or requests?
4
"It's important to underline that it does not change in any way our responsibilities under the Good Friday/Belfast Agreement, which we uphold and restate, in particular under the obligations we have to act fairly across all communities."
"As a government we don't have a majority in the House of Commons and Westminster. It is in that context that the agreement has been struck to provide that stability to allow the government to get on and negotiate the deal for the UK, including Northern Ireland, in respect of the departure from the European Union."
"I think it needs to be seen in that context. Devolved matters are not part of this. It is my role and responsibility as Secretary of State to act fairly across all communities. I want to see a power-sharing executive reestablished in Northern Ireland so that we have locally elected politicians making decisions locally."
Read more: 100,000 people in the UK have applied for Irish passports this year
The push for marriage equality in Northern Ireland has been blocked consistently by the DUP. Since it's the only part of the UK without marriage equality for its LGBT citizens will the Conservatives advocate for change?
"LGBT rights are a matter in the devolved arena. It's not something the UK government has direct law making powers in respect of. It's an issue where the Conservative Party and the DUP take differing views. The Prime Minister outlined her own views recently on equal marriage and wants to see that applying across all parts of the UK. It is ultimately for the political process in Northern Ireland to make that decision."
It seemed this year as if Northern Ireland could be turning a corner with regard to the burning of republican effigies on loyalist bonfires. Can you comment on it?
"There are issues that take place within communities and the UK government is seeking to be respectful of devolution in respect of where the decision-making lies. What I want to see is communities coming together so there isn't that sense of separation.
"The concept of effigies being burned is something that stands in firm opposition to the issues and values that I stand for and that I profoundly do not support. I think there is work within communities that needs to take place. It's worth noting against this backdrop that the parades on the Twelfth were peaceful. There's been a huge amount of work done at community level to reduce some of these tensions."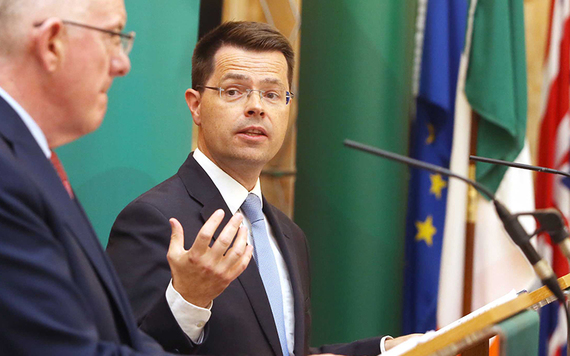 4
The big challenge now is on getting the executive back into position, Brokenshire says, on finding that climate of reconciliation, on ensuring that people are looking to the future, looking to continue that forward looking approach in regard to how far Northern Ireland has come.
"There are very strong connections between Northern Ireland and the United States and I've been underlining that message over the course of the last few days. Northern Ireland is open for business."
The majority of people within Northern Ireland voted to remain within the EU and there have subsequently been a record number of Irish passport applications from people there and in the UK to maintain the ease of travel though EU jurisdictions. What's Brokenshire's message to them in relation to their concerns or fears going forward? Where are they in this?
"What we want to see is a positive future for Northern Ireland that advances Northern Ireland's interests and that we are able to be able to use the new found freedoms of being outside the EU.
"I think it's that sense of an enduring, mature relationship with our EU colleagues that we do want to maintain through this negotiation. There are so many values that we share that we earnestly want to see continue into the future. I would say that it is about achieving positive outcome, doing it in a way that does not lead to cliff edges, sudden shifts, sudden changes and approaching it in a spirit of partnership with our European colleagues so that we are able to demonstrate that positive sense of confidence."
Read more: Bank of America flees Brexit Britain to relocate European HQ in Dublin