Former governor of Maryland throws his support behind failed TX Senator candidate
Martin O'Malley, former Governor of Maryland, said this week that he does not intend to run for President in 2020 and will instead be backing Beto O'Rourke.
Read More: Irish America needs no lessons on liberty and decency from the Irish in Ireland
In a piece for The Des Moines Register, O'Malley, who ran for the Democratic nomination in 2016,  wrote he "will not be running for president in 2020" and that he hopes Beto O'Rourke will.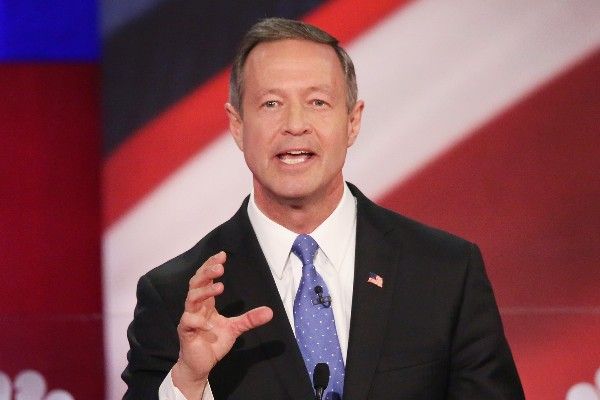 2
In 2018, O'Rourke mounted what became a hugely popular challenge against longtime Texas Republican Senator Ted Cruz. While O'Rourke lost, his momentum from the challenge has yet to slow down and many people across the country have deemed the Democrat as 'the next Obama.'
For The Des Moines Register, O'Malley wrote: "In his courageous run for U.S. Senate in Texas, O'Rourke ran a disciplined and principled campaign that also managed to be raw, authentic, and real. He spoke to the American values of honesty, compassion for one another, and courage in the face of a rapidly changing future."
Read More: Wannabee tinhorn dictator Trump wants his very own big parade
"These are the values which tell us where America is headed. And with these values, O'Rourke very nearly defeated the incumbent senator and Republican runner-up for president – in Texas."
"The fearless vision and unifying message which brought people together in Texas also sparked imaginations all across our country. And, I believe, will again — if Beto O'Rourke runs for president."
O'Malley continued: "The challenges we face will not solve themselves. Building an economy that works for all of us, reversing climate change, passing immigration reform — they all require leadership. O'Rourke has the wisdom to listen, the courage to lead, and a rock-solid faith in the powerful goodness of our nation.  Because he is of a new generation, O'Rourke understands that a new way of governing — with openness, transparency, and performance — is called for to tackle our problems in the Information Age. And because he is from a border state, O'Rourke understands the enduring symbol of our country is not the barbed wire fence, it is the Statue of Liberty."
"Like so many other Americans, I believe we need new leadership to make that future a reality. And, I believe the new leader who can best bring us together and turn us around to create that better American future, is Beto O'Rourke."
In 2016, O'Malley bowed out of the race for the Democratic nomination early on after a "disappointing" finish in the Iowa caucuses. Since then, he's continued to stump for other Democrats around the country, leading to some speculation that he may again mount a race for 2020 until he squashed such ideas this week.
Read More: Win or lose Beto O'Rourke is the new Obama for Democrats
On Thursday, O'Malley said in an email to supporters that his "usefulness as a candidate for President has passed."
"I'm proud of the substance and vision we put forward in 2016 and the record of progress from 15 years of executive experience, but – after all we have been through as a nation – America is looking for a candidacy newer than I can offer," O'Malley wrote.
O'Rourke has yet to publicly say whether or not he intends to run. The Hill reports that a recent Des Moines Register/CNN/Mediacom Iowa poll of likely Iowa caucusgoers put O'Rourke in third place among potential Democratic candidates, after Joe Biden and Sen. Bernie Sanders.
Do you think Beto O'Rourke is going to run? Let us know in the comments