Is Trump's secret plan to make America great again like it was in the years following JFK's presidency? The answer is 'Yes,' according to one CNN analyst. 
Stephen Moore, one of CNN's conservative voices, argues that when it comes to tax cuts, Trump is the modern-day JFK. 
He writes that with not a single Democrat in the House or Senate voting for the Tax Cuts and Jobs Act,  it is Kennedy's own Democratic party that is failing to carry on and apply his wisdom.
Instead, it is President Donald Trump who has picked up JFK's fiscal baton: 
Some argue that the Trump tax cut will increase the deficit, but they should listen to the wisdom of JFK in 1962, when he, too, was battling a large deficit. President Kennedy

 

declared

 

at the New York Economic Club that "it is a paradoxical truth that tax rates are too high today and tax revenues are too low -- and the soundest way to raise revenues in the long run is to cut rates now.''




JFK knew that America's biggest problem was not the budget deficit but a growth deficit. And based on Donald Trump's proposed tax cuts, he seems to share JFK's wisdom.
Moore is correct that the Kennedy-era tax cuts helped usher in a period of economic prosperity. Congress approved his tax cut plan three months after Kennedy's assassination, and by 1966 the unemployment rate was 3.8% while the economy was growing at a rate of 6.6% – compare that to today's unemployment rate of 4.1% and economic growth rate of just 3.3%.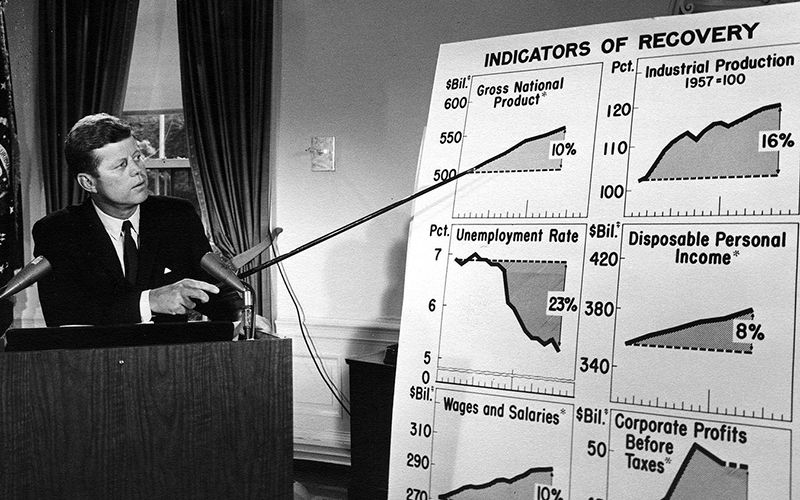 2
However, what Moore doesn't mention is that Kennedy's tax cuts brought the top marginal tax rate from 91% to 70%, whereas the new Republican tax plan will decrease it from 39.6% to 37%. 
Interestingly, this is not the first time a line of comparison has been drawn between Trump and JFK. Points of connection have been made by people on both ends of the political spectrum. 
Disgraced conservative pundit Bill O'Reilly compared the two during Trump's campaign, arguing that the wealth of their respective families made both men more likely to say whatever they wanted to. 
After the election, Microsoft founder Bill Gates made a public appeal to Trump to be a president in the mold of JFK and lead America through innovation. 
Writing in the Boston Globe this past summer, columnist Niall Ferguson linked both men's reported infidelities, wealthy backgrounds, undisclosed health issues and apparent willingness to engage in nuclear warfare. 
And back in May, historian Johnathan Lewis argued that Trump uses similar tactics to Kennedy in the manner in which he engages with the media. 
What do you think? Are Trump and JFK alike at all? Share your thoughts in the comment section.