Formal talks that could see power sharing return to Northern Ireland will begin again, Sinn Féin have confirmed.
Michelle O'Neill, the party's leader in Northern Ireland, said that informal discussions with the Democratic Unionist Party had yielded enough progress that there was a realistic chance that the Northern Ireland Assembly could be up and running again soon.
Top of the party's demands is an Irish Language Act and last week DUP leader Arlene Foster offered them something of an olive branch.
"We have nothing to fear from the Irish language nor is it any threat to the union," Foster said.
"We have previously supported practical measures for the Irish language and we will do so again if we can reach a wider agreement on these matters."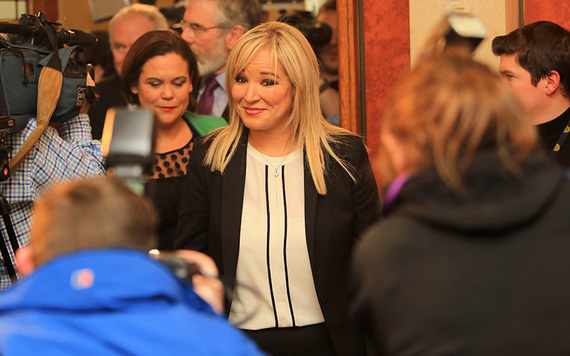 2
The party had previously been hostile to measures that would have seen extra spending or support for the language but now Foster says she wanted a "new cultural deal" that supported both British and Irish identities and cultures in the province.
In response to O'Neill's comments, Foster confirmed that the dialogue between the two parties had indeed "stepped up" in recent days.
Read more: Gerry Adams likely to step down as President of Sinn Féin
"We spent a number of days involved in a detailed engagement with them to ascertain whether an agreement on the issues before us is possible," she added.
As for O'Neill, she was keen to stress how important it was to Sinn Féin that power sharing returns soon to Northern Ireland soon after regular sniped from critics about republicans' commitment to talks.
"We are fully committed to the Good Friday Agreement – an agreement which we negotiated and signed up to," she insisted.
"We are committed to these institutions because they provide the democratic vehicle for addressing the day to day issues which confront the people of the North."
Read more: Nationalists are "not equal" to unionists, says British Lord
H/T: Irish Times