Marty Walsh honors Irish immigrants who built America and gave back to their homeland as he becomes the first person to be granted the Freedom of County Galway.
The Mayor of Boston, Marty Walsh, said it was important to acknowledge the huge contribution which immigrants have made to America when he became the first person in history to be granted the Freedom of County Galway on Monday evening.
Mayor Walsh, whose parents left Connemara for new lives in the United States in the 1950s, said there was a need to acknowledge the huge contribution immigrants from Ireland and other countries had made to major US cities such as Boston down through the years.
His parents met in a South Boston dance-hall after leaving Ros Muc and Carna to forge new lives in the US and many of his Connemara-based cousins were present for the historic ceremony at Galway County Hall.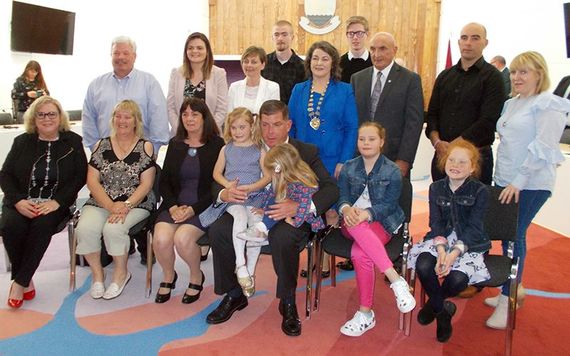 4
Mayor Walsh, who began his second term of office in January, said he had always been proud of his Galway roots and he was accepting the award on behalf of all emigrants from the West of Ireland.
He was also honored with the Freedom of Galway City on Friday.
"When I was running for Mayor in 2013 I knew Galway was proud of me. They covered it in the newspapers and on TV, there were even signs and bumper stickers on cars here. I knew that they were very connected to it," he told Irish Central.
"This weekend for me really was a celebration of the people who left Connemara and went on to Boston, Chicago, New York, and Australia, and everywhere around the world. This wasn't about me. It was about all the people that left and their ancestry."
He said that Connemara ran through his blood and he was delighted that Galway people were so proud of his achievement in becoming first citizen of a city which has always had such strong ties with Connemara and Galway.
"The fact that everyone here is proud of what we have been able to achieve in Boston makes me feel good. The people I represent live in the city of Boston, but I also feel I represent the people of Connemara and I am proud of that," he said.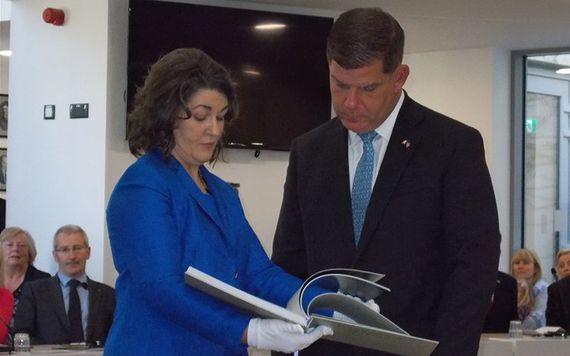 4
Mayor Walsh said that his parents' generation left Connemara out of necessity, due to poverty and a lack of opportunity, and often sent money home to family members just as immigrants from Central America, Haiti, or the Middle East do today.
"I think emigration is a little bit different now. Nobody is going to bed hungry at night in Ireland. But when that generation left here in the 1950s, or before that, they really didn't have a lot. They might have known somebody in Boston and they went there to send money back home to support their families here. That's something we should never forget," he said.
"The emigrants who left here were hard workers. A lot of them had family members in America and many of their kids have gone on to do great things. There is an awful lot of Irish spoken in Boston. They keep the culture alive, with the music, the food, the traditions, the songs, the story-telling. It's a gift the Irish have to understand the importance of that. There is a strong historical connection with home."
He said that Irish communities in New York, Boston, Chicago and other cities maintained strong family links with Ireland, just as a new wave of immigrants are attempting to forge better lives for themselves.
"The US is a different country. There are immigrants in America who want to send money back home, to whatever country that might be. It could be to Central America, the Middle East, Haiti, whatever country it may be," he said.
"I think there is a dire need for America to deal with this issue of immigration and not ignore it or demonize every immigrant. That's what is happening in America, in some cases, today. And it is just not fair. Some Irish Americans have forgotten where they come from themselves."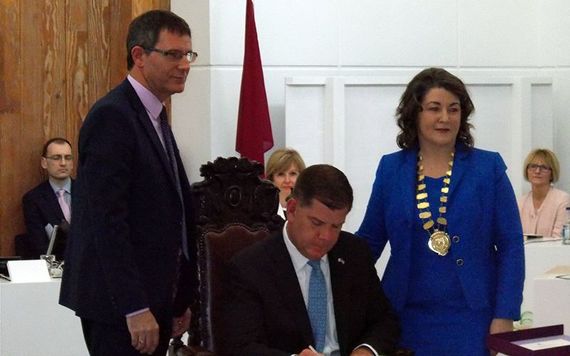 4
He said it had been an emotional return to Co Galway in recent days. He recalled childhood summer holidays in Connemara and conversations about Ros Muc and Carna in the family home in South Boston.
"My story is not unique," he told Irish Central. "It is the story of hundreds of thousands of Irish immigrants, who maybe did not know anybody when they arrived in a land that was far away from home. They carried Galway in their language and in their hearts."
He recalled that President John Fitzgerald Kennedy made a rousing speech in Eyre Square in 1963, just a few months before he was assassinated in Texas, in which he claimed that nearly everyone in Boston came from Galway.
"President Kennedy was not mistaken," said Mayor Walsh. "Those immigrants brought with them a sense of purpose which made the Boston community strong. Boston's fundamental strength is in its family ties and in the immigrants, who have come from all over the world to call the city home.
"We are a city and a country built on immigration. It's important that we stand up for what we believe to be right. I am proud of my Galway heritage and I also see great potential in this city and county. I am immensely proud of my roots."
The Chairperson of Galway County Council, Cllr Eileen Mannion, said it was a huge honor for her to invite Mayor Walsh to accept the honor of the Freedom of the County.
"You are the first ever person to be granted this honor," she said. "Your parents emigrated from Carna in 1956 and Ros Muc in 1959. They are part of the Irish emigration story. From a story of forced migration, many Galway people overcame huge obstacles."
She said Mayor Walsh was a huge inspiration in terms of his own battles with childhood illness and his very open acknowledgement of his own struggle with alcoholism.
"We have been inspired by your personal and political achievements," said Cllr Mannion.
"Having witnessed your homecoming after you were first elected in 2014, I am fully aware of the love you have for Connemara and the love Connemara people have for you. There is an extremely strong relationship between our two homes."
Ciaran Tierney is a journalist, blogger, and digital storyteller, based in Galway, Ireland. Find him on Facebook.
This article was submitted to the IrishCentral contributors network by a member of the global Irish community. To become an IrishCentral contributor click here.